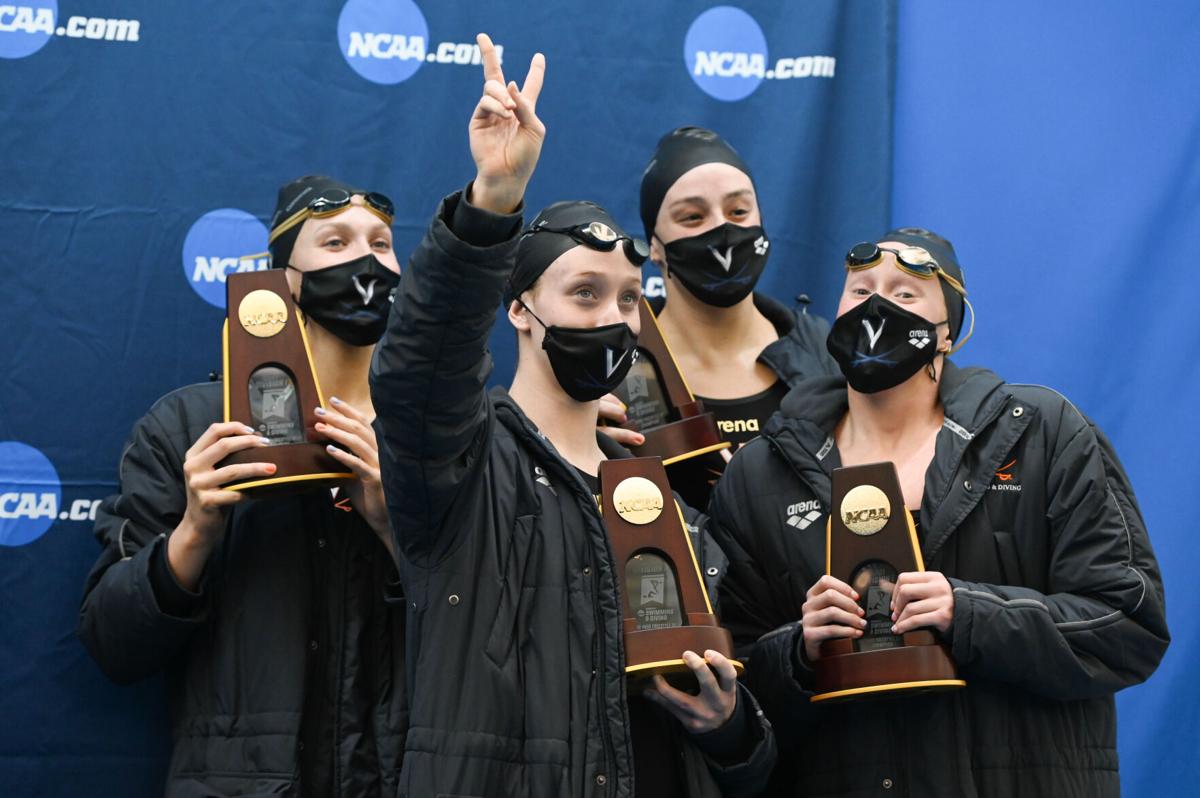 The Virginia women's swimming & diving team won the national title in the 800-yard freestyle relay on Wednesday to kick off the 2021 NCAA Championships at the Greensboro Aquatic Center.
It is the first NCAA championship win in a relay in program history. The Cavaliers finished five seconds ahead of the field with a time of 6:52.56 to earn 40 points and the lead after the first event.
Kyla Valls led off the relay, followed by Paige Madden, Ella Nelson and Alex Walsh.
The 2021 NCAA Championship continues on Thursday with prelims for the 500-yard freestyle, 200-yard individual medley, 50-yard freestyle and one-meter diving beginning at 10 a.m.
Finals are set for 6 p.m. Both sessions will be streamed live on ESPN3.
No. 9 Virginia tops VCU
The No. 9 Virginia women's lacrosse team opened its home stand with a 15-5 win over VCU (3-3) on Wednesday afternoon at Klöckner Stadium.
UVa's attackers accounted for seven goals, led by redshirt junior Ashlyn McGovern's four goals. Senior Taylor Regan matched the team high with five points on three goals and two assists. Junior Lillie Kloak added three goals for her fourth hat trick of the season.
"It is definitely nice to get back on the winning track," Virginia coach Julie Myers said. "It took an entire team and 60 minutes to find our groove and enforce our will. It was nice to see the defense come up and make big stops, to be able to win draws and to score 15 goals is always a nice feeling."
The Cavaliers (6-1) led in shots (33-23), ground balls (21-16), draw controls (13-8) and saves (8-6). Juliana George led VCU (3-3) with three goals.
Virginia hosts No. 10 Duke in a two-game series this weekend. The first game is Friday at 7 p.m., while the second game is set for Sunday at noon.
Varsity Eight earns ACC honors
After winning all three of their races in their season opener over the weekend, Virginia's Varsity Eight has earned Atlantic Coast Conference Crew of the Week honors.
Competing at the Oak Ridge Cardinal Invitational, the Virginia Varsity Eight opened their season with a time of 6:15.442 Saturday morning on Melton Hill Lake.
Later that afternoon, the Cavaliers clocked a time of 6:13.166, finishing more than five seconds ahead of second-place Michigan (6:18.550). The UVa Varsity Eight wrapped up the weekend with another first-place showing, recording a time of 6:19.859 to win their Sunday race by more than nine seconds.