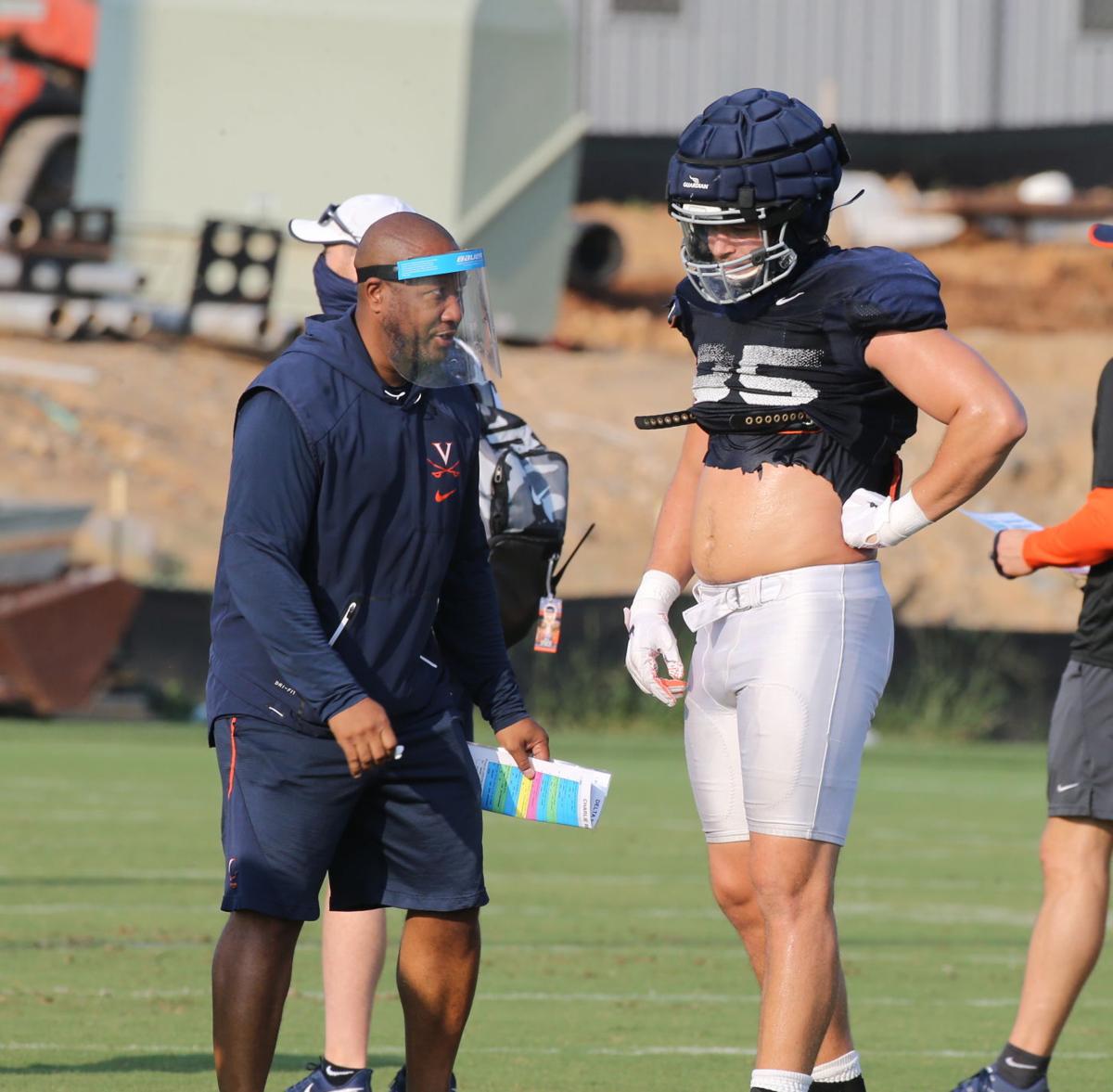 With just over one week until the start of Virginia's football season, the Cavaliers are still figuring out their special teams starters. Outside of Brian Delaney at kicker, just about every position remains up for grabs.
From long snapper to punt returner, competition remains ongoing. In the return game, the continuing competition is viewed as a positive by special teams coordinator Ricky Brumfield.
"We do have some great candidates," Brumfield said. "Way more candidates than we've ever had in the program."
At kickoff returner, the slight edge goes to Tavares Kelly Jr.
"Right now, probably leading the pack is Tavares Kelly at the kick returner position," Brumfield said. "He did a great job when he was filling in for Joe [Reed] last year."
Kelly Jr. returned eight kickoffs last season for 179 yards in 2019. That's good for an average of 22.4 yards per return. His longest return went for 40 yards.
Shane Simpson, a Towson transfer who earned CAA Special Teams Player of the Year honors in 2018, joins the mix at the position. He finished his FCS career with 2,080 kickoff return yards. Billy Kemp IV and running back Perris Jones also are competing for the role.
Kelly Jr. holds the edge to replace Reed, but there are plenty of options at the position. The long competition reflects depth at the position, rather than an inability of players to separate from the pack.
The same story describes the competition at punt returner. Kemp IV returned 23 punts for 137 yards last season, but he's not a lock to earn the starting spot this season.
James Madison transfer D'Angelo Amos comes to UVa after being one of the most dynamic punt returners at the FCS level. He ranks second all-time at JMU with 1,259 career punt return yards, and he averaged 16.6 yards per return during his career as a Duke.
Amos took five of his 76 returns back for touchdowns, and he posted a return of at least 80 yards in both 2018 and 2019. He's firmly in the competition at punt returner. Simpson and Kelly Jr. are both involved in the competition as well.
"Right now for punt return we're trying to just figure it out, just give guys as many reps as possible," Brumfield said.
He expects the Cavaliers to make a decision at the position in "a couple of days."
With Kemp IV holding the job a season ago, Brumfield noticed a fire within the returner when UVa added both Simpson and Amos into the mix as transfers.
"He stepped up to the challenge," Brumfield said. "He is probably the one who has stepped up to the challenge more than anybody else. He never said anything. He never had any bad attitude or anything, but his demeanor was almost like he was insulted. Like, 'I'm gonna show you what I'm about,' and that was really impressive."
A motivated Kemp IV has performed well at punt returner during camp, and the Cavaliers are considering him at the position even with the talent of the FCS transfers.
At kicker, Delaney holds the edge. The placekicker made it clear to Brumfield over the offseason that he also wants to be the starting punter.
With Nash Griffin returning, it's a tough job to win. Griffin averaged 41.9 yards per punt a season ago. He launched six of his 57 punts more than 50 yards, and he downed 24 punts within the 20-yard line.
"They're doing a great job competing with each other, pushing each other," Brumfield said.
Ahead of the Commonwealth Cup season opener, UVa feels confident in its special teams performers, even if there's still abundant competition for starting roles.
Be the first to know
Get local news delivered to your inbox!