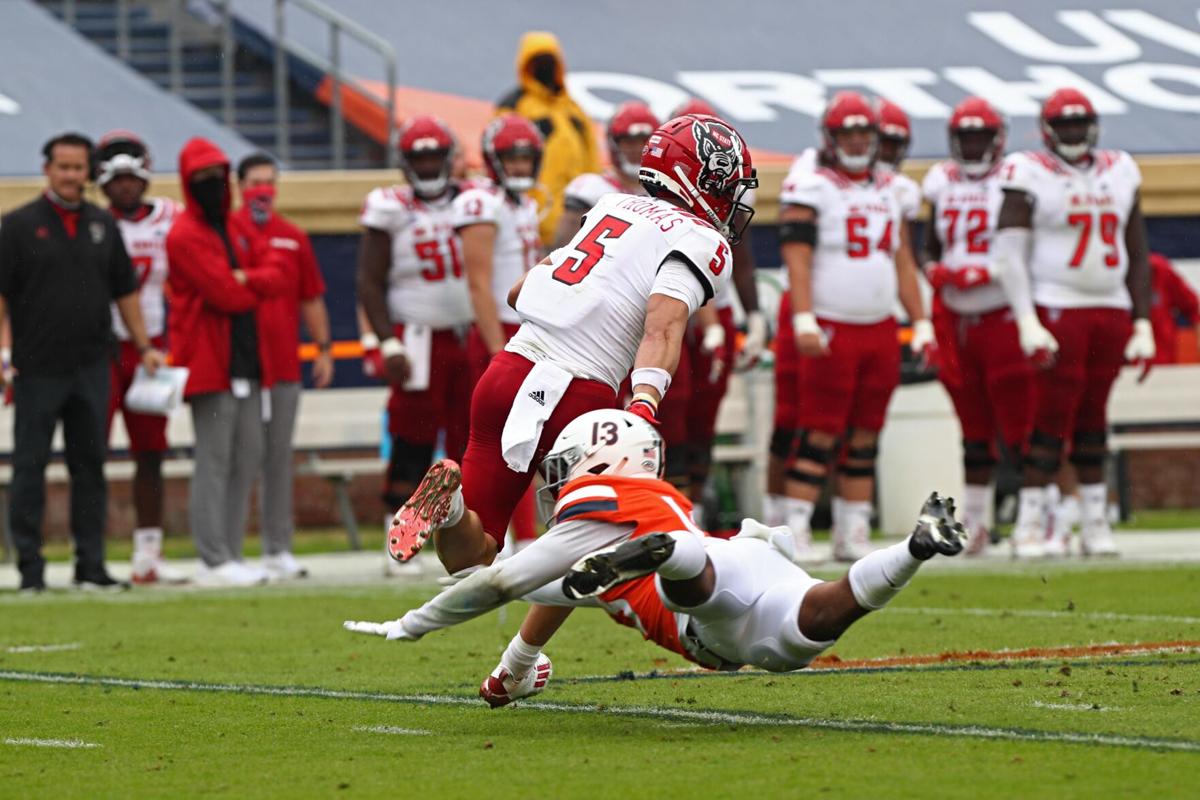 Virginia entered Saturday's matchup with North Carolina State as an eight-point favorite. The Cavaliers left Scott Stadium 1-2 in the ACC after falling 38-21 to the Wolfpack (3-1, 3-1 ACC), who outplayed the Wahoos all afternoon.
Mistakes were aplenty, and the Cavaliers were unable to recover from a slow start this week. A 24-0 deficit turned into a disappointing defeat on a rainy Saturday.
Virginia lost to N.C. State by 17 points. The Wolfpack tallied 17 points off four turnovers, while the Wahoos were unable to turn their one forced turnover into points. Turnovers were the difference in Saturday's game.
Other Virginia miscues included a blocked punt and a failed fourth-down attempt at the goal line.
"Rather than making it more than that … those six plays in and of themselves were the difference in the game," Mendenhall said.
UVa made far too many mistakes to beat a team as talented as N.C. State. The Cavaliers failed to convert their third downs as well, finishing the game 4-for-18 when facing third downs.
Turnovers and third-down conversions tend to determine outcomes of games, and the Wahoos struggled in both aspects Saturday.
Whose havoc?
After opening the season with a five-sack, seven-turnover performance against Duke the defense hasn't created chaos. UVa forced one turnover against N.C. State, and the Cavaliers didn't create a single sack.
The team didn't force any turnovers against Clemson.
Virginia feasted on a subpar Duke offense, but they've been going hungry ever since.
"We gotta be more effective in the pass rush game, as a d-line and as a front seven, too," sixth-year defensive lineman Richard Burney said. "We gotta be better."
Through three games, dynamic linebacker Charles Snowden has yet to record a sack. He finished with five a season ago.
Virginia's defense believes it's capable of disrupting offenses and changing games. It's struggled in the second and third games of the season to make enough plays to keep the game competitive. Expect increased defensive disruption to be a point of emphasis in future weeks.
QB update
Stepping into a game as backup quarterback is never easy. Stepping in on a rainy Saturday with your team down 24-0 might be one of the tougher scenarios facing a quarterback.
That's what Lindell Stone faced Saturday. While the senior signal caller was far from perfect, he finished 30-of-54 for 240 yards and three touchdowns. The former Woodberry Forest star threw one interception on the afternoon.
Virginia's performance across the board fell well short of UVa's standards, but Stone held his own in relief of Armstrong, who left the game after a vicious collision on the sideline left him woozy.
"I was just told that Brennan was out for the game," Mendenhall said. "I don't know any more information at this point. I thought Lindell did a really nice job of leading our team and giving us a chance to fight back and to possibly change the outcome and to come from behind. He did a really nice job, showed a lot of courage, a lot of grit and saw the field well."
Stone wasn't as complimentary of his own performance.
"I think I left a lot out there, put our defense in bad positions," Stone said. "I thought we moved the ball effectively at some points, but there was a lot more that could've been done."
The right-handed quarterback says he's looking forward to owning his mistakes Saturday and working to improve his game. Even with a goal of improving, Stone improved dramatically on his previous performance.
Entering Saturday, Stone was just 4-of-12 for 31 yards and three interceptions in his Virginia career. He stepped up and showed improvement Saturday.
COVID-19 and injury update
Just like last week at Clemson, seven UVa players were unavailable for competition due to COVID-19. There were no new positives from last week, however.
The student-athletes who tested positive for COVID-19 or were deemed close contacts to people who tested positive are either in isolation or quarantine. People who test positive must isolate for a minimum of 10 days, while close contacts quarantine for two weeks.
None of the players affected were starters.
On the injury side of things, Joey Blount missed the game for UVa. Mendenhall says Blount was ruled out late in the week, but he offered no specifics on his situation. Tavares Kelly Jr. also didn't play for the Cavaliers. He missed last week's game as well.
Be the first to know
Get local news delivered to your inbox!