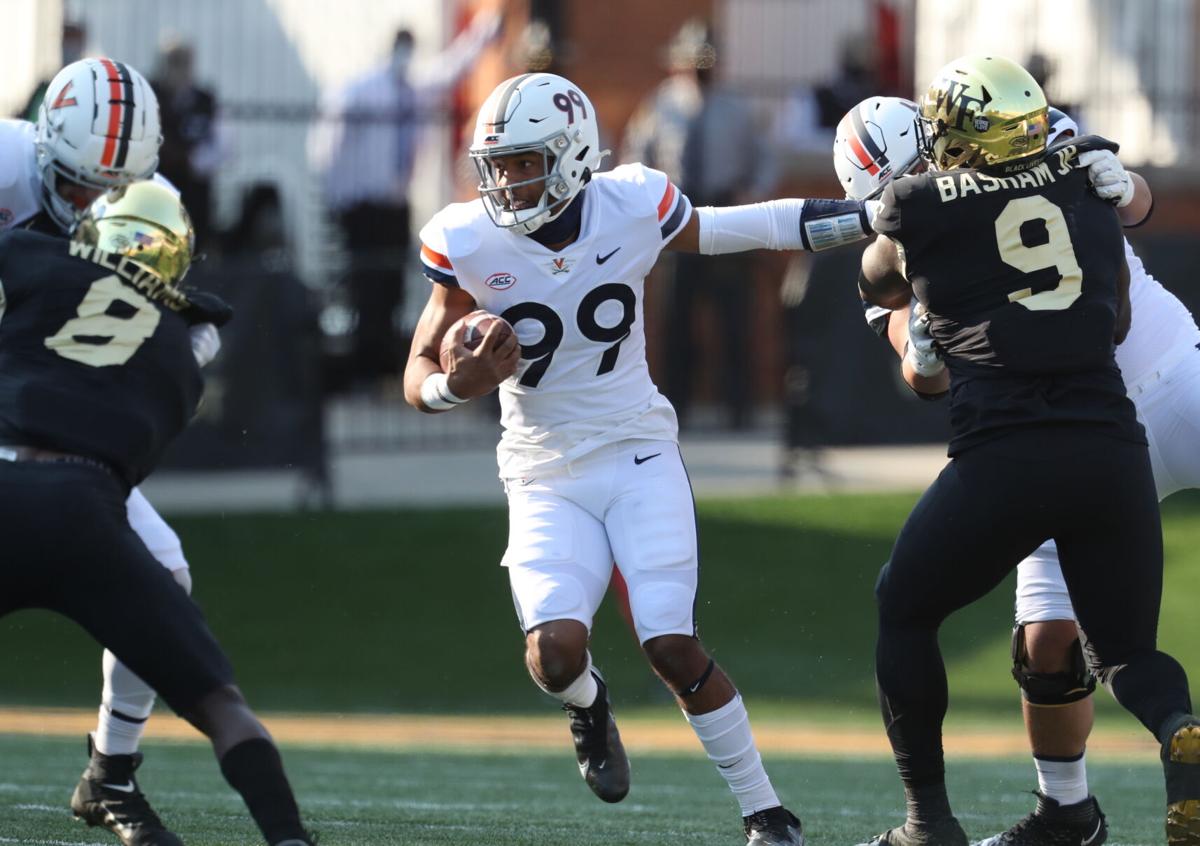 WINSTON-SALEM, N.C. — A slow start and a woeful finish bookended a respectable second and third quarters for the Virginia football team Saturday. The Wahoos fell to Wake Forest 40-23 despite outscoring the Demon Deacons 17-9 across the middle two quarters.
Virginia falls to 1-3 on the season with the loss, losing three consecutive games for the first time since the end of the 2017 season. The schedule won't get any easier as ranked Miami and North Carolina teams arrive next for the Wahoos.
Saturday's effort wasn't nearly good enough to beat a ranked team, and it wasn't even enough to stay within 10 points of a Wake Forest team (2-2, 1-2 ACC) that entered the night winless in the ACC.
"We all know we know we got to put our noses down and get to work and get this culture back where it needs to be," sophomore defensive tackle Jowon Briggs said.
There were a few building blocks for the Cavaliers, however.
UVa opted to use three quarterbacks Saturday. Lindell Stone earned the start with Brennan Armstrong injured. Given Stone's lack of rushing ability, the Cavaliers used both Keytaon Thompson and Iraken Armstead as runners.
The decision to utilize three quarterbacks sparked the rushing attack.
For the first time since Oct. 27, 2018, Virginia eclipsed 200 rushing yards in an ACC game. The Cavaliers finished the game with 218 yards on the ground. Armstead and Thompson accounted for 117 of the 218 yards. Armstead also completed a pass for nine yards. He threw the ball three times.
"It was pretty smooth, actually, and we had practiced it and walked through it," Thompson said of the revolving door at the quarterback position.
Running back Wayne Taulapapa chipped in with 68 yards and a touchdown.
Rushing wasn't a major issue for the Wahoos on Saturday. At many times during the game, it was the team's best offensive threat. Unfortunately for Virginia, the offense only mustered three points in the second half.
Despite a subpar second half, the three-quarterback system showed surprising promise.
Up and down special teams play
It was far from perfect, but the Virginia special teams unit showed moments of improved play. At other moments, mistakes put the Cavaliers in unfortunate situations.
Brian Delaney made three of his four field goal attempts. He also missed a 36-yard kick that would've given UVa a 23-20 lead in the third quarter.
Tavares Kelly Jr. showed flashes on kickoff returns, taking two kicks for a combined 65 yards as he returned from injury.
Unfortunately, when the Demon Deacons elected to kick away from Kelly Jr. in the fourth quarter, sophomore running back Perris Jones fumbled the kickoff and the Demon Deacons recovered. Wake Forest turned the miscue into a touchdown and a 14-point lead.
The Cavaliers made a few solid plays on special teams, but the game-altering miscues remained.
Slow starts continue
UVa fell behind 14-0 in the first four minutes of Saturday's game.
"Surprised, but yeah, it's two weeks' worth now of emphasis on starting faster," head coach Bronco Mendenhall said. "I still haven't designed the right answers yet to help our team start faster. Still working on it."
The Cavaliers made a field goal to score their first points in a first quarter this fall, but they trailed 14-3 after 15 minutes of play. UVa has been outscored 48-3 across first quarters this fall.
Big plays allowed
Once again, big plays were an issue for UVa's defense. The Cavaliers allowed touchdowns of 75 and 40 yards Saturday, while yielding a handful of other chunk plays that didn't directly result in touchdowns. Wake Forest finished the night with six plays going for at least 30 yards.
Wake Forest averaged seven yards per play, and Sam Hartman averaged 19 yards per completion. UVa's secondary struggled throughout the night, and Mendenhall admitted he expected the Cavaliers to have more matchup advantages in the back end.
"There are always matchup assessments so a matchup we thought would be more in our favor with our safety versus the No. 2 receiver for Wake — the second receiver in — we thought that would be more in our favor," Mendenhall said. "That ended up being more in Wake's favor."
To make matters worse, cornerback De'Vante Cross left the game with an injury. Safeties Joey Blount and Brenton Nelson also left at times with injuries. Mendenhall is unsure of the status of the three defensive backs as the Cavaliers prepare for Miami next week.
Walker sick
In addition to the three defensive backs missing time, transfer running back Ronnie Walker Jr. missed the game with an illness. The Cavaliers were down one player due to COVID-19, but it's unclear if Walker Jr. was that player.
The running back received his waiver from the NCAA this week, but developed an illness as the week went on and was unable to play for UVa despite being allowed to suit up this week.
"Just as the waiver comes in, he was out of practice that day and not feeling well," Mendenhall said. "He's out with sickness currently."