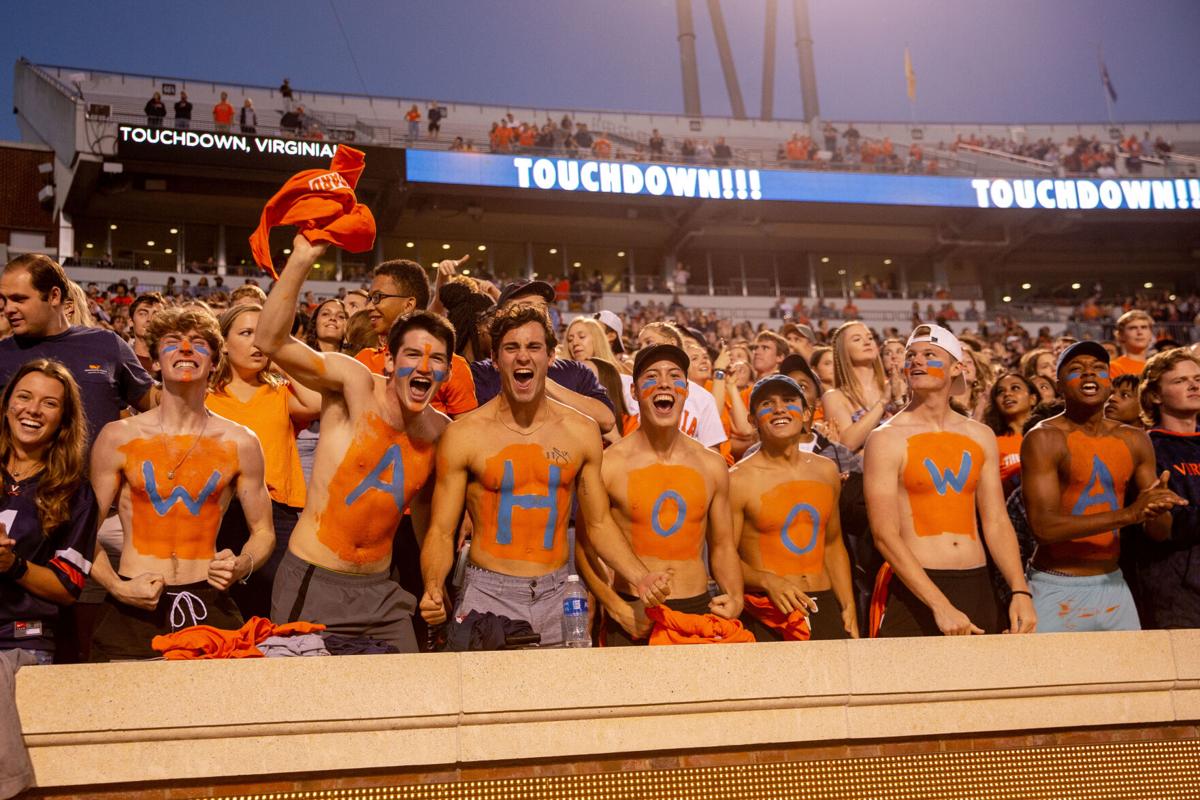 Friday nights aren't always ideal for college football attendance.
Fans from out of town might not be able to make the trip due to work obligations, putting pressure on the student section to come out in droves. While there were thousands of empty seats Friday night in Charlottesville — Scott Stadium holds 61,500 people and the official attendance for UVa-Wake Forest was 38,699 — the student section impressed.
The hill and student section were packed Friday, bringing energy during the first half against Wake Forest.
As the game progressed, and the Demon Deacons pulled ahead, the energy evaporated. By the time Wake Forest completed its 37-17 win over UVa, the stadium was mostly empty.
"I was so thankful for the crowd and the energy, and we were trying to give them every chance to stay with us and into the game," Virginia head coach Bronco Mendenhall said, "but the reality is I didn't have our team executing well enough to maintain the home-field advantage."
Mendenhall's program had won 14 of its last 15 games at home entering the game. The Cavaliers climbed to the top of the Coastal Division in 2019, going 7-0 at home.
Instead of a bounce-back home win Friday, the home faithful booed the Cavaliers at the end of the first half. There weren't enough fans left by the end of the game for any potential boos to register.
It was an atypical home performance from UVa, which prides itself on defending its home stadium.
"That probably hurts more than anything," Mendenhall said.
Penalties an issue again
As odd as it sounds, UVa players and coaches seemed pleased with the team's effort level.
"I don't think effort is the problem," linebacker Noah Taylor said.
Mendenhall felt similarly.
"I thought our team was willing and I thought they wanted to try, and I thought they did try," Mendenhall said, "and I thought they did battle, and I loved a lot of the efforts from younger players at the end."
While effort might be a positive, the execution and discipline lacked for the second consecutive week.
UVa allowed Wake Forest to score on its first seven offensive possessions, and the Demon Deacons racked up 473 yards. UVa's defenders seemed out of position at times. At other times, the team simply failed to make plays. The defensive line looked overmatched all game.
To make matters worse, UVa committed a season-high 11 penalties for 83 yards. The week prior, UVa committed nine penalties for 102 yards.
Virginia can't afford those costly miscues, especially given the way it's playing defensively. The discipline needs to be much better moving forward.
Injury updates
Defensive lineman Adeeb Atariwa and defensive back Josh Hayes both played for the Cavaliers. Atariwa missed the last couple games with injury, while Hayes hadn't played yet this season due to injury.
Defensive end Aaron Faumui left the contest with an injury. No update on Faumui's status was provided immediately following the game.
Wide receiver Keytaon Thompson is dealing with an injury, which limited his usage against Wake Forest. He caught two passes for 35 yards and wasn't given a carry. Thompson wore a cast on his left wrist.
Tight end Jelani Woods injured his right leg late in the loss, but he told the media after the game he expects to play against Miami. Woods wore a boot on his right foot following the contest.
Running back Wayne Taulapapa missed the game with injury. He suffered a concussion against UNC.
Kicker Justin Duenkel left the game early with an unspecified injury.
Another short week
There's no rest for the weary, as UVa football faces Miami on Thursday. The Cavaliers will need to fix their issues quickly to pick up their first win in conference play.
"It hurts," Woods said. "It hurts a lot, but I feel like as a team, we're gonna bounce back."
The matchup is Miami's first conference game of the fall. The Hurricanes started their season 1-2, narrowly beating Appalachian State but losing by more than 20 points to Alabama and Michigan State. Miami faced Central Connecticut State on Saturday afternoon.
Miami has fallen short of expectations this fall, but the Hurricanes have a chance to turn their season around with a strong conference season. Both teams figure to play with desperation Thursday night after mediocre starts to the year.
"It's definitely frustrating, but you just have to put it behind you," Taylor said. "We've got a great opportunity. We've only lost two games. We've got a big season ahead of us."