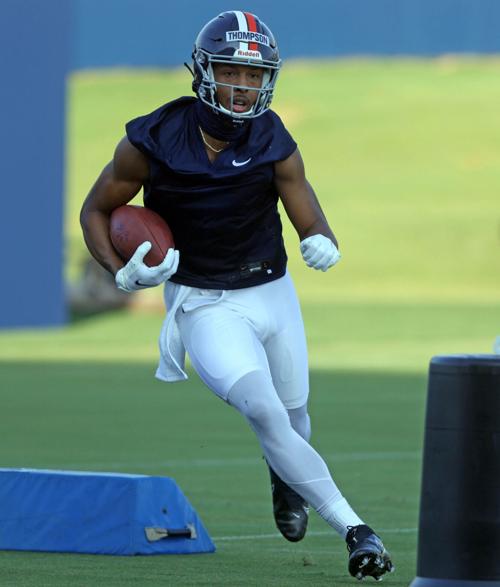 Keytaon Thompson sliced through the defense during a passing drill early in Friday night's Virginia football practice, proving difficult to cover in open space.
The sight isn't unusual, according to his teammates.
"He can do it all," Virginia cornerback Darrius Bratton said. "We really have to dial in on him to see where he's gonna go. He's a big part of our offense."
The drill, which looked like a red-zone 7-on-7 drill or something close to it, wasn't completely dominated by Thompson and the offense, though. Tight end Grant Misch bobbled one pass, dropping the ball. Linebacker Nick Jackson nearly intercepted the pass, but the football fell through his hands, leading his defensive teammates to give him grief on the sideline for not completing the play.
Later in that portion of practice, linebacker Elliott Brown snagged an interception for the defense. Brown has made a strong case to be a starting linebacker, according to head coach Bronco Mendenhall. Misch made up for his drop as the practice went on, making a couple nice catches over the middle.
Quarterbacks Iraken Armstead and Jacob Rodriguez were competing in the drill and both players figure to be in the mix for the backup quarterback job behind Brennan Armstrong. That allows Thompson to spend time elsewhere.
Thompson told Mike Barber of the Richmond Times-Dispatch that he's spending about 75% of his practice time at wide receiver during camp after originally coming to UVa in 2020 as a quarterback.
"The backup quarterbacks have been doing really good," Thompson said. "They've all been really impressive so I've been doing less and less of that, besides gadget plays."
Injury updates
The Cavaliers were without a few standout players at Friday night's practice.
Wide receiver Billy Kemp IV was in a walking boot. Mendenhall expects him back at practice in the next week. Marshall transfer Artie Henry, a wide receiver and returner, also was in a boot but expected back in action next week.
Linebacker Josh Ahern was out with a sore knee, but he's among the group expected to return next week.
Veteran defender Joey Blount recently stopped wearing a boot after a lower-leg injury, according to Mendenhall. The projected starter spent his time performing a different workout than his teammates at Friday's practice. He was moving without the boot and seemed upbeat.
Linebacker Noah Taylor, who was recently named to the Senior Bowl watch list, had a tight back so he missed the team-wide practice but worked out with Blount. He dealt with a back injury last season that hampered his performance.
Through Friday, the team's injuries are minor ailments.
"Nothing significant, which is great," Mendenhall said.
Local freshmen impress
Mendenhall mentioned a pair of Charlottesville athletes when discussing the team's freshmen.
Malachi Fields, a freshman wide receiver who played quarterback at Monticello High School, boasts impressive size. He's an exceptional athlete who stands at 6-foot-4 and weighs 220 pounds.
"Malachi is big, and he's fast, and he's confident, great body control and really good hands," Mendenhall said.
Jonas Sanker, a freshman defensive back from The Covenant School, also has looked good in fall camp. Mendenhall expects both Fields and Sanker to earn playing time this fall.
Quarterback Jay Woolfolk, a prospect from Chesterfield, was another first-year player to draw praise from UVa's head coach.
Additional notes
• Mendenhall says Florida graduate transfer Jacob Finn holds an edge over Brendan Farrell in the punting competition.
• Justin Duenkel has maintained his lead in the kicking competition, and he'd be the kickoff specialist and field-goal kicker if the season started today. Duenkel looked strong during a special teams drill at the beginning of Friday's practice, connecting on his field goals with impressive accuracy and power. Hunter Pearson hit the left upright, missing one of his kicks during the session.
• Wide receivers Dontayvion Wicks and Ra'Shaun Henry were among the players who returned punts on Friday. Last year's primary punt returner, Kemp IV, was unavailable Friday. He figures to be in the mix for the starting punt return job.
• Friday's practice featured a Virginia team playing without jersey numbers. Mendenhall thinks next Sunday (Aug. 22) will likely be the first day of number selections for the team.
• NFL scouts from the New England Patriots and New York Jets were in attendance at Friday's practice. The two watched the offensive line, a punt return drill and the red-zone passing session during the portion of practice that's open to the media.