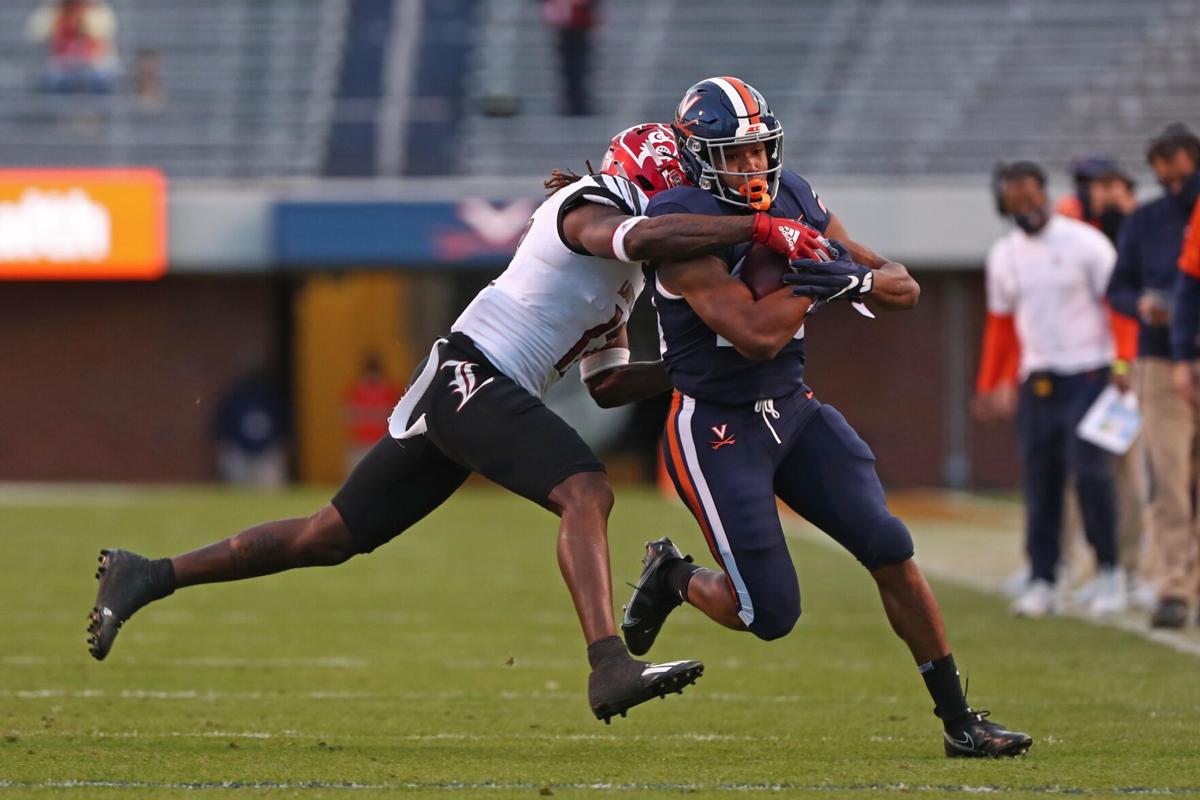 The Virginia football team left Scott Stadium on Saturday night with a 31-17 win over Louisville, its third victory of the season. It was the second win in a row for the Cavaliers, who seem to show growth weekly despite starting the season 1-4.
With winnable games left on the schedule, Virginia sits in position to post its third consecutive winning season despite the subpar start. Saturday's win sets up Bronco Mendenhall's squad for a potentially strong finish to its 2020 season.
UVa's performance Saturday wasn't perfect.
The Wahoos allowed nearly 500 yards of offense, including 317 yards on the ground. Despite allowing a lot of yards, Virginia forced three turnovers and held Louisville to 0-2 on fourth downs. The defense allowed just 17 points and scored on an interception return for a touchdown.
Offensively, the Cavaliers racked up 368 yards of offense and won the time of possession battle by roughly a minute despite Louisville holding the ball for about 10 minutes in the opening quarter. Three receivers racked up at least 40 receiving yards, and four players ran for at least 20 yards.
Special teams didn't make game-changing plays, but there were quality individual efforts at times.
Unlike losses to N.C. State and Wake Forest, UVa played solid in every phase of the game. There were mistakes, but they weren't back-breaking errors that compounded and took the Wahoos out of the game.
More importantly, Virginia's team showed development in multiple phases.
"There are things we can correct, there are things we did well and there are lessons to be learned, just like there is every week, but I feel momentum," Mendenhall said. "I see some consistency moving and growing and I like how it's shaping and moving for the last part of the season."
Virginia faces an FCS team next weekend before traveling to face a struggling Florida State program. The Cavaliers sit on the brink of improving to above .500 after a 1-4 start.
Lavel Davis Jr. returns
UVa's 6-foot-7 freshman wide receiver returned to action Saturday after missing a few weeks, snatching four receptions for 74 yards and one touchdown. He added one unfortunate unsportsmanlike penalty for taunting a defender, but outside of the one rookie mistake, Davis Jr. looked the part of a top-tier ACC talent.
"Him just getting back out there was good for us," quarterback Brennan Armstrong said. "He needs to get back into it, I feel like. Missing three weeks is a long time, and I feel like once he did that, got him the touchdown today, I feel like he's ready to go for the rest of the season."
With Davis Jr. in the lineup, the Cavaliers feel more confident in their ability to stretch the defenses vertically.
"It keeps defenses, as they want to defend our run game, as they want to defend our quarterback, they just have to know there's a bigger risk than what they have," Mendenhall said. "With Lavel back, just the three or four receptions he had, they stand out. It makes defensive coordinators and defensive players more hesitant to get closer."
Containing Cunningham
UVa's defense played well for the most part Saturday, but it struggled in one area: slowing down Malik Cunningham. Louisville's quarterback carried the ball 20 times for 197 yards and two touchdowns.
The rushing output was the best of Cunningham's career, and it's the most by an ACC quarterback all season.
With star offensive weapons Javian Hawkins and Tutu Atwell out Saturday, the Cardinals leaned on Cunningham, and it nearly helped Louisville pull the upset.
Virginia linebacker Zane Zandier summed the challenged up best.
"He's very fast," Zandier said.
Fortunately for UVa, the Cardinals' offense lacked consistent firepower with Atwell and Hawkins out. Even with Cunningham running wild, Louisville failed to reach 20 points.
Injury updates
The Cavaliers were unaffected by COVID-19 on Saturday. The team announced prior to Saturday's game that there were no players or coaches in isolation or quarantine due to the virus.
Unfortunately for Virginia, injuries kept a few players out of the game. Joey Blount missed another game for the Wahoos. The safety hasn't played since UVa's 40-23 loss to Wake Forest on Oct. 17. Fellow safety Brenton Nelson also missed Saturday's contest.
Offensive weapon Keytaon Thompson, who lines up all over the field for the Cavaliers, also missed Saturday's game against Louisville. During the game, wide receiver Tavares Kelly Jr, offensive lineman Dillon Reinkensmeyer and tight end Tony Poljan all exited the contest with various injuries.
On the bright side, Indiana transfer running back Ronnie Walker Jr. made his Virginia debut Saturday. He carried the ball five times for 20 yards.