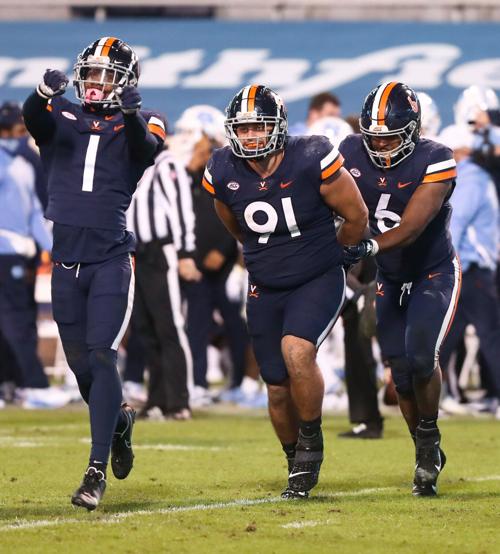 Virginia's scheduled football game with Louisville last Saturday was postponed due to COVID-19 issues within the Cardinals' program.
Fortunately for both UVa and Louisville, both teams were off this upcoming Saturday. With less than a week until this week's scheduled showdown, Virginia head coach Bronco Mendenhall says all indications are that both programs will be healthy and ready to compete this weekend.
"Both teams are anticipating playing now," Mendenhall said Monday.
With the game set for this Saturday, the Cavaliers enjoyed a surprise off weekend last Saturday.
UVa remains locked into preparation for Louisville. While not playing Saturday came as a surprise, the opponent for this upcoming weekend remains the same.
The Cardinals possess a dynamic offensive attack that can turn missed tackles into touchdowns in a hurry. Defensively, Louisville's defense struggles at times, opening up opportunities for Virginia to score in bunches.
On the bright side, the Cavaliers received a few extra days of rest before hosting the Cardinals.
"I really appreciated it now, just because it's been a pretty long season so far," defensive tackle Adeeb Atariwa said.
Atariwa is projected as a starter along the defensive line with Richard Burney out for the season. He's grateful for the extra time to prepare for Louisville's rushing attack, which is led by speedy running back Javian Hawkins.
"They run the stretch really well," Atariwa said. "Stopping the run game, being able to contain that and getting after them is really something that is key in this game. They have an o-line that works in unison, and you don't see that very often."
Stopping the run seems like priority No. 1 for the Cavaliers heading into Saturday.
Bye week viewership
Mendenhall says he spent part of Saturday outside enjoying the beautiful weekend in Charlottesville. He also watched college football during the unexpected bye.
Mendenhall sat down for the entirety of Notre Dame's 47-40 win over Clemson in double overtime. It's the first full game Mendenhall has sat down to watch live in years. Understandably, he's usually busy coaching his own team or dissecting game film.
"What a great game," he said.
Interestingly, and perhaps relatable to some, Mendenhall watched the contest with the game muted. The decision was made by Mendenhall's wife, Holly. She opts to mute the games because Bronco can't flip off his football mind, instead analyzing every play and how the broadcast crew responds to developments on the field.
"It's just so frustrating to her," Mendenhall said. "We have a rule – and I don't even know if I should share this but I'm going to – when we watch the games we have the announcers turned off because how I react to them and what they're seeing and what I think is accurate really doesn't match most of the time, and so she just turns the volume off."
Mendenhall says the muting first started with family members watching games he coached. As announcers might've made overly inflating or degrading comments about BYU or UVa, family members opted to mute the TV.
The same is now true when he watches with his wife, only for a different reason.
Injury updates
Safeties Joey Blount and Brenton Nelson are among UVa's list of injured players. The two dynamic defensive backs remain questionable for this weekend's matchup with Louisville.
"I don't think it's going to be enough time," Mendenhall said.
Virginia's head coach says he believes the weekend off "will help some" with returning players to full strength, but some of the injuries may linger. He didn't offer a specific timetable for the return of Blount or Nelson.
If those players are unavailable to go Saturday, D'Angelo Amos and Antonio Clary are likely to continue filling in at the safety positions.
"He's played better and better each time, the more reps he gets, the more plays he has, he's playing better," Amos, a graduate transfer, said of Clary's recent performance.
Up next
Due to last week's schedule change, the Cavaliers' bye week passed. After hosting Louisville this weekend, the Wahoos will host FCS program Abilene Christian on Nov. 21.
The game will kick off at 4 p.m. and air on regional sports networks. It's the first UVa game this fall that won't air on the ACC Network.
Be the first to know
Get local news delivered to your inbox!