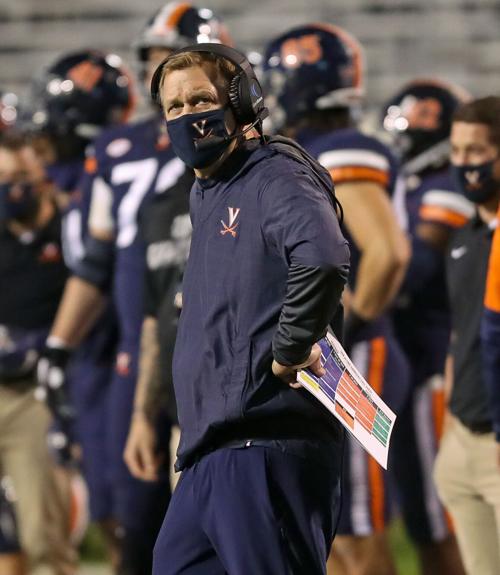 The Virginia football team took Tuesday off due to NCAA Election Day guidelines, but head coach Bronco Mendenhall still spoke to the media about this week's home game against Louisville.
The Cavaliers (2-4, 2-4 ACC) enter Saturday's showdown fresh off a 44-41 upset victory over North Carolina. A win over the Cardinals would send UVa into its bye week on a two-game winning streak with an FCS matchup waiting for it the week after the bye.
It's an important game for the Wahoos.
Election Day
Ahead of Saturday's important game against Louisville, UVa's practice schedule changed. With Tuesday off for Election Day, the Cavaliers opted for a Monday night practice.
"As a result of [Election Day], we altered our schedule yesterday, which was Monday, and we practiced last night after a full day of preparation at approximately the same time the game would be, and so that's how we handled it," Mendenhall said. "That basically gave us the one practice that we would have had today."
Mendenhall's coaching staff made the quick change to accommodate the day off.
He also credited wide receivers coach Marques Hagans for work earlier this fall helping players register to vote. UVa's head coach feels like the student-athletes were given ample chances to register and make their voices heard.
In addition to the chance to vote, the Wahoos get a well-deserved rest day during a hectic fall season.
"Coach Hagans did a really nice job of leading an initiative and having the voter registration organizations come to our football facility, and everyone that certainly wants to will have every opportunity to vote today, but also they're getting just a nice break in schedule," Mendenhall said.
Injury updates
Injury updates headlined Tuesday's press conference.
Defensive end Richard Burney is out for the season, Mendenhall shared.
Starting quarterback Brennan Armstrong left Saturday's game against North Carolina with an apparent leg injury, and Mendenhall says the quarterback is "returning to health."
In other quarterback news, freshman Iraken Armstead recently suffered an injury and missed the UNC game. Armstead's freshman campaign is over, Mendenhall announced Tuesday.
"Ira will now be gone for the season as well," Mendenhall said. "He has an injury. He was not available for the last game, and so that's become clear."
At defensive back, Mendenhall isn't sure when safeties Joey Blount and Brenton Nelson may return. He's optimistic they can come back soon, but he also shared that they may be out until after the bye week.
On the positive side, Indiana transfer running back Ronnie Walker Jr. has recovered from his illness and may make his UVa debut against Louisville.
"Ronnie was still not available last week," Mendenhall said. "He is available now. He was with us practicing yesterday."
Scouting Louisville
Stopping Louisville's high-octane offense — the Cardinals average just under 30 points per game and feature a handful of explosive playmakers — makes Saturday's matchup similar to last weekend's.
Both Louisville and North Carolina can score touchdowns quickly thanks to dynamic players at running back and wide receiver. Stopping running back Javian Hawkins becomes priority No. 1 on Saturday night.
"He's definitely a talented guy," defensive tackle Jowon Briggs said Monday. "We really just have to emphasize playing good run defense."
Briggs says UVa aims to hold each of its opponents to 3.5 yards per carry or worse.
On the flip side, Louisville believes it's better than its record indicates. Some media members believed the Cardinals were ready to contend for a spot in the ACC title game this fall.
Instead, Louisville sits at 2-5 overall and 1-5 in the ACC this year. One-possession losses to Pittsburgh, Notre Dame and Virginia Tech illustrate that the Cardinals are close to being a winning team, but the results just haven't been there.
"We've been in the games, we just haven't closed them out," Louisville head coach Scott Satterfield said Monday. "When you think about last year, we were able to beat Boston College on a field go there within a minute to go. We beat Wake Forest right there at the end. We were able to close out Virginia last year in the fourth quarter. I think being able to close out games is huge."
Despite a combined record of 4-9, both UVa and Louisville possess the talent and coaching to beat just about anyone in the ACC outside of Clemson. Saturday's battle pits two quality, yet underachieving teams against each other.
Virus protocols
UVa reported no positive COVID-19 tests among student-athletes last week. Since missing seven players in the games against Clemson and N.C. State, the Cavaliers have done well to keep most of their players available.
"The issue really wasn't the virus contraction, it was contact tracing," Mendenhall said. "Now that we're becoming clear on what the contact tracers are asking, it's allowing us more clarity on at least we can address those things."
The risk of the virus still exists — a ranked Wisconsin team recently canceled its Saturday game against Purdue due to COVID-19 issues — but the Cavaliers' numbers remain low, allowing them to take the field each Saturday.
"I think it's been effective, not perfect," Mendenhall said, "and it doesn't mean we still couldn't test positive or I couldn't or someone else, but within the scope of what we know, I think we're doing well."
Be the first to know
Get local news delivered to your inbox!