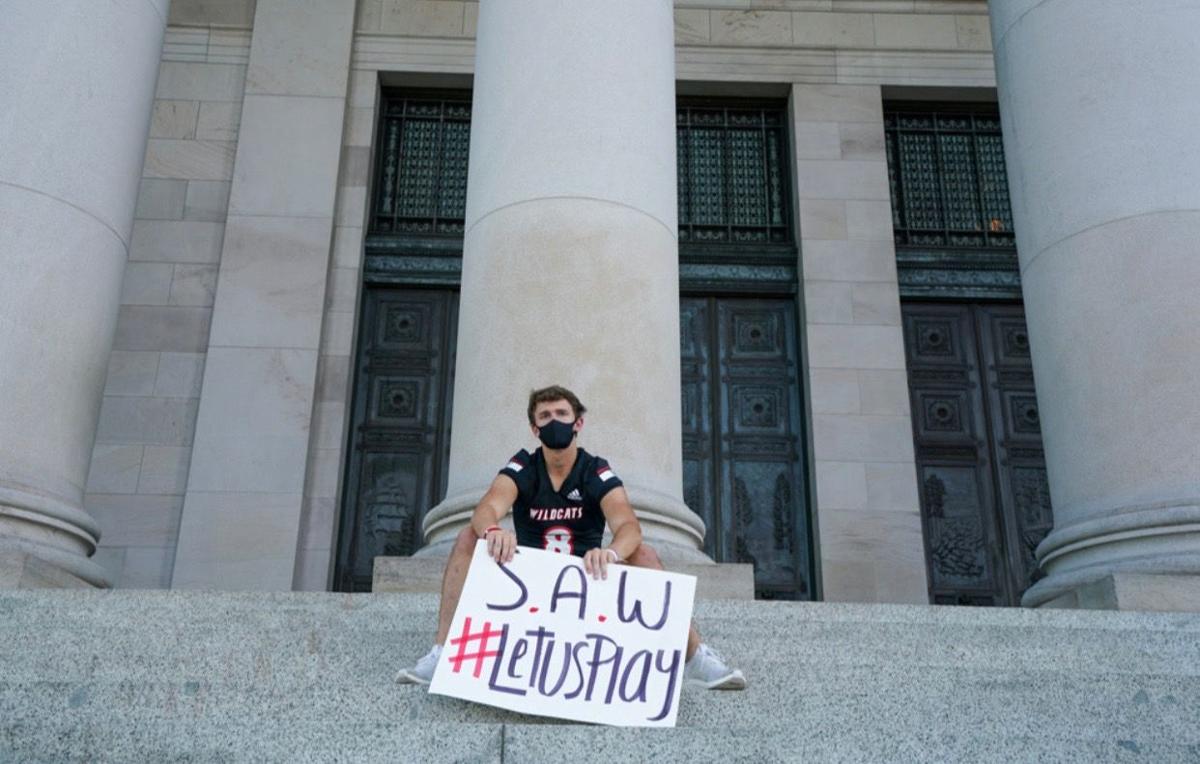 Josh McCarron, one of the top recruits in the Virginia football team's 2021 recruiting class, stood on the steps of the Washington State Capitol in Olympia, Washington, on Thursday, wearing his high school jersey.
Flanked by several peers, McCarron delivered an impassioned speech.
"This is more than just sports," McCarron said at the end of his address. "For many, this is an opportunity to go to college. This is an opportunity to escape reality, to help deal with mental [health] issues. This is an opportunity to bring a group of young kids together and help them learn the skills to become future leaders. We need this and we are prepared to do whatever for it. We need your help to make this happen and want to help and support in whatever way possible. I ask you [Washington] Gov. [Jay] Inslee, will you let us play?"
McCarron joined a group of high-school athletes from Washington in asking Inslee for their fall sports seasons back.
With numerous states playing high school football this fall, McCarron and others believe it's safe for Washington to do so as well. A July announcement from the Washington Interscholastic Activities Association pushed fall sports to the spring, but the athletes hope a reversal is a possibility.
Michigan changed course Thursday after a similar initial decision, allowing high school football and a few other sports to take place this fall. On Aug. 14, the Michigan High School Athletic Association planned to move the season to the spring. Students created a few campaigns to save their seasons, and the state eventually flipped its decision.
A recent executive order from Michigan Gov. Gretchen Whitmer opened gyms across the state while also allowing organized sports to resume.
It appears Inslee paid attention to the group of Washington high schoolers protesting and pleading for a fall season.
"The Governor took notice, so we're speaking with him next week," McCarron told The Daily Progress.
While the group is still working out a specific meeting time for next week, McCarron is hopeful he may regain his fall football season. Being an athlete in one of the states that postponed fall athletic competition to the spring brings with it emotional pain. McCarron knows players from across the country, and it's tough for the Everett, Washington native to see teams and friends in other states compete each weekend.
According to the CDC, Washington had reported 3,153 COVID-19 cases in the past seven days as of Friday. Utah reported 2,894 in the same time frame. Utah, however, started high school football on Aug. 14, becoming the first state to kick off its 2020 season.
"It's pretty painful and difficult to hear," McCarron said. "Watching my friends from Utah, Georgia and Texas play their sport, and I'm also in love with that same sport, it's just hard to watch."
Georgia reported 14,214 cases in the past week, checking in as the state with the fourth-most COVID-19 cases in the last week, per the CDC data from Friday.
While total case counts aren't the only relevant data point, and state population as well as population density can skew total case numbers, Washington has fared better at handling the virus in recent weeks than several states in the southern U.S. Despite impressive COVID-19 numbers in relation to the rest of the country, McCarron and his peers are on the verge of losing their fall sports seasons.
At the beginning of McCarron's speech, he says spoke with a friend in Georgia and learned about the state's protocols for playing high school football. They include contact tracing, mask wearing and limited team periods to reduce potential exposure to the virus during practice.
For those who do become ill, they take classes online while quarantining from peers. Some Washington schools, including McCarron's, are already providing instruction virtually, so he says accommodating online classes for sick students shouldn't be a problem.
It's worth noting that there have been cancellations and postponements of high school games in Utah because of COVID-19 cases within teams. Other games in Utah and other states have been played safely this fall, though.
With some states implementing health protocols and playing during the pandemic without creating major outbreaks due to games, McCarron and others believe Washington can craft a plan to safely play fall high school football.
"We have lower cases than a lot of those states, and we have a lot better resources than a lot of those states, McCarron said," so what is stopping us from being in that group?"
The talented prospect emphasized the importance of his teammates and peers competing.
He's locked into a scholarship offer with a Power 5 program, but some of his teammates need time on the field to put themselves in position to earn college scholarships. Others use the practices and games as a break from the stresses of everyday life.
McCarron and company know the risk the virus presents. They also don't believe playing high school football games puts the community in greater danger.
High schools in other states are competing this fall. After a few weeks watching from afar, McCarron wants his state to join in on the gridiron action.
"It's pretty hard to watch, but I think we got our message across yesterday," McCarron said Friday, "and I hope we have some good news coming soon."
Be the first to know
Get local news delivered to your inbox!