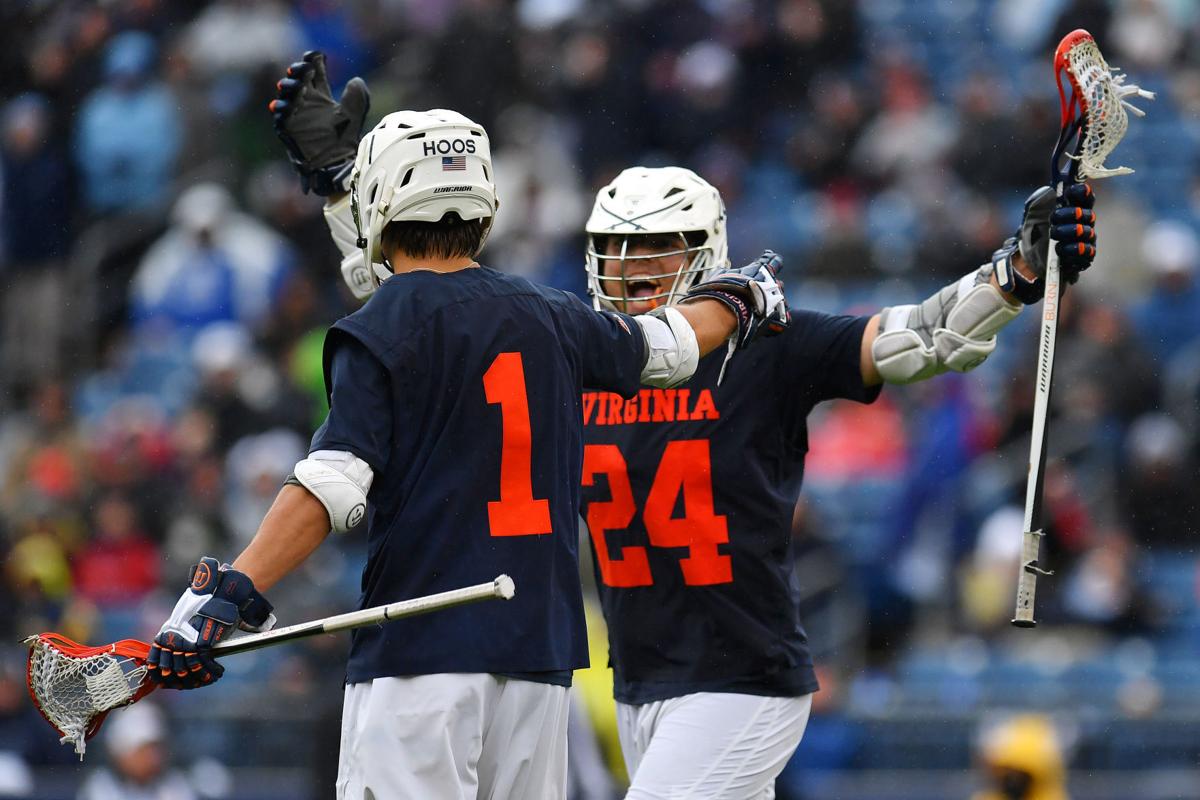 EAST HARTFORD, Conn. – One of the first things the Virginia men's lacrosse team did after knocking off top-seeded North Carolina in the NCAA Tournament in Saturday's semifinals was unpack its bags. As he did in 2019, when the Cavaliers won the national title, coach Lars Tiffany had the team pack up before playing its first game in the final four.
It wasn't that Tiffany expected to lose. He wanted to make it clear that playing a second game on Memorial Day weekend is a privilege teams have to earn.
"You earn the right to play championship weekend," senior defender John Fox said. "And then, the same thing, you earn the right to go back to the hotel and prepare for a national championship."
The approach worked two years ago in Philadelphia, when UVa unpacked after beating Duke in double-overtime in the semifinals, came back two days later and dropped Yale to win the national championship, the program's first since 2011.
Now, these fourth-seeded Cavaliers (13-4) hope to become the first lacrosse team in Virginia history to win back-to-back titles. To do it, they'll have to beat a Maryland team seeking to become the sport's first undefeated champion since UVa turned that trick in 2006.
The teams haven't played since that 2019 season, when the Cavaliers beat the Terrapins in overtime in the quarterfinals on its way to the championship. Last year, Virginia had its bags packed to go to College Park to face the Terrapins in the regular season. That game — and then the remainder of the season — was canceled because of the COVID-19 pandemic.
"That was kind of the end of our season," Maryland star Jared Bernhardt said. "I remember it pretty clearly. I definitely remember that day."
In Charlottesville, with Virginia initially uncertain if it would play Maryland, Tiffany was preparing to go over the Terrapins' scouting report with his players.
"I remember going into the locker room saying, 'Fellas, put the scouting reports away. Let's get out there and practice before they shut us down,'" Tiffany said. "And the guys went wild. They just wanted to play. They wanted one more day."
Had they seen the scouting report, the Cavaliers would have seen a defensive strategy designed to slow a prolific offense. Fast forward to this year, and the game plan for Monday figures to be similar.
Bernhardt, Division I's leading scorer at 4.6 goals per game, paces a Maryland offense that ranks second nationally in scoring, just behind North Carolina and ahead of Virginia. Third-seeded Maryland (15-0) ripped Duke 14-5 on Saturday to reach the title game, while UVa held off top-seeded North Carolina 12-11.
The Cavaliers have seen their defense come on during May as it did in the 2019 title run. They've held three NCAA opponents (Bryant, Georgetown and North Carolina) to just 8.3 goals per game.
Senior goalie Alex Rode has been outstanding, including making 15 saves Saturday against the Tar Heels, and has been a key during this seven-game NCAA win streak dating to the 2019 tournament. Getting back has been a unique challenge, starting with 2020's cancellation, the thousands of COVID-19 tests the team has had to undergo, the altered fall practices and even the slow start to the regular season.
Now, two years since winning the title, Virginia is back to try to become the first repeat champion since Duke in 2013 and 2014.
"It's amazing how, going through some adversity, how much that can bond us together," Tiffany said.
Tiffany's team will pack its bags again to return home after Monday's game. It hopes it'll have another championship trophy with them.