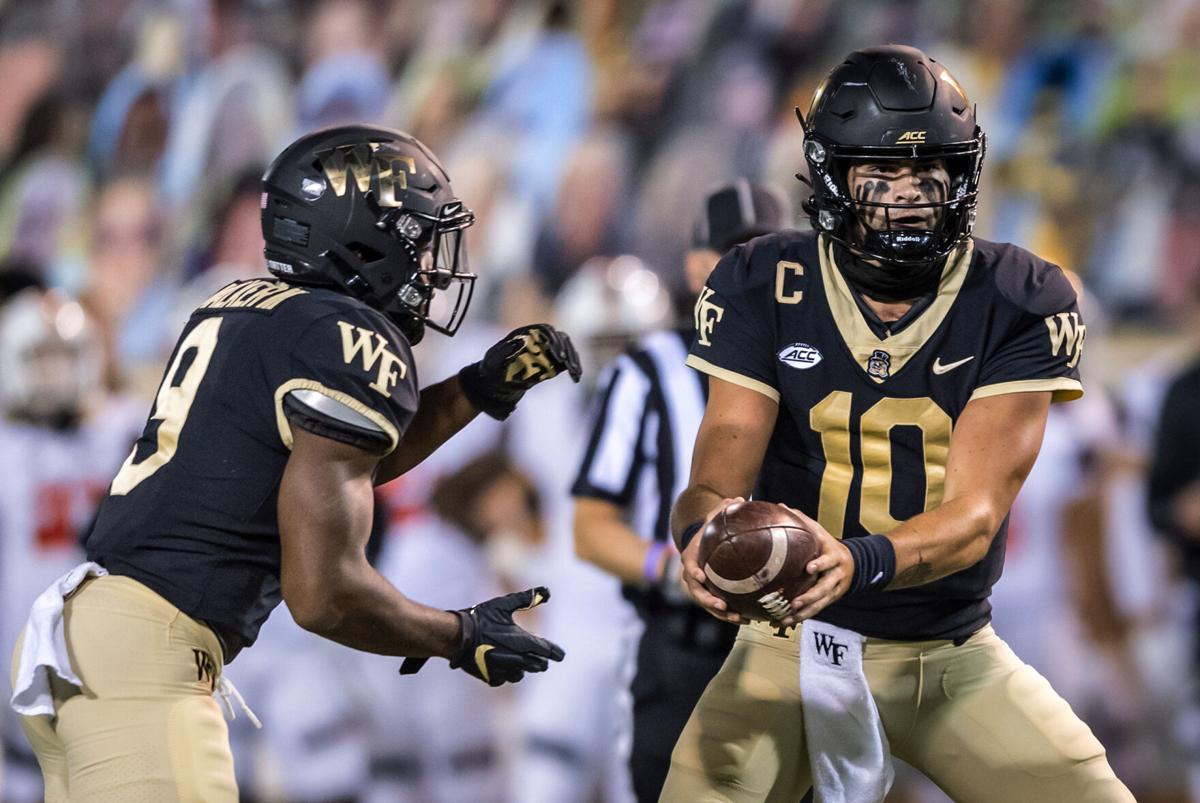 When fans watch Wake Forest's offense Saturday, they may wonder why quarterback Sam Hartman is so indecisive on zone reads.
It turns out the slow handoffs are by design.
The Demon Deacons use read-pass options to keep defenses on their heels, and part of that scheme involves what Viginia coaches describe as a "methodical" zone-read system.
Hartman holds the ball slightly longer than other the quarterbacks of other RPO-heavy teams before either handing off or pulling the ball out and trying to pick up yards with his legs or via a pass.
They do this while pushing the pace between plays.
"They run offense with a lot of tempo, and everything they do puts a lot of stress on the defense," Eric Wood, an ACC Network analyst and former Pro Bowl center for the Buffalo Bills, said. "It'll be a tough matchup for Virginia."
Part of the reason the scheme works is talent at key positions. The Demon Deacons enter Saturday's contest with a pair of dynamic running backs.
Kenneth Walker III and Christian Beal-Smith have each carried the ball 44 times. The duo has combined for 453 yards on their 88 carries, reaching the end zone eight times. The 1-2 punch averages 5.15 yards per attempt.
At quarterback, Hartman does what he's asked. He's completing 63% of his passes this fall, tossing a pair of touchdowns and avoiding interceptions. He's efficient and does well to stretch defenses vertically when they become too aggressive in run defense.
Wood sees Wake Forest's offense going against UVa's defense, specifically the linebackers, as one of the best matchups within Saturday's game.
"Wake's got two really good tailbacks, and they've been able to make some plays through the air as well, especially off the RPO game and taking shots down the field," Wood said. "In the RPO game, can Virginia's length, especially at outside linebacker, allow them to play the run and be aggressive for the run and maybe bat down a couple balls in the RPO game?"
UVa's outside linebackers — Charles Snowden and Noah Taylor — are two of the most athletically gifted players on the entire roster. They've also lacked the production UVa's coaching staff wants.
"Our outside backers have to be more productive," UVa head coach Bronco Mendenhall said. "That's just where we are. Our defense thrives on production from those two positions, and to this point, while they're both playing solidly and capably, the impact on the game isn't at the level that we would like it to be and what we expect it to be."
As Wood mentions, Snowden and Taylor have the length to not only make plays in the backfield, but also to use their length to disrupt passing lanes. They're both tied for the team lead this fall with two pass breakups each.
On the other hand, they're being used differently and sometimes not as frequently this fall. The usage leaves Snowden and Taylor with just 33 combined tackles and 1.5 sacks this fall. The duo is capable of posting better statistical performances.
Defensive performance matters this week for UVa in part because the Demon Deacons average 40 points per game and also because UVa's offense lacks consistency. The Cavaliers opened the season with 38 points against Duke, but they've since failed to eclipse 25 points in losses to Clemson and N.C. State.
With quarterback Brennan Armstrong dealing with a concussion, backup Lindell Stone may earn the start Saturday. If that's the case, the Cavaliers need a good defensive showing to help take pressure off Stone and an offense that goes through stretches of subpar performance.
UVa's defense didn't play up to its standard when falling behind 24-0 to N.C. State in last weekend's loss.
"We did not play well," defensive coordinator Nick Howell said. "We did not do our jobs, and they did. We missed assignments and we miss playmaking and really simple as that, we did not do well."
This week, it's paramount that UVa's defense plays well.
Snowden and Taylor are among those being asked to step up. For the Cavaliers to avoid a three-game losing streak, the team's defense needs to deliver a better performance. The coaches believe each phase — offense, defense and special teams — works together throughout a game.
Last season, especially at the beginning of the season, the Virginia defense set the tone for its victories. The Cavaliers hope a better performance from the unit Saturday can jump start the offense and special teams to meet and exceed their expectations.
"We have not been a blow-you-out team," Howell said. "We've been good in all phases, and that's where our focus lies."
Be the first to know
Get local news delivered to your inbox!