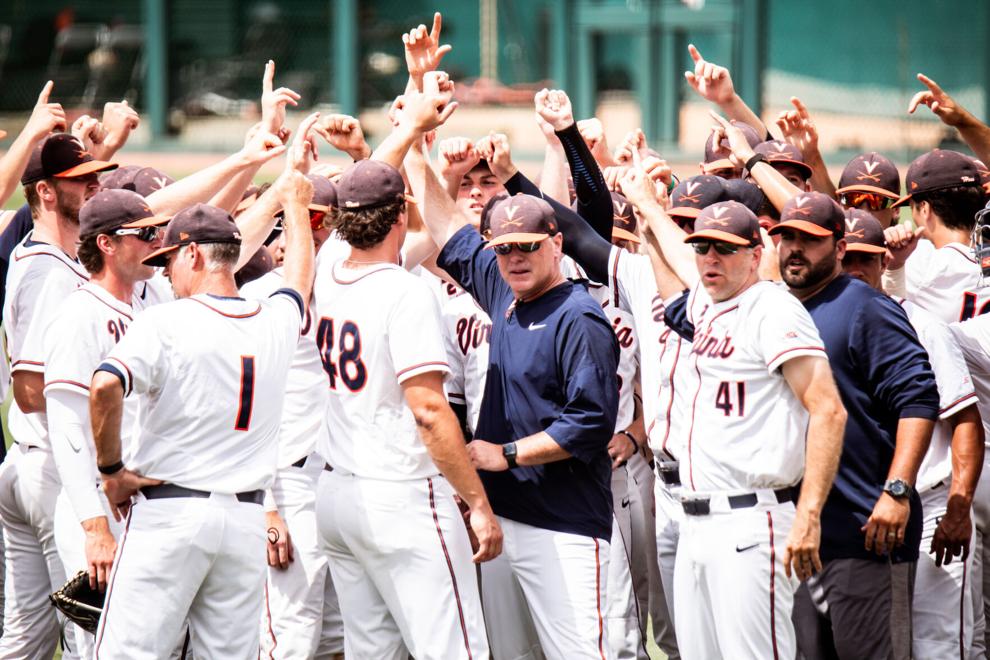 COLUMBIA, S.C. — With Sunday serving as the latest example, the new voice adding to the Virginia baseball coaching decisions has been red-hot this postseason.
The Cavaliers are on the brink of a fifth trip to the College World Series in a dozen years after blanking Dallas Baptist, 4-0, on Sunday in Game 2 of an NCAA Super Regional series at Founders Park. Surprise starter Griff McGarry, he of a plus-7 ERA entering the game, was brilliant against one of the nation's top lineups.
The electric performance — 10 strikeouts, two hits, seven-plus innings — helped improve UVa's record to 5-0 in elimination games this NCAA Tournament. After winning a 13-8 slugfest over Jacksonville last Saturday, Cavalier pitchers have been the team's story with a 2.86 ERA.
Over 16 years, Virginia head coach Brian O'Connor teamed with pitching coach Karl Kuhn for 48 NCAA Tournament wins. When Kuhn left to run Radford's program in 2019, O'Connor hired Dickinson from Illinois.
This Big Dance has been their first together. Their late-night hotel meetings have led to afternoon success.
"He's very, very thoughtful," O'Connor said of Dickinson, who was part of four NCAA Tournament teams at Illinois. "He has conviction about who he thinks can get us off to a good start. He believes in all of his guys, but he's been right on with our conversations about what the right thing to do is."
It was Kuhn in 2015 who was instrumental in Adam Haseley's legendary, come-from-nowhere start in Game 2 of the CWS Finals against Vanderbilt. It was Dickinson earlier this season who had enough trust in McGarry to see past his rough outings.
"I don't know how many times in a week [Dickinson] would say to me, 'Coach, I'm telling you, Griff McGarry is going to be huge for us. He's better. He's figuring it out,'" O'Connor recalled Sunday. "Fortunately, Griff put in the work and hung in there."
On Monday, O'Connor will take the Cavaliers into the deciding game of a Super Regional for the fifth time in his career. He's 3-1 in these situations. To go 4-1, he'll lean on Dickinson, the new voice in the room.
Starting options include Matt Wyatt (3-1, 4.50 ERA), Nate Savino (3-3, 3.75) and Mike Vasil (7-5, 4.82).
"A lot is made of who starts the game," O'Connor said. "But [Monday], matchups are going to be important. It's not going to be necessarily who starts the game, although that'll be important. We're gonna need a number of guys."
Elite company
McGarry's 10 strikeouts are the most by any Cavalier pitcher in a Super Regional game. McGarry passed program hall of famers Josh Sborz (nine Ks against Maryland in 2014) and Danny Hultzen (nine Ks against Oklahoma in 2014) to the top of that list. UVa has now played 18 Super Regional games.
McGarry, who had eight strikeouts against Old Dominion in last week's regional play, had four of them Sunday in one inning thanks to a dropped third strike and advancement by DBU's Ryan Wrobleski.
McGarry's appearance in Sunday's eighth inning made him Virginia's first starter to last more than seven frames since Brandon Waddell, another program hall of famer, went seven-plus in a 1-0 win over Florida in the 2015 College World Series.
Blood delay
Virginia's been no stranger to delays during its extended stay in Columbia, but Sunday's, for once, wasn't weather related.
After issuing a leadoff walk to DBU's George Specht, McGarry was forced off the mound after Patriots coach Dan Heefner called time and had home plate umpire Mark Buchanan check the UVa starter. McGarry, stemming from a cut on the ring finger of his throwing hand, had blood on his pants.
"The rule in that case is the umpires will give you 10 minutes to stop the bleeding," O'Connor said.
Despite attempts from Virginia trainer Brian McGuire, McGarry's cut — on a different finger than the gash to his thumb that ended last week's outing against ODU — wasn't stopping. He was replaced by Brandon Neeck.
Cut or not, McGarry's day was likely going to end then anyway, O'Connor said. McGarry threw a season-high 114 pitches.
"It speaks to Griff didn't complain about [the cut]," O'Connor said. "Wanted to continue to go out there, wanted the ball. I'll let him speak, but I don't think it affected his throwing. It just couldn't stop bleeding."
It didn't take long Sunday for the Cavaliers to be reminded of their unfortunate history with video reviews in this series.
In the second inning, Virginia catcher Logan Michaels seemed to have caught Wrobleski trying to steal third. But though Michaels' throw arrived early, a video review showed Wrobleski narrowly avoided Zack Gelof's tag and he was ruled safe.
Naturally, this caused an uproar from the UVa fans in attendance, a group that hadn't forgotten Alex Tappen's controversial hit-by-pitch-turned-strikeout from Saturday's Game 1.
The Virginia faithful, though, changed its tune later Sunday when Marc Lebreux, pinch-running for Kyle Teel, was awarded second base after a video review revealed Dallas Baptist first baseman Andres Sosa obstructed Lebreux's attempt to get back to the bag on a pick-off throw from DBU reliever Kragen Kechely.