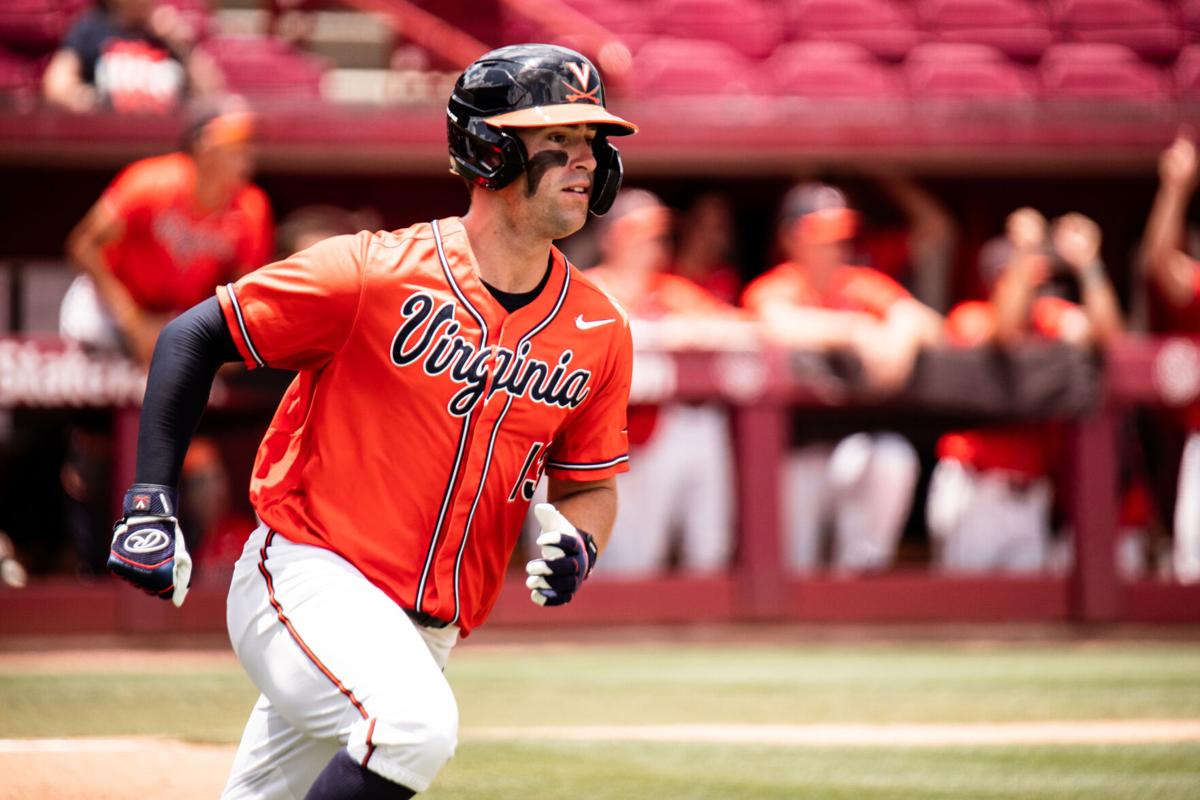 COLUMBIA, S.C. – Virginia didn't lose Game 1 of its NCAA Super Regional series with Dallas Baptist on Saturday because of one overturned call in the eighth inning.
At least that was the public approach Brian O'Connor was taking following the Cavaliers' 6-5 defeat to the Patriots at Founders Park.
"That's not why we lost the game," O'Connor said when asked about the most controversial moment of a seven-hour afternoon.
UVa, after losing its lead in the bottom of the seventh inning, was on the brink of a rally in the top of the eighth. A one-out Devin Oritz single was followed by Nic Kent taking first after getting plunked by DBU reliever Peyton Sherling. Sherling, offering a 3-2 breaking ball, then hit Alex Tappen on the leg to load the bases full of Wahoos.
The play was reviewed and Tappen was ruled out as officials determined he leaned into Sherling's pitch, sparking a chorus of boos from the UVa faithful and a frustrated O'Connor out from the dugout to argue.
"I'll address that whole play after this series is over," O'Connor said in a post-game press conference. "I'll just say this: The rules put the umpires in a very, very difficult position. I don't envy the umpires with the way the rule is, and it's tough."
D1Baseball national writer Aaron Fitt tweeted that such a call was the "dumbest rule in sports."
"It's too much of a subjective call to try to determine a batter's intent," Fitt posted. "Sometimes a batter freezes. Sometimes he gets fooled by a backup breaking ball that doesn't break and doesn't turn away. Ball in the batter's box should never be a strike unless there's a swing. It's dumb."
Jake Gelof followed Tappen with a fly-out to deep center field, ending the Virginia threat and keeping the score 6-5 in DBU's favor. Had Tappen been allowed to stay on the base paths, Gelof's drive is likely an RBI sacrifice fly and the game is tied.
O'Connor, though, wasn't asking, "What if?"
"I know Gelof hits the fly ball," O'Connor said, "it's easy to look at it that way, but we're gonna focus on [Game 2, Sunday] and move on from there."
DBU coach Dan Heefner said the Patriots were involved in a similar call during their 2019 NCAA Regional stay in Lubbock, Texas.
"So I know what that feels like, and it was good to be on this side of it this time," Heefner said. "Peyton made another good pitch after that to get us out of the inning.
"Big-time momentum right there."
Hidden ball trick?
The Dallas Baptist half of the sixth inning was a noteworthy frame for a few reasons. One, the Patriots used it to erase a 5-3 deficit thanks to a two-run blast from Andres Sosa. But the sixth also featured some Houdini work from UVa's Zack Gelof.
With two outs, DBU's Austin Bell fouled off a pitch from Zach Messinger that drifted into the Cavalier dugout.
Gelof, chasing from his spot at third base, reached over the dugout's railing, squeezed his glove and then pumped his fist like he recorded the inning's final out.
The nearest umpire bought it — until replays showed the baseball bouncing in the dugout. Gelof never actually made the catch, and Bell's at-bat was allowed to continue.
"Great acting 18," tweeted former UVa football player Chris Long, nodding to Gelof's number.
Seats available
The unfortunate reality of this Super Regional being played at a neutral site for both teams — as opposed to the lively host campus settings around the country — was proved by the numbers Saturday as an announced 1,566 were on hand. Founders Park has a capacity of 8,242.
This came after the four Super Regional games played Friday – East Carolina at Vanderbilt, Stanford at Texas Tech, N.C. State at Arkansas, Ole Miss at Arizona – averaged 6,291 fans.
Saturday's crowd in Columbia did include former New York Yankees pitcher Andy Pettitte. The three-time all-star was there in support of his son, Jared, a Dallas Baptist reliever.
Top 10 matchup
Saturday's game featured two of the top 10 winningest coaches in college baseball. Among active managers, O'Connor is No. 2 nationally with a winning percentage of .702 and DBU's Dan Heefner, at .661, is No. 10.
O'Connor has faced seven — Louisville's Dan McDonnell, Florida's Kevin O'Sullivan, TCU's Jim Schlossnagle, East Carolina's Cliff Godwin, Coastal Carolina's Gary Gilmore, Arkansas' Dan Van Horn and Heefner — of that top 10 and has a record of 23-24, including a 7-6 mark in the NCAA Tournament.
Founders Power
Virginia's offense seems fine with the NCAA's decision to keep this Super Regional here.
The Cavaliers entered the Big Dance with 35 home runs in 52 games. That 0.67 HR/game rate was good for No. 187 nationally.
After shots from Tappen and Jake Gelof on Saturday, UVa has nine HRs over six games at Founders Park.