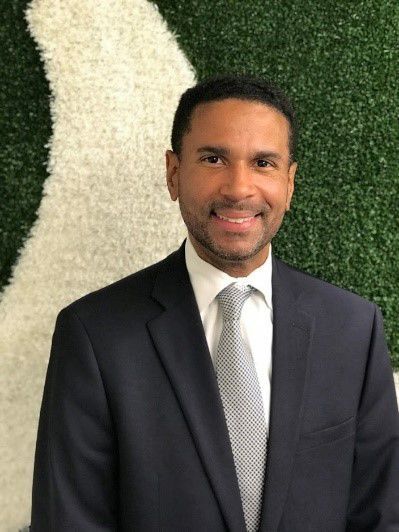 "Only 60% of y'all voted in 2016?" New Orleans Saints defensive end Cam Jordan asked in an August video. "That's not gonna get it done. We can't win if we don't play."
Jordan was one of a handful of NFL players to take part in a PSA video from the league to jump start its NFL Votes campaign, the first league-wide initiative to encourage NFL players, fans and league personnel to vote.
NFL Votes is a historic initiative for the league, and a UVa alumnus, Ken Edmonds, is one of the people behind the scenes helping to support the campaign. Edmonds, a 1995 Virginia graduate and the NFL's vice president of public policy and government affairs, stressed that the initiative is a league-wide effort, but he's thrilled to play a role in supporting the initiative and serving as liaison between the league and government leaders.
"I'm encouraged and inspired to be involved," Edmonds said. "What we're seeing is the league at its best; using its platform to improve our country and to set an example. This initiative is about strengthening our democracy, including more people in the electoral process. That's so heartening to see and be a part of."
Edmonds shared that the NFL was involved in a few minor voter registration efforts in previous years, but this is the first league-wide initiative in its history.
The initiative was created after conversations between NFL commissioner Roger Goodell and the league's players this offseason. Following the death of George Floyd and protests surrounding racial injustice in the U.S., players wanted the league to step in to help enact change in the country.
A campaign to encourage voting became one of the primary initiatives of the NFL. The goal is to give people a chance spark change in their communities through the electoral process. The NFL also committed $250 million, which will be spread out over 10 years, to a fund designed to combat systemic racism in the U.S.
Players are using their voices to help spark efforts from the NFL, and the league has made a few changes in an attempt to listen to its players. NFL Votes is of those changes and initiatives.
The league partnered with three nonpartisan nonprofits to help with the campaign.
I Am a Voter aims to excite generations about voting. The movement wants to encourage everyone to participate in elections, hoping to create a "cultural shift" that makes voting the common thing to do.
RISE to Vote is an initiative through RISE, a nonprofit that wants to use the members of the sports community to eliminate racial discrimination and improve race relations. The RISE to Vote campaign helps provide information to players and coaches on how to vote and the importance of voting.
Rock the Vote focuses on empowering younger generations to become civically engaged in their communities.
Part of the initiative included partnering with those three nonprofits to provide educational measures to players and team personnel. NFL Votes wants to help NFL players, former players, coaches and fans with voter education, voter registration and voter activation.
"We wanted to provide basic education to equip the NFL family with the information they needed to become informed voters," Edmonds said, "and from our perspective, an informed voter is an effective voter."
After educating teams this offseason, Edmonds says the NFL expects many of its players to speak out about the initiative in the coming weeks ahead of the Nov. 3 general election.
Players' using their voices this season, while also garnering support from the NFL, comes as a bit of a change. In previous seasons, players like Colin Kaepernick received limited support from the NFL when protesting racial injustice or speaking out about issues in their communities.
While the NFL seems more open to listening this season, not everyone believes the measures go far enough.
Eric Reid set a franchise record for tackles and sacks from a defensive back for the Carolina Panthers last season, yet the safety was released this offseason. Reid, who frequently uses his platform to protest social injustice, remains unsigned.
"While the NFL runs propaganda about how they care about Black Life, they are still actively blackballing Eric Reid for fighting for the Black Community," Kaepernick tweeted Sunday.
On the flip side, others believe the NFL's efforts cross a line and bring politics into sports. The Kansas City Chiefs and Houston Texans shared a moment of unity prior to the season opener in Kansas City. As players from both teams locked arms at midfield, they were met by some fans booing.
Some NFL stakeholders support athletes using their platforms to try to enact change, while others are not on board with the campaigns or initiatives.
Edmonds, who worked on Capitol Hill for more than 12 years, says the response from Congress members regarding the NFL Votes campaign has been positive.
"I think it's been well received," Edmonds said. "I've received messages from members of Congress and others asking 1) if they can participate and help and amplify in any way and then also asking for players to engage with them and promote the concept and the initiative."
Some fans desperately want to keep campaigns like NFL Votes out of sports, but Edmonds believes the nonpartisan initiative serves as a reminder of the role NFL players serve in local communities.
"I think there's a recognition that our players live in our communities," Edmonds said. "They're fathers, in other sports, mothers. They have families. Many are parents. I think our players, because of the fact that people look up to them and admire them, they are leaders in our community. I think there are so many people that look to our players as role models, as examples. I applaud our players for not running from that responsibility."
Be the first to know
Get local news delivered to your inbox!