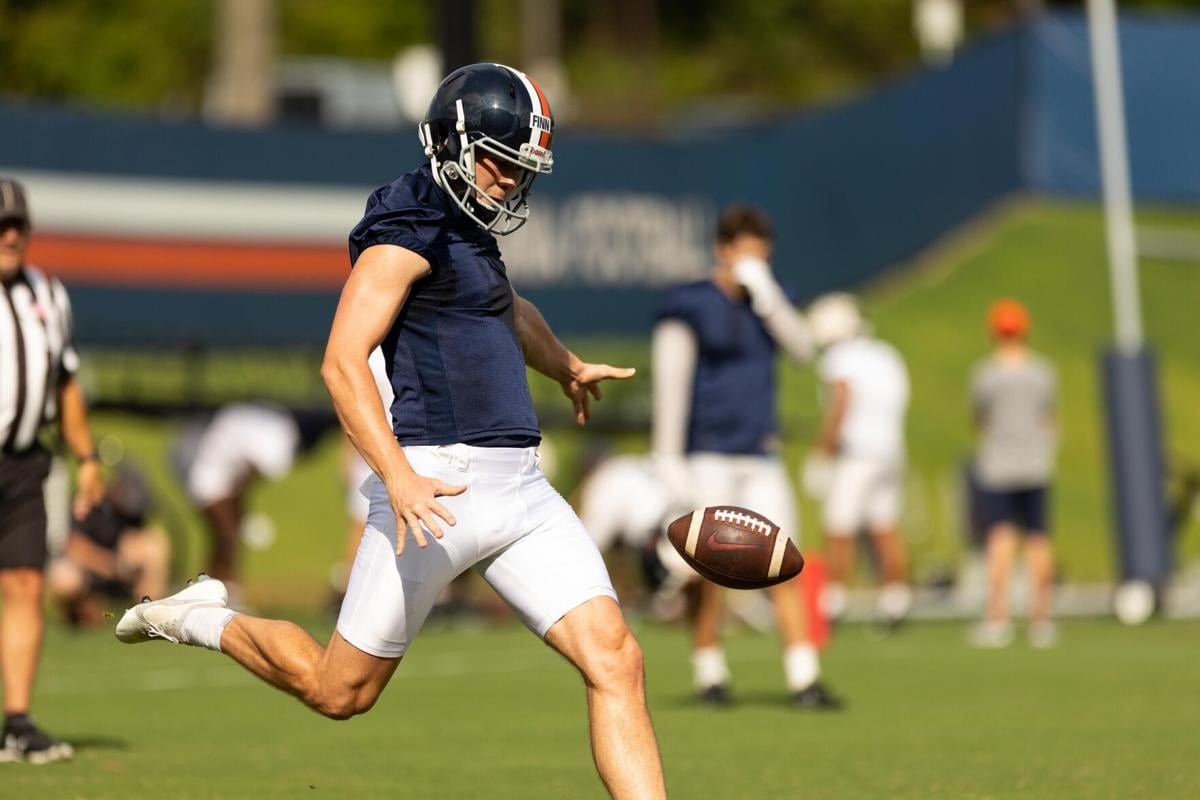 When Jelani Woods arrived at the University of Virginia, he was aware of the program's process of selecting jersey numbers.
Players who impressed the team's veteran players during offseason workouts and preseason camp would be given the honor to select their jersey numbers before many of their teammates. Woods wasn't overly concerned about what number he'd pick, but he wanted to be in the first group of selections.
"It gave me a chance to not only earn a number but earn the respect of my teammates, and that was really the achievement that I wanted," Woods said. "I just wanted to show them that I'm all in from day one … I'm a brother as well, even though I transferred."
Woods, an Oklahoma State transfer, was in the first group. Players started selecting numbers last weekend, with 32 guys picking in the first round.
The 6-foot-7 tight end selected No. 0, joining former linebacker Zane Zandier as players to wear the number at Virginia.
"I wanted to make a statement that nobody can stop me," Woods said of the pick.
Woods isn't the only transfer embracing the jersey selection process.
North Dakota State transfer Josh Hayes wasn't in the first round of selections, but he's still received high praise from teammates and coaches. He says UVa's "earned not given" mantra and emphasis on hard work is part of what drew him to the program. The jersey selection process is an extension of that mindset.
"I thought the jersey selection was one of the coolest things," Hayes said. "At a lot of schools you just kind of get into the locker room, you get handed a number and then you kind of got to wait until guys get out of those numbers and stuff like that."
Hayes called the process "motivating," saying it can raise people's game when they have to earn their number selection each season.
When it's his turn to pick, Hayes expects to target No. 10 if it's available. His uncle, Geno Hayes, died this spring from liver disease at just 33 years old. Hayes' uncle played collegiately at Florida State and wore No. 10 for the Seminoles.
"I dedicated this season to him, so I was hoping if I could get my hands on No. 10, that'd be what I stick with," Hayes said.
As for Jacob Finn, a graduate transfer punter from Florida, he doesn't care much about his number. Much like Woods, he's most interested in the respect earned from being able to select a number.
"I think the jersey ceremony, it's humbling, especially as a transfer because you obviously don't have a ton of time to show what you've got," Finn said. "That's why it's even more important to show every rep. Every rep counts."
When Finn, who is expected to start at punter for UVa this fall, does have a chance to select his number, he'll analyze what's left and make a decision on what suits him.
Finn has his eyes set on a bigger goal, though, being the top punter in college football.
"I would wear no number out there and win the Ray Guy [Award]," Finn said. "That's what I'm thinking about."
While the transfers are new to the jersey selection process, several of UVa's veterans have taken part in a handful of selection ceremonies.
Sixth-year safety De'Vante Cross switched from No. 15 to No. 2 this season. Redshirt senior linebacker Elliott Brown will wear No. 4. Brown wore No. 43 a season ago. Wide receiver Keytaon Thompson, in his second jersey selection process, kept No. 99.
Due to COVID-19 eligibility relief expanding UVa's roster size, a handful of players will wear the same number. As long as two players with the same number aren't in the game at the same time, duplicate numbers are allowed.
Wide receiver Ra'Shaun Henry will join Cross wearing No. 2. Defensive back Anthony Johnson, a Louisville transfer, will wear No. 3. Wide receiver Dontayvion Wicks will also wear the number.
Billy Kemp IV, a veteran receiver, will share No. 4 with Brown. Quarterback Brennan Armstrong and defensive back Chayce Chalmers will wear No. 5. Running back Mike Hollins and linebacker Noah Taylor both selected No. 7. Hollins, who opted out in 2020, impressed enough to join Wayne Taulapapa as the only running backs in the first jersey selection group.
"To have Mike in that is a statement that he's put in work, and he's come back with a mindset and that he is contributing," offensive coordinator Robert Anae said.
For players, numbers can have personal connections. Cornerback Nick Grant wanted No. 1 his whole life and he's earned it in recent seasons. He tells younger players who haven't yet selected to keep their heads up and keep working, because their time will come later in their careers to pick earlier in the process.
While the numbers interest fans and often hold meaning to the players, the process of selecting the numbers carries significant weight at UVa. It's a tradition the players have embraced wholeheartedly.
"The jersey ceremony, I think it has a lot to do with respect and earning the number, and I think that's how it's supposed to be done," Finn said.