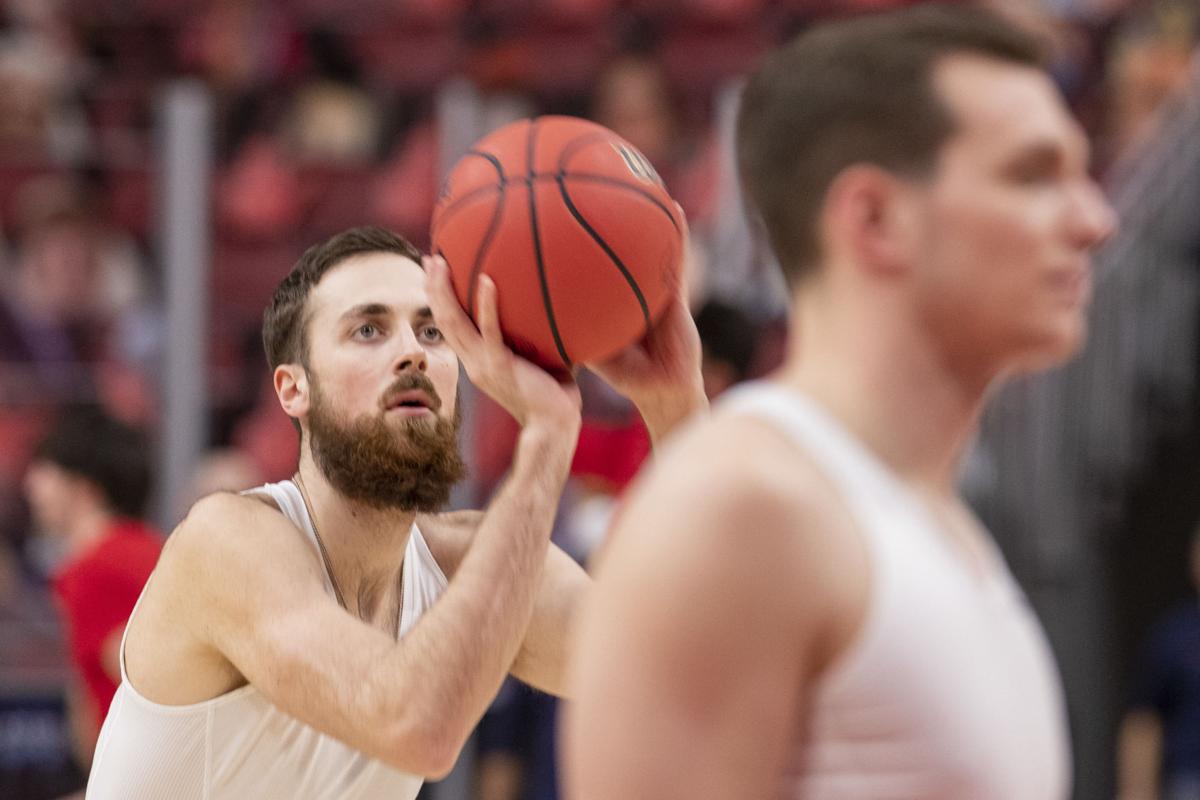 Jay Huff looked for wood to knock on. Sam Hauser said he'd cross his fingers. Kihei Clark said he hoped other teams were keeping safe.
As Virginia prepares to return to Greensboro for the ACC Tournament, nearly a year after last season's event was cut short due to the COVID-19 pandemic, the conference's regular-season champions do so with a mix of excitement and anxiety.
"I think it's not only in the back our heads, but I think it's in the back of a lot of teams' heads, now with what's at stake," said Hauser, a senior forward. "If you get hit with a Corona problem, you might be done. … Try not to worry about it as much but it's hard not to in these times."
No. 16 UVa (17-6) earned a double bye as the tournament's top seed, meaning it won't take the floor in Greensboro until Thursday in the quarterfinals, when it will face the winner of Wednesday's game between North Carolina State (13-9) and Syracuse (15-8).
Virginia had a double bye last year and was shooting around at a nearby gym on March 12, hours before its game against Notre Dame, when it got the call that the tournament had been canceled due to concerns over the spread of the COVID-19 virus.
Those Cavaliers had won eight straight and were emerging as contenders to defend the national championship they won in 2019. Instead, the postseason was over, the red carpet summarily yanked out from beneath their Nikes before playing a game.
"You want to play all the games you can," said Clark, a junior point guard. "You always have that feeling in the back of your head. Could it get canceled? You don't know what other teams are doing. Hopefully everybody's staying safe and we're able to continue with the tournament this year."
Assuming that's the case, that Huff and Hauser's superstitious wood-knocking and finger-crossing, combined with the team's COVID-19 safety protocols, do their job, UVa is about to play in a tournament that is as wide open as its been in years.
Virginia sat in first place for much of the year before a three-game losing streak dropped it behind Florida State. Then, a stunning upset of the Seminoles by Notre Dame in the regular-season finale Saturday opened the door for UVa to win its third regular-season championship in the last four years.
It accomplished that with a resounding road win over Louisville, stifling the Cardinals and their star, guard Carlik Jones, and riding the hot shooting of Hauser to a 68-58 win that clinched the championship and the top seed.
The league's blue bloods — Duke (11-11) and North Carolina (16-9) — finished 10th and sixth respectively, meaning the Blue Devils will be playing a first-round game on Tuesday when play in Greensboro tips off.
Florida State (15-5), Virginia Tech (15-5) and Georgia Tech (15-8) grabbed the other two double-byes, finishing second, third and fourth.
"I think it is anybody's tournament at this point, maybe more so than normal years," said Huff.
Anybody who can remain free of virus issues for the next week, of course.
"They say, 'Survive and advance,' is the tournament [motto]," said UVa coach Tony Bennett. "It's almost, 'Be negative and advance,' is maybe the term it should be for the COVID season."
The Cavaliers' path to advancing could lead them to a rematch with either the Seminoles or Hokies, both of whom beat UVa during the regular season. Those are matchups the players said they'd be eager for, though Bennett said he'd just be happy to be playing in the championship game Saturday, regardless of the opponent.
And, after everything the players have gone through since last March's cancellation, just playing has been a treat in and of itself.
"It's a year where I honestly wasn't even sure if we were going to have college basketball," said Huff. "So the fact that we've been able to make it this far, to have an ACC Tournament, to have an NCAA tournament, it's great for me. Honestly, this season was just the cherry on top. I was nervous we wouldn't have it so I'm glad we've been able to make it this far."