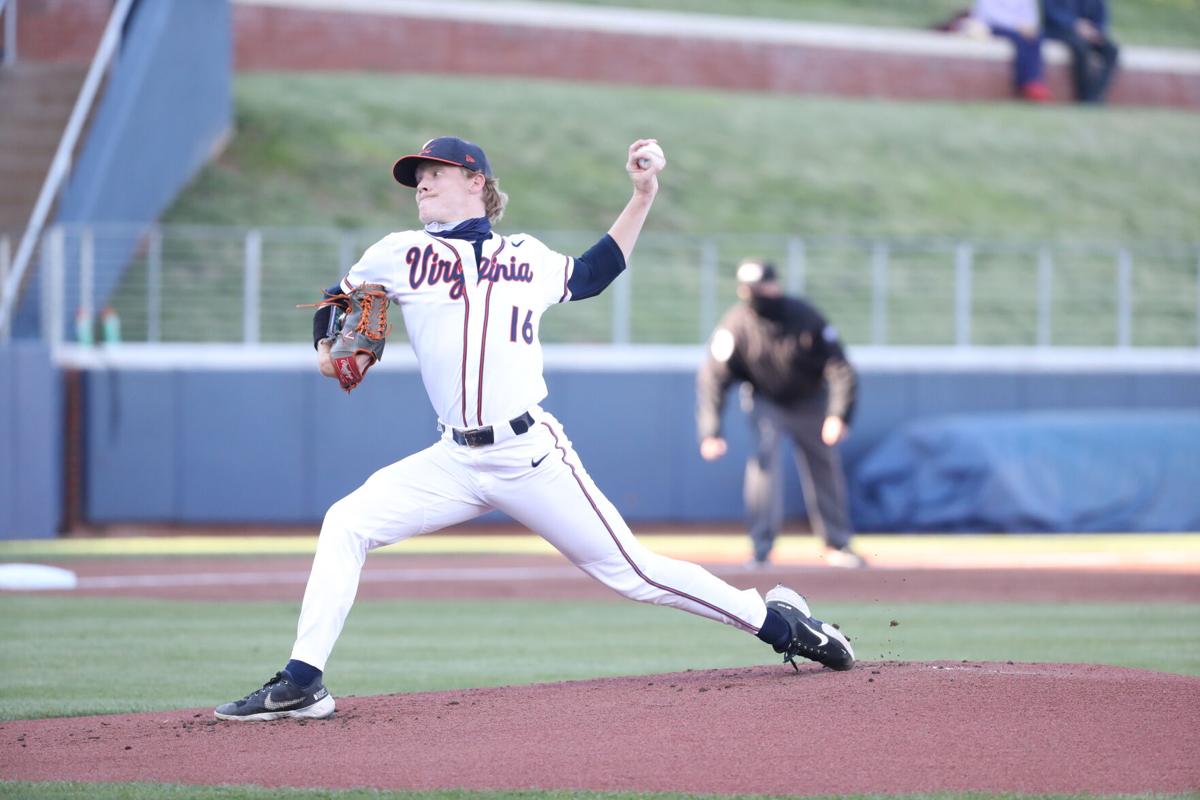 Time is running out for the Virginia baseball team to bolster its NCAA Tournament resume.
The Cavaliers are a subpar 9-15 in ACC games this spring, and they're just 17-18 overall. After a midweek loss to VCU, the Cavaliers need every win they can get as they chase down a potential spot in the NCAA Tournament field.
Virginia hosts Duke (17-16, 8-13 ACC) this weekend for a three-game series beginning Friday at 4 p.m. The Cavaliers are in desperate need of a series win, especially in a matchup against the only other ACC Coastal team with a sub-.500 conference record.
Here are three things to watch in the Cavaliers' weekend series.
Abbott aims to get back on track
Andrew Abbott has been solid this season as a starter after being a reliever for his first three collegiate seasons. The experienced left-hander had one of the 10 best ERAs in the ACC until a few weeks ago.
A couple of rough starts — he's given up at least five earned runs in each of his last two outings — have upped his ERA to 3.86 for the season. It's still a solid mark, checking in as the 18th best ERA in the league. He also leads the league with 77 strikeouts.
By no means is Abbott a weakness for Virginia, but the Cavaliers need him at his best to make a late-season surge. The offense has shown flashes of improved play in recent weeks, but the Cavaliers still have the worst slugging percentage and on-base percentage in the ACC. Only two ACC teams don't have at least 30 home runs this spring; those squads are Boston College (27) and Virginia (18).
For UVa to win games, it's going to lean on its pitching. That starts with Abbott.
Which Duke team will show up?
Much like UVa, Duke has fallen short of preseason expectations. While the Blue Devils didn't receive first-place votes in the Coastal Division, they were picked to finish fourth. They're currently sixth out of seven teams, and a series loss to UVa would slide them into last place in the division.
At times this season, however, Duke has played good baseball. It picked up a series win against No. 16 Pittsburgh earlier this spring and it beat Liberty 7-0 on Tuesday. The Flames have been solid this season, even beating UVa, 10-2. The Blue Devils looked sharp in the midweek victory, posting their second shutout of the season.
When Duke plays to its potential, the Blue Devils are plenty good enough to defeat Virginia. They're among the top five ACC teams in slugging percentage and on-base percentage.
On the flip side, when Duke struggles, it's capable of being blown out. It has lost five of its nine ACC games in April by at least five runs. Duke is just 3-6 this month against conference opponents.
UVa's offensive consistency
When Virginia scores at least six runs in ACC play, the Cavaliers are 6-0. When UVa doesn't score six or more runs in conference play, it is 3-15.
In Virginia's two ACC series victories, the team has averaged 6.5 runs per game. In the other six ACC weekends, the Cavaliers are averaging 3.6 runs per contest.
It's no surprise that scoring runs correlates to winning games. Obviously offensive outbursts give teams better chances to pile up victories. Unfortunately for UVa, they often don't even come close to sniffing the six-run mark. The Cavaliers have failed to score more than two runs in eight of their 15 conference losses.
Pitching is clearly Virginia's strength, but the arms need some help from the bats in the final four ACC weekends of the season.
UVa needs to put a handful of runs up in at least a couple games this weekend to start a late-season surge. If the bats don't get going soon, the Cavaliers will spend June watching the NCAA Tournament from home.