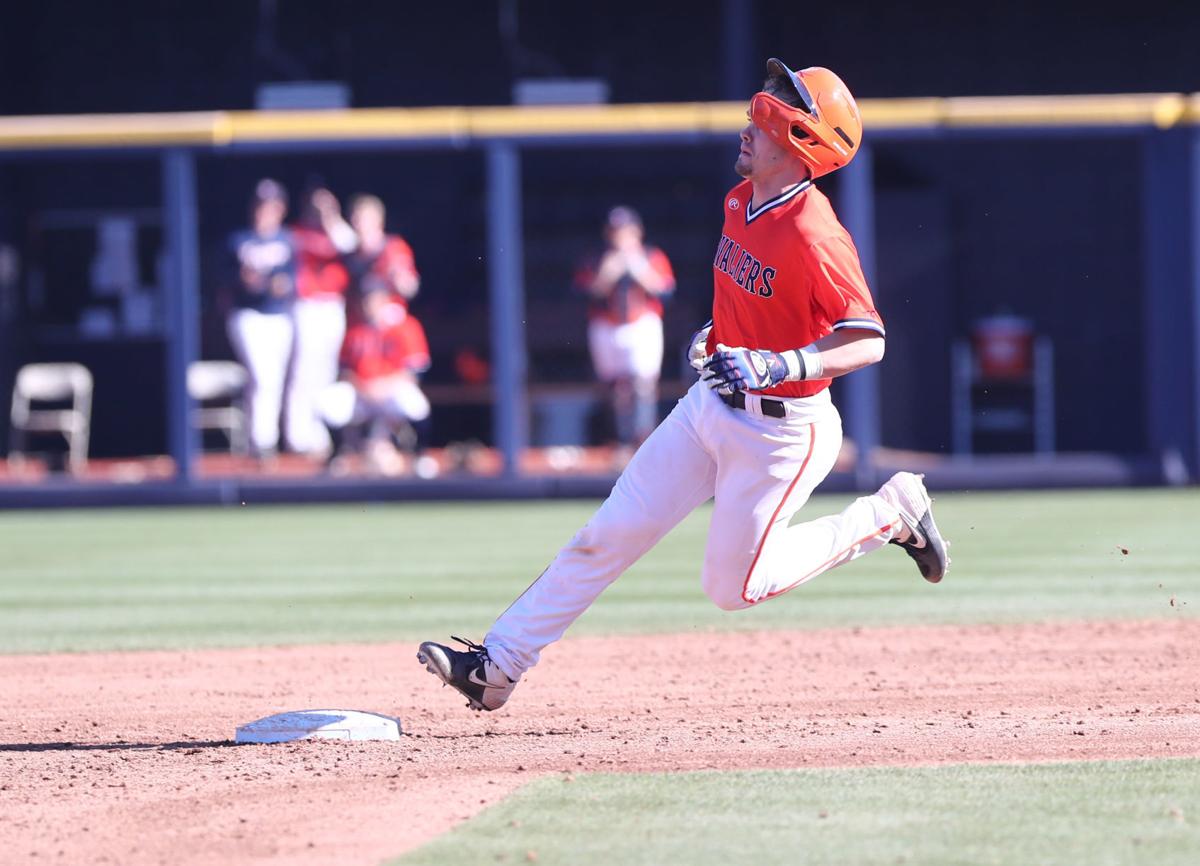 The Virginia baseball team won a weekend series against a top-10 ACC team, giving the Cavaliers momentum heading into their weekday series with UMass Lowell (4-9).
Brian O'Connor's club won the first and third games of the weekend series with N.C. State, scoring a whopping 10 runs in the series finale to pick up a commanding 10-3 victory. The Cavaliers' bats are hot and the pitching seems significantly more consistent than a season ago.
The win helped move the Cavaliers (12-4, 2-1 ACC) into the D1Baseball.com top 25 for the first time all season. They came in at No. 25.
With a key series victory in the books, here are three takeaways from the Cavaliers' opening weekend of ACC play.
Always engaged
Virginia showed resiliency throughout the weekend series. In the first game, UVa won 7-3 and scored a run in the bottom half of every inning that the Wolfpack scored in the top half. Each time N.C. State inched closer, the Cavaliers responded.
After losing the second game 6-2 after being tied at 2 after six innings, the Cavaliers responded well in Game 3. The Wahoos used six runs in the second inning to open up a commanding 6-1 lead after two frames. They went on to win 10-3.
UVa didn't play a flawless weekend of baseball, but the Cavaliers played intense baseball for all nine innings regardless of the score.
In Sunday's win, Virginia added three runs across the seventh and eighth innings to turn a 7-3 game into a comfortable 10-3 victory.
"We can continue to stress with our guys, in this league anything can happen," O'Connor said. "There's a lot of good offensive clubs. When you have the opportunities to put somebody away, you need to take advantage of those opportunities, and I was proud of our guys that they could kind of smell it, the chance of victory and they tacked on a few runs there late."
Mad Max
Freshman Max Cotier made a costly error late in Saturday's game against the Wolfpack, and O'Connor challenged the freshman to respond Sunday.
"I just kind of respected that he was challenging me because I know that he has a lot of confidence in me, so I just wanted to come back today to have a good game to help us win," Cotier said Sunday.
He finished Sunday's game 3-for-5 with a triple and four RBI.
"You can tell a lot about a young person by how they respond after a difficult day," O'Connor said. "He showed today what he's capable of doing after a tough day yesterday."
On the season, the freshman leads the ACC with four triples. He's also batting .318 with one home run and 14 RBI. He's one of seven Virginia players hitting over .300 with at least 25 at-bats. Fellow freshman Chris Newell leads the way at .392.
The Cavaliers possess plenty of young talent, and Cotier is one of the most dynamic hitters in Virginia's lineup.
Power surge
UVa hit 28 home runs in 56 games a season ago. Through 16 games this year, the Wahoos have 19.
Zack Gelof hit just two home runs in his freshman season. The sophomore smoked two long home runs in Sunday's win over the Wolfpack, giving him five in the season's first 16 games.
The top three hitters in UVa's lineup — Nic Kent, Cotier and Gelof — have combined for seven home runs, six triples and 39 RBI through the first 16 games of the year. They're all batting at least .318, and they're 12-for-14 on stolen base attempts this season.
After missing games with injury, Alex Tappen and Brendan Rivoli also returned to the lineup over the weekend and played both Saturday and Sunday.
"Having Tappen and Rivoli back gives us some really good depth and strength," O'Connor said. "Both of those guys in the opening weekend they were four- and five-hole hitters, and getting them more at-bats and getting them back in there it will just make us stronger and then adds to the depth with the guys that were playing when they were out."
Be the first to know
Get local news delivered to your inbox!