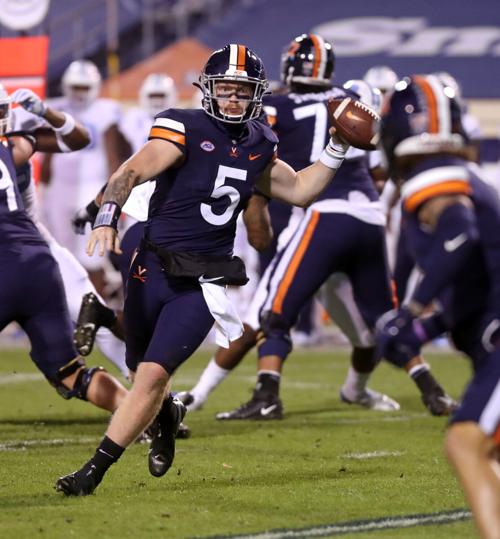 Bronco Mendenhall often shares a desire for "unbroken growth" in his program. After going 5-5 in 2020, can the Wahoos get back to the top of the ACC Coastal Division in 2021?
With the ACC returning to divisional play in 2021, the Cavaliers face familiar foes this fall. If they want to win the Coastal Division and make the conference title game, they'll need to win on the road. UNC and Miami are expected to be among the best in the division in 2021, and UVa faces both squads on the road.
UVa opens conference play with North Carolina before facing Miami two weeks later. It's not the first time the Cavaliers have started conference play with challenging matchups. Virginia faced eventual ACC champion Clemson in its second game of the 2020 season, and it faced N.C. State and Miami in the first half of its season.
Unfortunately for the Wahoos, they lost all three of those challenging matchups in 2020. They'll hope to bounce back in 2021.
Virginia also holds opportunities to take down solid nonconference foes. Those chances will be valued by the league, especially after the conference went 0-6 in bowl games in 2020.
The Wahoos play Illinois for its first FBS game of the fall, and they'll also play at BYU on Oct. 30. The biggest nonconference game comes in November, when Virginia hosts Notre Dame. The Fighting Irish are back to being an independent in 2021 after spending 2020 as an ACC team.
With the schedule now released, here are three takeaways from Virginia's schedule:
Bronco vs. BYU
Bronco Mendenhall maintained for years he didn't want to play BYU during his UVa coaching tenure. Even with the teams scheduled to play in 2019 when he took the UVa job in 2015, Mendenhall said as he left BYU that he had no intention of ever playing against the Cougars.
"Whenever it is, if it's up to me, I don't want that to happen because this is the place that shaped and had such an influence on my life that I don't see how that can happen, and I hope it doesn't," Mendenhall said in 2015.
The game against BYU was moved back to the 2021 season five years ago, and while Mendenhall has made clear he doesn't want to play the game, the game remains on Virginia's schedule.
By all accounts, the game will happen.
"I commit more than just like the professional part when I coach, and there's just something that is really challenging about then playing against a place where you've kind of given more than just the professional part and so I didn't want to," Mendenhall said on his radio show this December.
Mendenhall acknowledged that the outside interest in him matching up with BYU likely outweighs his desire to avoid the matchup. The teams are scheduled to meet this October in Provo, Utah.
It's sure to be an emotional week for Mendenhall, who was tearful in 2015 when he said goodbye to BYU.
"I have feelings for the players and this program that they're not going away, and they're not going away in four years," Mendenhall said in 2015.
On the field, BYU will need to adjust to losing star quarterback Zach Wilson, who is expected to be a first round pick in the 2021 NFL Draft.
Early road tests
If UVa wants to win the Coastal Division, it needs to win on the road, and it needs to win on the road in September.
Virginia plays at North Carolina on Sept. 18 to open its ACC slate. On Sept. 30, UVa faces a challenging Miami team in South Florida. UNC and Miami are the two teams most likely to enter the season as division favorites.
For UVa to compete for a division title, it likely needs to win one or both matchups against the Tar Heels and Hurricanes. With attendance at sporting events likely to increase over the coming months as COVID-19 vaccines are distributed, those environments could be hostile.
Road games with Louisville on Oct. 9 and Pitt on Nov. 20 also present challenges.
Since Mendenhall's arrival at UVa, the Cavaliers are 6-20 in true road games. Virginia went 0-4 on the road in 2020, falling to Clemson, Wake Forest, Miami and Virginia Tech. At home, UVa finished the 2020 season 5-1.
While the Wahoos likely won't be the ACC Coastal favorite, they're good enough to be in the mix. The team needs to win on the road for their championship dreams to become a reality.
Late bye week
UVa and Syracuse are the only ACC teams without an open date until Week 10.
Mendenhall's team won't play on Nov. 6, sitting out that Saturday after an Oct. 30 trip to BYU. The bye week gives UVa an extra week to prepare for a home showdown with Notre Dame.
The bye week could come at an ideal time for the Cavaliers, as the Oct. 30 trip to BYU could be emotionally draining for the coaching staff. Many members of the staff coached at BYU with Mendenhall, and they haven't competed against the Cougars since leaving for UVa.
A late bye week also presents challenges.
Virginia hasn't gone this late into the season without a bye week until 2007. How will the Wahoos handle nine games without a break?