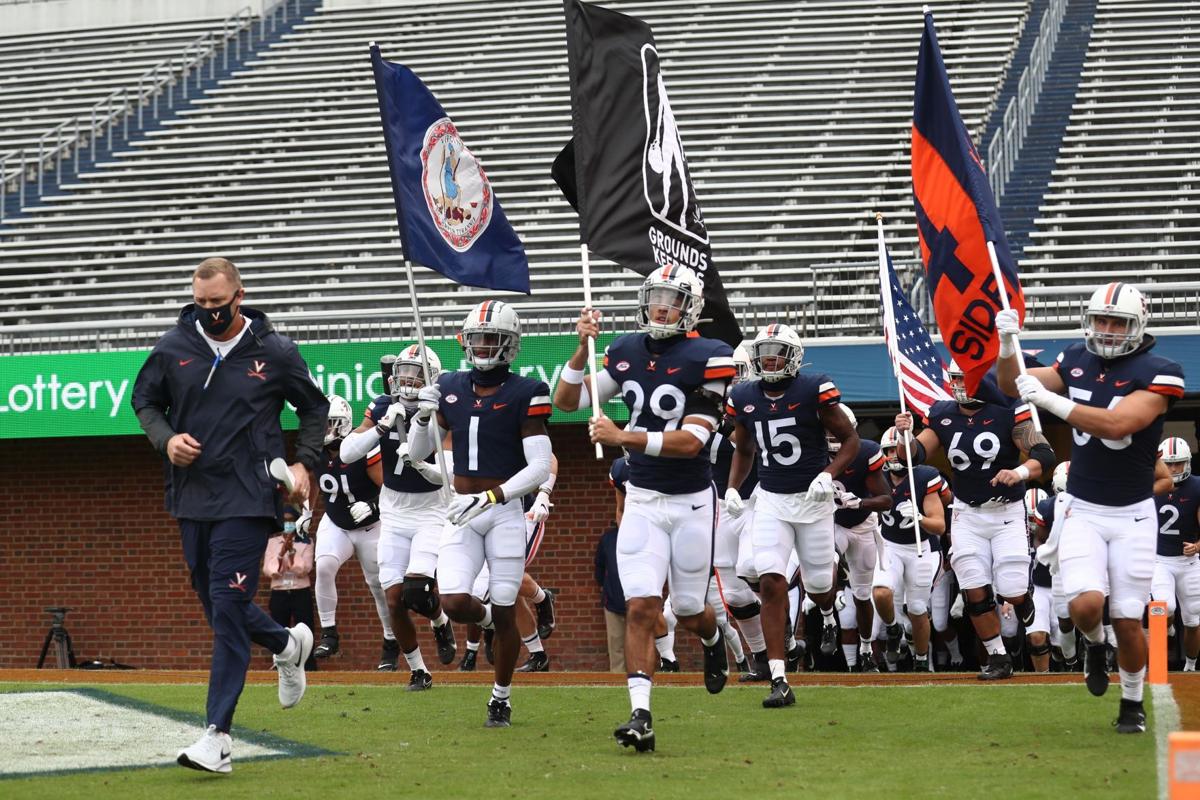 The Virginia football team's season came to an abrupt end over the weekend.
"It just is surreal at this point and one of the most unique, remarkable, inspiring, challenging, gratifying, exhausting experiences that I've ever had, and I've learned so much," Virginia coach Bronco Mendenhall said on his radio show Monday night.
Mendenhall's squad was one of the programs to compete during a pandemic, playing 10 games this fall despite COVID-19 impacting the country all season.
With the challenging season over, let's look at three takeaways from the Cavaliers' .500 record as well as their off-field efforts.
Cavaliers navigate COVID-19
Virginia finished the season 5-5, and most fans will judge the year based on that record. While the Cavaliers' record deserves attention, the team's health and safety protocols implemented during a pandemic also deserve a spotlight.
Associate athletic director for sports medicine Kelli Pugh joined Mendenhall on his radio show, discussing the team's protocols this season and what it was like to help guide a program through the pandemic. She also shared some detail and the team's COVID-19 testing results.
"I want to protect player privacy, but I would bet it was 10 [or] under," Pugh said of the total number of student-athletes who tested positive for the virus.
The number is impressive, as other programs dealt with much larger outbreaks. Virginia Tech athletic director Whit Babcock addressed the media Tuesday, sharing that about 75% of the Hokies' football roster contracted COVID-19 at some point.
UVa did well to keep its numbers low, emphasizing mask wearing, hand washing and social distancing. The players followed the protocols well by most accounts, which allowed for limited positive cases within the team and coaching staff.
"It's easier to not go to the extent that we did, but I and we made a promise when we met with all the players' parents, and we met with them, I don't know, one or two or three times," Mendenhall said. "I promised we'll do everything we could for health and player safety."
The efforts paid off with respectable results, especially given the risk of playing a contact sport during the pandemic.
Armstrong is a worthy successor
On the gridiron, Brennan Armstrong stepped up.
Virginia's starting quarterback was a question mark during the spring. UVa needed to replace Bryce Perkins, and there were doubts Armstrong would win the job over Mississippi State transfer Keytaon Thompson.
Armstrong won the job, aided partially by Thompson injuring his shoulder during camp, and played at a high level over the second half of the season.
While the left-handed thrower struggled against Virginia Tech and fought interception issues all fall, he played his best football toward the end of the season. In games against Abilene Christian and Boston College, Armstrong became the first quarterback in Virginia history to record consecutive performances with 400 total yards.
When healthy — Armstrong missed the Wake Forest game with a concussion — the Wahoos looked good offensively. Armstrong serves as a critical building block for future success.
"I'm super-motivated," Armstrong said. "I think I made huge strides. You can look at everything else, but as long as I see improvement, which I think I have, that makes me even more motivated. I have a lot more room to grow."
Armstrong carried the ball more than 100 times this season despite missing a game and a half, adding that this year gave him a good idea what it takes physical to endure a full college season. The 2020 season represents Armstrong's first as a college starter.
"I'm glad I got to play a full season-ish, kind of see what that feels like, especially with the style I play," Armstrong said.
High 2021 expectations
Even with the disappointing finish to the 2020 season, Virginia won four of its final five games. The Wahoos took down a ranked North Carolina team, and they nearly beat Miami on the road in October.
The Cavaliers were solid in 2020.
Virginia returns Armstrong, Wayne Taulapapa at running back as well as Lavel Davis Jr. and Billy Kemp IV at wide receiver. Offensive linemen Ryan Swoboda, Bobby Haskins, Ryan Nelson and Olu Oluwatimi should all return for the 'Hoos.
Defensively, Jahmeer Carter should fill an important role along the defensive line and linebackers Noah Taylor and Nick Jackson will likely play starring roles. Aaron Faumui, a defensive lineman who opted out of this season, figures to see plenty of snaps on the defensive front. The secondary returns important pieces like Darrius Bratton, Heskin Smith, Coen King and Antonio Clary.
Virginia possesses the returning talent needed to compete for a league title next fall, and the extra eligibility afforded by the NCAA means the Cavaliers can return a few seniors to the mix.
UVa was picked to finish ninth in the ACC preseason poll this fall. That prediction turned out to be accurate.