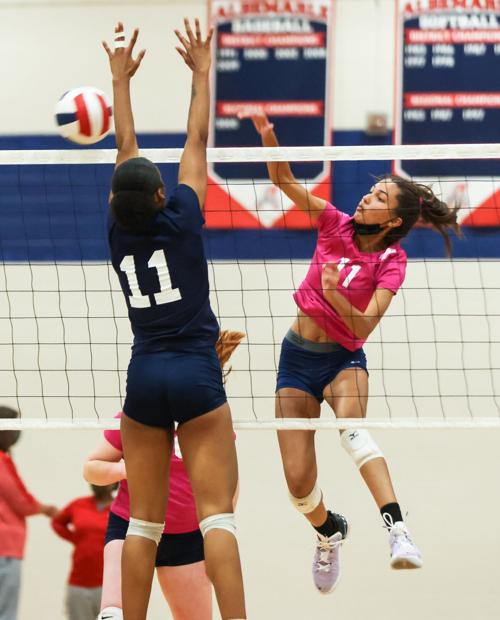 Maya Winterhoff, Teddy Cross and Leigh Young have been highly decorated student-athletes during their time at Albemarle High School.
On Friday, the seniors took center stage to celebrate new beginnings as they each signed their National Letter of Intent to play college sports.
Winterhoff, who was just named Jefferson District Player of the Year for the second year in a row, signed to play volleyball at Appalachian State University.
"This day was the official celebration of what I've known for over a year and what I've been working for and thinking about since freshman year," she said. "It's always felt real. I knew that it would be happening, but to have officially signed makes it official, so now my spot is officially locked in, along with the scholarship. Now I can start planning for when I get there, making it feel as if today marks the beginning of the next four years."
Winterhoff, who ended her high school career as Albemarle's all-time leader in kills (1,151), blocks (205) and hitting percentage (.392), said that Friday's ceremony was extremely emotional.
"This brings everything together," she said. "It is the perfect ending to a great four years."
Cross has been a standout for the Patriots swimming and diving program throughout his high school career. Last year at the VHSL Class 5 state meet, he finished second in the 100 backstroke (50.78), fourth in the 200 IM (1:55.95) and third in both the 200 medley (1:31.71) and the 400 freestyle relay (3:14.08) as Albemarle finished fourth in the team standings.
On Friday, the senior signed to swim at Loyola University in Maryland.
"Loyola is an excellent school with great academics and an amazing swim program where I believe I will be able to flourish, in and out of the classroom," Cross said. "I really liked how close the team is across campus and how they support each other in every aspect of college."
Cross is expected to contribute right away for the Greyhounds as a backstroker and middle-distance swimmer. He will likely compete in the 100 and 200 backstroke as well as the freestyle events for Loyola.
"Being allowed the opportunity to swim at that level is amazing," he said. "The high level of coaching and support as a Greyhound swimmer will help me work toward achieving my goals for college. The primary goal is to make the conference team my first year."
In the classroom, Cross plans to major in bio-chemistry and hopes to eventually pursue a career in the health science field.
Athletically, his goals are to compete for a Patriot League championship with Loyola and secure a NCAA B Cut time to earn a trip to the NCAA Division I championships.
"Since I started to swim, it has been a goal of mine to compete in college, so I am extremely grateful to have this opportunity to swim at the next level," Cross said. "It sounds great to be a college athlete, but that is only a part of what the commitment to Loyola means as being a student athlete and part of a larger community. It means that this is a stepping stone to my goals of helping my team do well at the Patriot League Championships and competing at NCAA's, as well as getting a great education."
This year has been a roller coaster of emotions for Young. Last spring, she had a breakout season for the Albemarle girls lacrosse team as the Patriots were once again one of the top programs in the Jefferson District.
As a junior, she scored a team-high 32 goals and chipped in a pair of assists to finish with 34 points. Young also collected 34 draw controls and 27 ground balls and forced 11 turnovers and blocked four shots.
Three months later, she tore her anterior cruciate ligament and both menisci in her right leg, forcing her to miss out on her final high school season with the Patriots.
Her journey through those trials and tribulations was rewarded Friday when she signed to play lacrosse at the University of Pittsburgh.
"This day means the absolute world to me," Young said. "I've been looking forward to this since I was six years old. I am so happy to have the chance to celebrate with friends, family and my fellow Patriots."
Young plans to remain with her high school teammates this spring as a team manager while she continues to train and prepare for life in the ACC with the Panthers.
"This day is everything I could have wanted and more," Young said. "Pitt is my dream school and I am so happy to be able to see all my friends and family support my new team. I can't wait to join the ACC and this day has only made me more excited for the future."