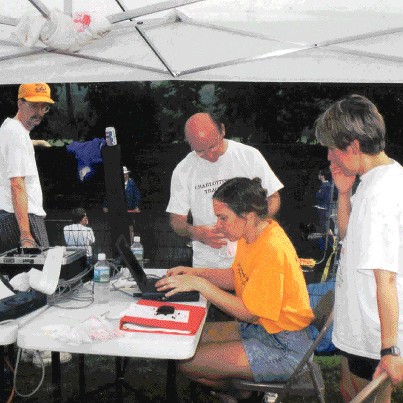 We lost one of the volunteer giants of our running community Monday evening. Carol Finch, who quite possibly gave more time serving the greater good of our local running world than anyone else over the past 35 years, peacefully and gracefully succumbed to the cancer that she had so gallantly battled over the last five years of her life.
I had the privilege of serving alongside this wonderful and selfless person at the finish line of many a Charlottesville Track Club race over the past three decades and she never ceased to amaze me with her tireless and determined drive in making sure that literally each and every runner was treated to the very best race experience.
Carol redefined the term "community stewardship" as she freely gave her time and expertise to dozens of not-for-profit foot race events each year. My guess is that at her healthiest she helped run the results of 40 events on any given year. By my rough tabulation these events, thanks in great part to her wonderful leadership, raised over three million dollars for a variety of worthy community causes. Heck, even as recent as two weeks ago she was out helping at The Valentine's 5K at Old Trail, which raised dollars for our local chapter of Amnesty International. In fact she was so determined to help to the very end, that she actually teleconferenced, from her hospital bed, advice to my daughter and other CTC volunteers, just this past Friday evening, as they registered folks for the MJ8K!
Much of her work was done selflessly and behind the scenes, as she often brought scrambled results home from a local footrace to figure out how to clean them up so she could accurately report them to those who raced in the event, as quickly as possible. And there were many a Thanksgiving morning (and even afternoon) that Carol stayed long after all of the Boars Head Turkey Trot finishers had headed home for  their family dinners, so she could finish tabulating the race results for them. Talk about dedication!
And that dedication was an inspiration to runners and race directors alike. In fact, her legacy is all around us as there are countless young race directors, who were trained by Carol over the years, now helping to carry on her wonderful work in our community.
All of us who were touched by this heroic person are deeply saddened at her passing and we will forever treasure the gifts of her generosity. We are already missing you, Carol!