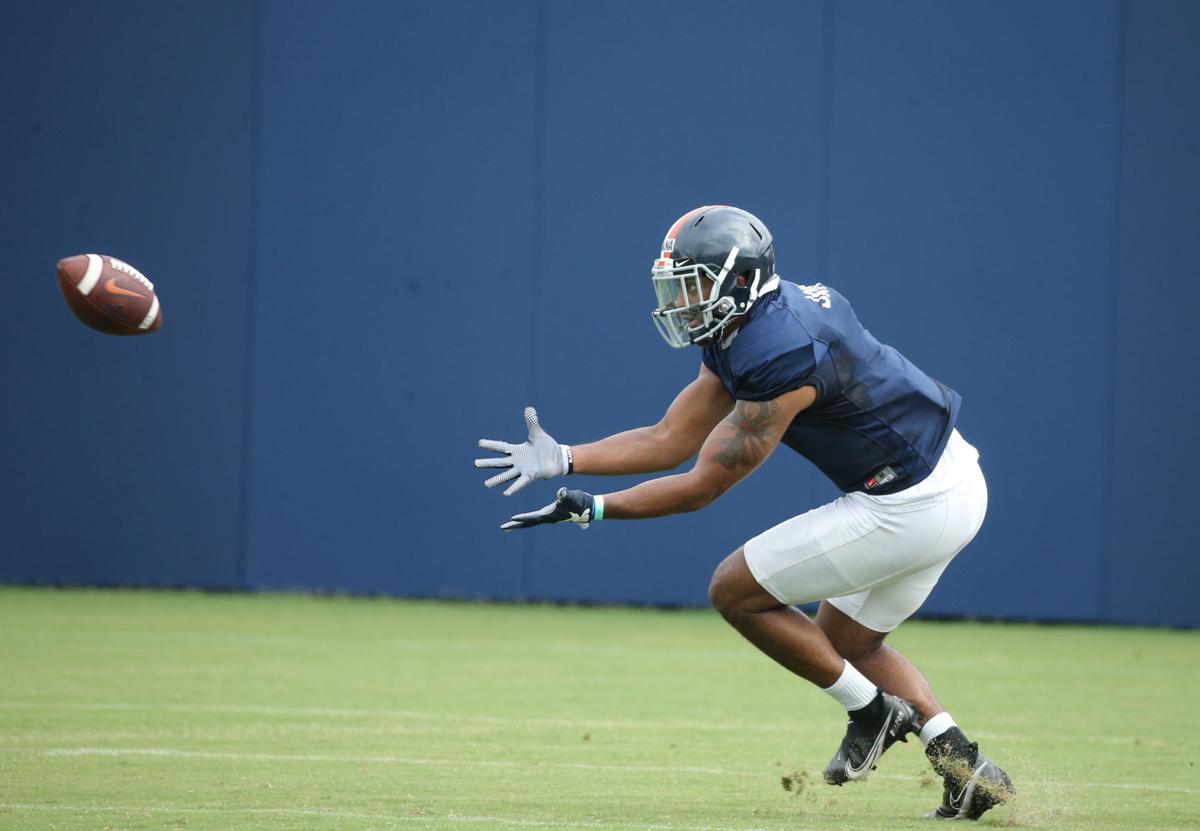 Hasise Dubois, Terrell Jana and Joe Reed formed a three-headed monster at wide receiver last season, forcing defenses to spread their attention out at the end of the 2019 season. With Dubois and Reed graduated, the Cavaliers enter the 2020 season leaning heavily on Jana.
Fortunately for the Wahoos, Jana is an ideal receiver to build around.
"Everything that you want in a player is Terrell Jana," UVa wide receivers coach Marques Hagans said. "He's made himself through hard work, sacrifice and dedication, and I couldn't pick a better leader to lead this group going into this season, because on and off the field, he embodies everything that you want."
Off the field, Jana blossomed into a vocal leader last season. On the field, he hauled in 73 receptions for 878 yards and three touchdowns.
Jana's third-year leap came predominantly in the final half of the season. He broke onto the scene with a 13-reception game against North Carolina. His three touchdowns came in the final four weeks of the season, and he finished the year by recording seven consecutive games with at least four receptions.
Entering 2020 he's Virginia's most reliable receiving threat. He's also the unquestioned leader of the position group.
"He is the guy of the group, and even though Joe and Hasise got a lot of notoriety last year, he was really the leader of the group and so he really assumes that role again this season," Hagans said. "It's a natural thing to him."
Outside of Jana, the Cavaliers boast a few additional options. Tavares Kelly Jr. and Billy Kemp IV remain in the offense as a pair of juniors with some experience. Neither player starred a season ago, but they've logged playing time in meaningful moments.
Jana believes Kemp's athleticism and energy, potentially out of the slot, can make him a more impactful player this season.
"He's been consistent as a player for a long time, which has been really good," Jana said. "I think his opportunity has come now for him to really step into a big role, but he's been in a really good place since the day he got here, which is surprising for a freshman. So hopefully the stars kind of align."
Other receiving threats include sophomore Dontayvion Wicks and graduate transfer running back Shane Simpson. Simpson catches the ball well out of the backfield and in the slot, while Wicks possesses the size to play outside.
Ra'Shaun Henry, a transfer from St. Francis, joins the team with one year of eligibility remaining as a graduate transfer. He surpassed 1,000 receiving yards a season ago at the FCS level. His speed and size make him an option to play inside or outside on any given play.
"He's got great hands, and he's experienced," Jana said of Henry. "He had something like 90-plus catches last year. No matter what division you're in, that means a ball's in the air, you're gonna catch it."
Hagans and Jana both cited adjusting to UVa's culture as the biggest hurdle for Henry. The standards at the Power 5 level differ from those at the FCS level, and he's joining a more talented team and league.
As he adjusts to Virginia's expectations on the field, Henry says he's feeling confident in the relationships forming with his teammates and coaches.
"At first, it was kind of meet and greet," Henry said, "but now those guys are like my brothers, we joke around a lot."
With about a month until the start of the college football season, Virginia finds itself seeking wide receiving threats outside of Jana. Henry is certainly one of the options to earn playing time outside.
Kemp IV may find time in the slot. Wicks could play outside. UVa has options, and it hopes the next three weeks will add clarity to the competition.
What is clear, however, is that all the wide receivers look up to Jana.
"Jana is everything I want to be," Henry said. "I'm not really that vocal like him, but seeing him and seeing him take leadership the majority of the time is great to see and it's something I want to start picking up on as well."
Be the first to know
Get local news delivered to your inbox!