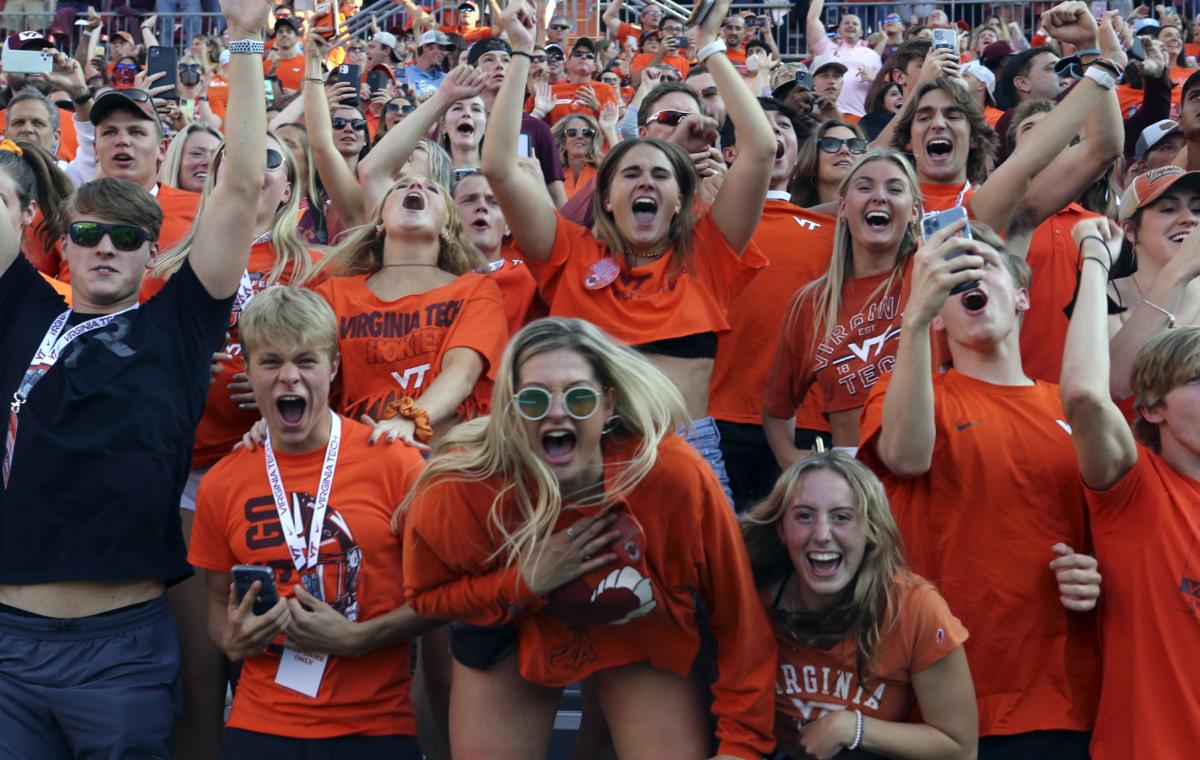 Virginia Tech and Florida State clashed for college football's national title in the January 2000 Sugar Bowl and met in the inaugural ACC championship game six seasons later. The Hokies and Seminoles revere their Hall of Fame coaches from that era, Frank Beamer and Bobby Bowden, and are blessed/cursed with ravenous fans.
Last weekend, those enthusiasts were at their full-throttle best, reminding the nation of all we missed during the pandemic season of 2020, even as the collective ACC endured ominous results.
From Thursday-Monday, the conference basked in prime-time television exposure, and if there were any settings more raucous than Tech's Lane Stadium on Friday and FSU's Doak Campbell Stadium on Sunday, I missed them.
One-off neutral-site games such as Georgia-Clemson in Charlotte and Alabama-Miami in Atlanta afford programs scheduling flexibility and host cities an economic windfall, but heaven knows college football is best staged on campus, with student sections and tailgate lots packed beyond capacity.
Would the Hokies have survived North Carolina without the Lane faithful? Could the Seminoles have erased an 18-point, fourth-quarter deficit against Notre Dame on the road? I have my doubts.
"It was an out-of-body experience," Tech defensive tackle Norell Pollard said of the game-long uproar.
"Incredible," FSU coach Mike Norvell said of the Seminoles' crowd.
Clemson has won six consecutive ACC championships and earned two national titles during the span, but the league sorely needs other programs to consistently push the Tigers, programs with tradition and TV appeal. Virginia Tech and Florida State fit the bill and offered encouraging signs Week 1.
Given the stakes and caliber of combatants, Tech's 17-10 upset of No. 10 North Carolina was the most impressive victory by an ACC team in the opening week. FSU's 41-38 overtime loss to No. 9 Notre Dame offered nearly four hours of riveting entertainment.
Each team broke two touchdown plays of more than 35 yards. The Fighting Irish led by as many as 18 points and by 38-28 midway through the final quarter, when starting Seminoles quarterback Jordan Travis had his helmet knocked off.
A player losing his helmet must sit out a snap, unless his coach is willing to burn a timeout. Norvell chose the former and turned to McKenzie Milton, who suffered career-threatening leg injuries three years ago while at Central Florida.
On his first play since, Milton threw a 22-yard pass to Ja'Khi Douglas, and Norvell immediately elected to ride with karma. Sure enough, Milton orchestrated two scoring drives to force OT, only to have Ryan Fitzgerald miss a 37-yard field goal in the first overtime, after which Notre Dame's Jonathan Doerer converted from 41 yards.
For a program reeling from three consecutive losing seasons, its first such stretch since 1974-76, the evening bordered on upbeat. The Seminoles outrushed the Fighting Irish 264-65, and transfer defensive ends Jermaine Johnson (Georgia) and Keir Thomas (South Carolina) were disruptive throughout.
But combined with Clemson's 10-3 loss to No. 5 Georgia, and No. 1 Alabama's 44-13 demolition of Miami, Sunday's outcome dropped ACC teams to 2-41 all-time in season openers against top-10, nonconference opponents. The lone victories were Georgia Tech over Alabama in 1981 and Clemson over Georgia in 2013.
Fresh off an 0-6 bowl season, the worst ever for a Power Five conference, the ACC yearns to alter less-than-flattering perceptions of the league. This was not the way.
The three ACC teams ranked in the preseason top 25 — Clemson, UNC and Miami — went 0-3 and combined to score 26 points. Clemson, Miami and Louisville lost the weekend's three ACC-SEC matchups by a 97-40 aggregate, the Cardinals falling 43-24 to Ole Miss on Monday.
Maybe Clemson and/or North Carolina can rebound from their one-score setbacks. Perhaps Virginia Tech, North Carolina State, Virginia, Pittsburgh or Boston College can author an exceptional season — the Cavaliers host Illinois on Saturday, while the Panthers travel to Tennessee, the Wolfpack to Mississippi State.
Or maybe 2021 will be a collective bust and a reality check for new ACC commissioner Jim Phillips' football-first mantra.
"Everybody's in a rush to judgment about how good or bad anybody is," Virginia Tech coach Justin Fuente said, "and the bottom line is, with maybe one or two exceptions across the country, we're all figuring it out. I would stop short of waving the banner for or against any team right now."
David Teel reports for the Richmond Times-Dispatch.