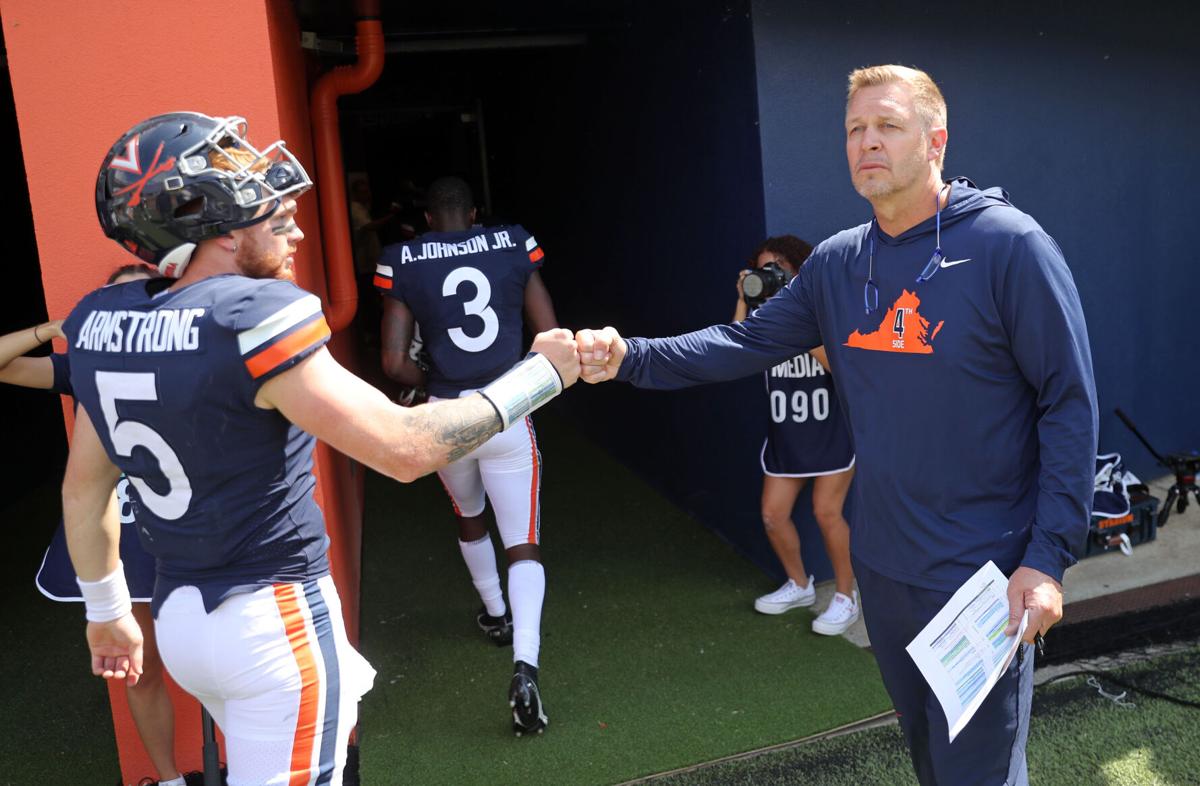 Five minutes into Virginia's game against Illinois on Saturday morning, Cavaliers quarterback Brennan Armstrong was on pace to throw for 1,692 yards and 24 touchdowns.
So scorching was Armstrong's start that a 23-yard completion to Keytaon Thompson on Virginia's third possession lowered his passer rating from 390 to 376.8.
Numbers that absurd aren't sustainable, but against a team projected to finish last in the Big Ten's West Division, UVa dominated for the second time in as many 2021 games.
The final at Scott Stadium was 42-14, and heaven knows it could have been far worse. The Cavaliers committed two fourth-quarter turnovers in Illini territory, their first of the young season, and Justin Duenkel missed two field goal attempts.
"Still left a lot on the table," quarterback/critic Brennan Armstrong said.
But let's not be particular here. Combined with a 43-0 dusting of William & Mary last week, this marks the first time since 2004 that Virginia has opened a season with two victories of at least 28 points.
Prior to that, you have to go back to 1930 to find such a start.
Now much of that hinges on the opponent, and neither the Tribe nor Illini may amount to much this year. But winning your first two outings by a combined 85-14, and accumulating 1,101 yards in the process, is not to be dismissed.
After five minutes Saturday, the clock not yet at noon following an 11 a.m., kickoff, UVa led 14-0, and Armstrong had passed for 141 yards and two scores. Eight of the Cavaliers' first 10 players produced first downs and/or touchdowns.
Armstrong's 405 yards passing were the fourth-most in school history, his five touchdown passes one shy of Dan Ellis' school record, set in 1999 against Buffalo.
Illinois (1-2) mustered touchdown drives in the second and third quarters, but a defense keyed by safety Joey Blount (team-high five unassisted tackles) and linebacker Noah Taylor (two sacks and a pass breakup) was in charge.
In Bronco Mendenhall's sixth season as coach, Virginia has procured depth arguably not seen here since the height (2002-04) of Al Groh's tenure. What Mendenhall likes to call the Cavaliers' "diversity" is most evident on offense.
Five players had runs of at least 10 yards Saturday. Six had receptions of at least 10 yards.
"It is just crazy," tight end Jelani Woods said of the offense. "I love it."
A transfer from Oklahoma State, Woods sustained cramps against William & Mary and caught one pass for a meager 5 yards.
Saturday was the Woods we'd heard about throughout preseason camp.
Armstrong found his 6-foot-7, 265-pound lifeline for 31 yards on the first play from scrimmage, and three plays later, for 32 yards and a touchdown. Woods lined up as a slot receiver on the first reception, as a traditional tight end on the second.
He finished with 122 yards on six catches, the first 100-yard game for a UVA tight end since Heath Miller in 2004. That is what we call good company.
Woods is too fast for most linebackers and too big for most defensive backs, and Mendenhall said he's "just starting."
As against W&M, offensive coordinator Robert Anae dabbled in gadgetry Saturday, most notably when Dontayvion Wicks completed an 18-yard pass to Armstrong. The Cavaliers' primary deep threat with Lavell Davis Jr., sidelined with a knee injury, Wicks also caught three passes for 69 yards and two touchdowns.
Anae and Mendenhall have been targeting such versatility since their later days coaching together at Brigham Young, where in 2013 quarterback Taysom Hill rushed for 1,344 yards and 10 touchdowns, and threw for 2,938 yards and 19 scores.
Mendenhall considered Hill the Cougars' best quarterback, running back, receiver and tight end and figured: Why not throw it to him? Why does he have to play quarterback on every play?
Thompson is the closest thing Virginia has to a Hill. He caught five passes Saturday for 68 yards, 25 after the catch, and rushed four times for 24 yards, 8 for a touchdown on which he bulldozed a defender.