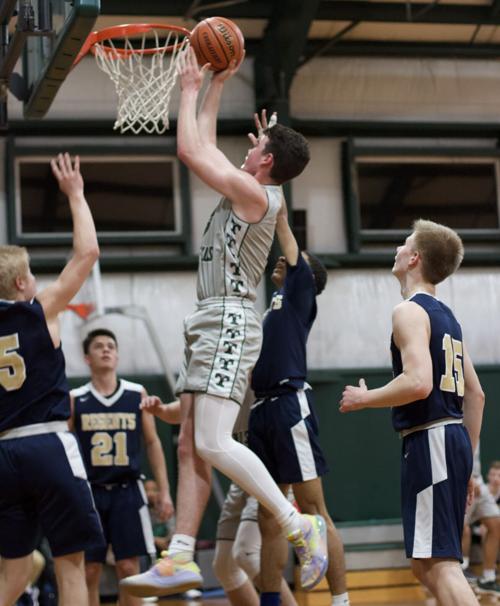 Ford Scott served as a complementary scoring threat for the Tandem Friends boys basketball team last season as the Badgers finished third in the Delaney Athletic Conference and just missed out on a bid to the VISAA Division III state tournament.
The senior forward's individual and team expectations will be a little higher this year after he recently committed to play college basketball at Washington & Lee.
"The tradition of elite academics at Washington & Lee, the competitive nature of the basketball program and the location of the school all were deciding factors in my choice to commit to the admission process at W&L," Scott said.
After serving in a reserve role as a sophomore, Scott turned in a breakout season for Tandem Friends last winter. The 6-foot-7 forward averaged 10.2 points, 7.1 rebounds and 3.1 assists for a Badger team that finished with a 13-9 record.
He shot 31% from behind the arc and ranked second on the team in 3-pointers made. Scott's breakout game came in a career-high 23-point effort against Seton.
Ford's mix of size and shooting acumen made him an intriguing option on the recruiting trail. The Tandem Friends standout had interest from Middlebury, Swarthmore and Babson before finalizing his plans to join the Generals.
"The beautiful campus, the rigorous academic environment and the coaching staff for the basketball program ultimately separated W&L from the other schools on my list," Scott said.
During the process, Scott formed a connection with head coach Chris McHugh and assistant Matt Williams and felt comfortable in the role they mapped out for him.
"Coach McHugh and Coach Williams have done an outstanding job of assembling a squad of high-character and hard-working guys," Scott said. "I'm excited to be able to grow as a player in a group of highly motivated student athletes."
Scott projects to play forward in McHugh's system and provide rebounding and defense inside, as well as stretch the defense with his unique offensive skill set.
"I was attracted to the program because of the fast-paced, unselfish playing style that Coach McHugh has employed," Scott said. "Being 6-7 gives me a considerable advantage in play around and under the basket."
Academically, Scott plans to major in either business administration or economics. His ultimate goal is to pursue a career as a market research analyst or risk analyst in the future.
Like many current high school seniors, Scott recognized that the recruiting process wasn't ideal because of the COVID-19 pandemic, but believes he's found a home in Lexington.
"The recruiting process has been very uncertain," Scott said. "Going on visits, but not being allowed inside buildings or to talk to the coaching staff in person was definitely a difficult change to the typical recruiting process."
Now with his decision finalized, Scott can focus on his senior year and hopefully another strong season on the hardwood.
"I'm just extremely thankful for the opportunity," Scott said. "This opportunity means a lot to be because Washington & Lee is one of the very few schools with such a rigorous academics and a very competitive basketball program. I can't wait to be a part of the team."