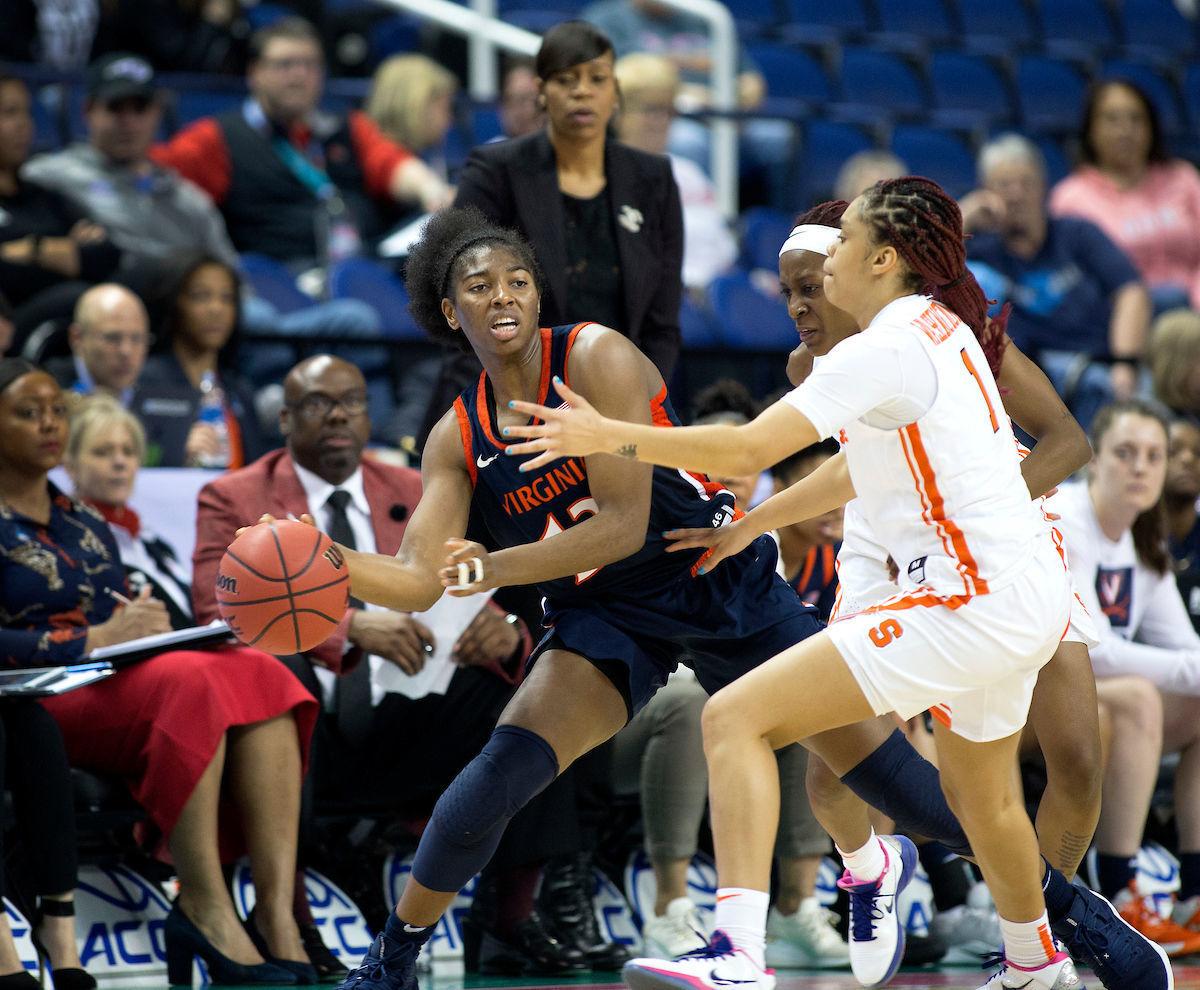 GREENSBORO, N.C. — It made sense to think that Virginia had a favorable matchup against Syracuse in the ACC women's basketball tournament.
The Cavaliers defeated the Orange by 16 points when they met at Virginia in early February.
There was a 17-point spread Thursday, but this time it was in the Orange's favor, as Syracuse defeated the Cavaliers 67-50 at the Greensboro Coliseum.
"It was dreadful, man," Syracuse coach Quentin Hillsman said of the regular-season meeting. "We scored 41 points in that game and weren't able to get into our [defensive] pressure.
"We scored the ball and shot the ball at a solid rate today, and were able to get into our pressure. I thought that was the key to the game."
Virginia had a season-high 26 turnovers Thursday, as the Cavaliers (13-17) were saddled with a second straight losing season under second-year head coach Tina Thompson.
It was the sixth time since 2009 that Virginia had gone home without at least one ACC Tournament victory.
The Cavaliers shot 28.8% from the field (17 of 59) and were unable to take advantage of a 44-32 rebounding margin.
UVa seniors Jocelyn Willoughby and Lisa Jablonowski each finished up with double-doubles for Cavaliers.
Willoughby had 13 points and 12 rebounds, while Jablonowski had 12 and 10.
Willoughby was honored before the game as winner of the Kay Yow Award, which recognizes the top student-athlete among ACC women's basketball players.
"I was notified [Wednesday] so the ceremony piece wasn't as much of a shock," Willoughby said. "I'm definitely going to embrace that moment. It was a game that I was expecting to win, honestly. We go into any game looking to win and compete."
"So, that part was a downer. It's the last game of my career, so I'm not going to dwell on it or be super sad about it. For some, that last game comes sooner than expected.So, I'll be leaving the game healthy. I'm thankful for those little things."
Virginia got 37 of its 50 points from its seniors, including 12 from Dominique Toussaint.
The Cavaliers started four guards and one forward, Jablonowski. Felicia Aiyeotan, a 6-foot-9 senior with shot-blocking credentials, did not play this season after she was found to have Marfan Syndrome, a medical condition that can affect the heart.
"Everybody's bigger than us," Thompson said. "So, we go into every single game knowing that we'll have mismatches. That is why our defensive plan is what it is. We try to keep the ball out of the post as much as possible.
"They put Lisa on an island, basically."
The losing season was the second in Thompson's two seasons. The Cavaliers were 12-19 in 2018-19 and now face the loss of three of their top four scorers.
"I'm thankful for these three and [seniors] what they've done in helping us build the foundation of this program," Thompson said."It's tough that they didn't get the outcome that they wanted. But their work is definitely an example that we can build on."
Be the first to know
Get local news delivered to your inbox!