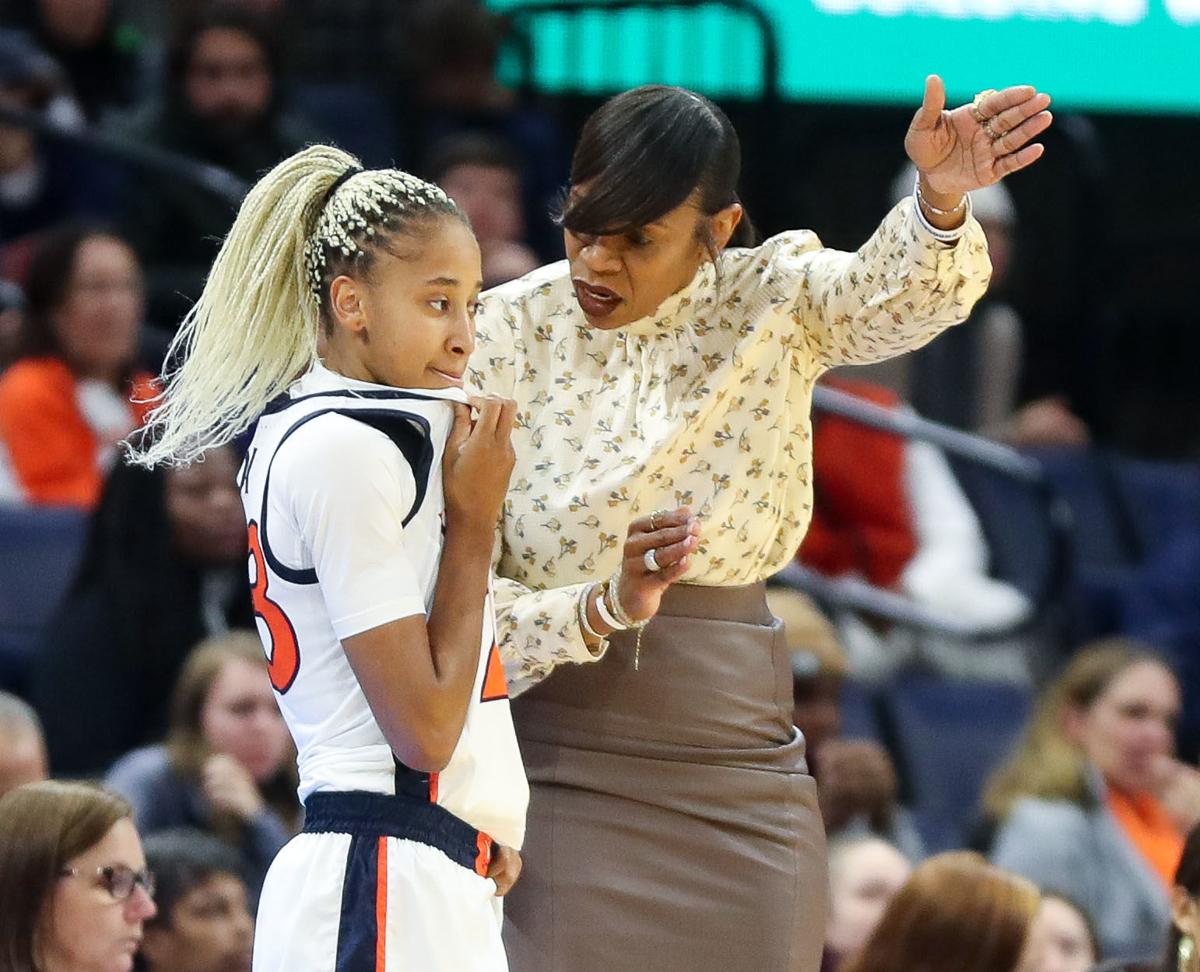 Tina Thompson knows basketball.
The two-time Olympic gold medalist and four-time WNBA champion is about as accomplished a women's basketball player as there is in the world. She was a former No. 1 overall pick in the WNBA Draft, and she made nine WNBA All-Star games.
She heads into this offseason preparing for year three of a new endeavor, leading the Virginia women's basketball program.
Through two seasons with Thompson as head coach, the Cavaliers are 25-36 with a 13-21 record in ACC play.
While the record isn't ideal, there are reasons for optimism that a rebuild will soon lead to the Cavaliers consistently posting winning records.
Let's dive into the state of the Virginia women's basketball program.
Last season's results
Virginia played primarily a blend of seniors and freshmen. The results were uneven. The Cavaliers showed flashes but finished 13-17 with an 8-10 conference record.
"We definitely got better throughout the year," Thompson said. "When you play that many freshmen, then so much is kind of like trial and error. They kind of have to learn under fire. The reality of that it's for sure going to be bumpy in the beginning because they're figuring it out and they don't necessarily have the time to watch and then be able to apply."
There were positive signs down the stretch. The Cavaliers beat Virginia Tech on the road, 86-76. The Hokies were a likely NCAA Tournament team when the season ended. UVa also played well at home, finishing with a 9-5 record at John Paul Jones Arena.
Virginia also turned a few major deficits into wins.
"Our team is very tough in nature," Thompson said. "We have to be. It's a reason why we picked some of the players that we picked, knowing that renovating and rebuilding a program that it's going to take a level of toughness."
On the other hand, UVa ended the season with a losing record and a 4-12 mark in games played outside of Charlottesville. Thompson said at times players would stray away from game plans for stretches, which allowed opponents to feel too comfortable.
When the players created discomfort on both ends of the floor, good things happened.
Notable departures
Jocelyn Willoughby, Dominique Toussaint and Lisa Jablonowski all averaged over 30 minutes per game, and all three Cavaliers won't suit up next season as they head on to new endeavors.
The most notable player lost to graduation and the WNBA is Willoughby. The wing did everything for Virginia a season ago, leading the ACC in scoring at 19.2 points per game while adding 7.7 rebounds per contest.
She was the only player on UVa's team to shot 35% or above from the 3-point line, and she led the Cavaliers in 3-pointers, free throws, field goals and rebounds.
Willoughby was a top 10 pick in the WNBA Draft. Replacing her comes as a massive challenge.
Toussaint and Jablonowski played critical roles for the Cavaliers. Toussaint, a guard, was the team's only double-figure scorer outside of Willoughby, and Jablonowski ranked second on the team in rebounds. She was the team's most consistent forward for much of the season.
Notable returners
Shemera Williams, Carole Miller, Kylie Kornegay-Lucas and Amandine Toi headline a talented group of rising sophomores.
Williams earns the distinction of the top returner given her pedigree as a recruit and the production despite only starting two games and playing in just 21 contests. Miller started in 26 games. Regardless, averaging 8.9 points and 1.4 steals per game as a freshman shows just what Williams is capable of doing when on the floor.
In a win over Duke, the guard recorded nine points and nine steals in 32 minutes.
Miller adds a solid weapon at guard, as she was solid throughout the season. She only attempted 10 shots from beyond the 3-point arc, but Miller does well to score inside the arc. Her free-throw shooting and jump shooting could use continued development.
Kornegay-Lucas is another guard, and she's particularly adept at rebounding. Toi, a rising redshirt sophomore, is the top returning 3-point shooter for the Cavaliers. Dylan Horton also adds guard depth as a rising sophomore.
Meg Jefferson, Dani Lawson and Tihana Stojsavljevic are the three returners who are likely to log the most minutes at the power forward and center positions. Stojsavljevic will be the team's lone senior.
Recruiting additions
UVa adds a trio of three-star recruits, according to ESPN. Kaydan Lawson is a 5-foot-11 point guard from Ohio, Nycerra Minnis brings good size as a 6-2 forward from Maryland and Zaria Johnson (6-0) provides depth at the wing position.
Given the team's general youth and inexperience, the three new additions should have a chance to compete for playing time upon their arrival on grounds.
2020-21 outlook
Losing Willoughby is a massive blow. She developed into one of the best players in the ACC. Replacing her scoring, rebounding and leadership won't come easily.
It could be a challenging year for the Cavaliers, but a young roster gives Thompson a chance to imprint her vision for the program on the team. With the team now mostly consisting of her recruits, Thompson can begin to truly mold the program in the way she sees fit.
"We have the ability to kind of create an identity and revamp the culture of the program, and just by nature my staff, we are workers," Thompson said. "Our work is kind of cut out for us, but it's something that we enjoy."
While the Cavaliers will be young, they won't be without experience. Several of the rising sophomores have ACC game experience. A lack of seniors stands out, but Thompson's group isn't flying blind entering next season.
"I'm excited about our second-year players being able to blossom and come into their own and having a year under our belt," Thompson said. "I think our challenges are going to be our youth. We're going to be a very young team, 98% of our team will be first years or second years, so we'll be very young. What I do like about that is that it creates a very competitive environment because opportunity sits in front of all of them."
Broad outlook
The Cavaliers may experience growing pains next season with an incredibly young team, but Thompson's group possesses youthful talent at all positions.
If Thompson can successfully mold her team into one that falls into her vision for the program, significant improvement might just be a season or two away.
Be the first to know
Get local news delivered to your inbox!