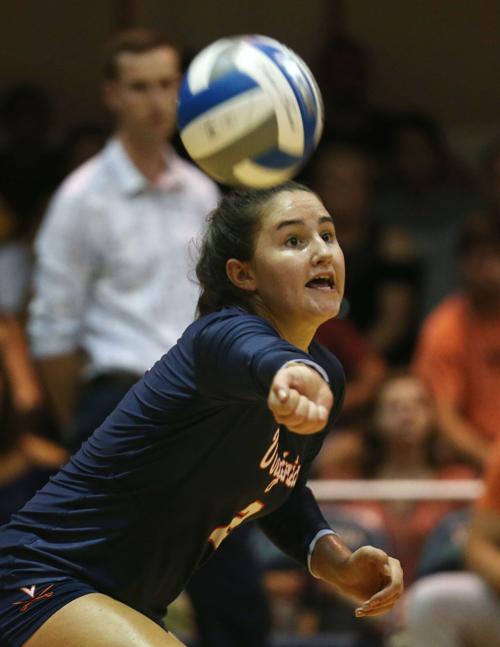 ACC Olympic Sports competition can begin on Sept. 10. With less than a month until the season, the Virginia volleyball team still doesn't have a schedule.
Uncertainty surrounding fall sports due to COVID-19 leaves the program in a state of uncertainty. The Cavaliers are preparing in hopes of a fall season starting on time.
"We're just dealing with what we know is in front of us," head coach Aaron Smith said in late July. "We don't know exactly what the future holds but that is just training and being ready for August."
The Wahoos hope to learn their schedule soon, and when they do, they're looking to turn the corner as a program. They haven't put together a winning season since 2015-16, and they want that streak to end.
Last season's results
Virginia finished the season with a 13-18 record, including a 5-13 mark in conference play. The 8-5 record in nonconference matches is respectable, but the Cavaliers struggled against ACC foes.
Only Wake Forest and Virginia Tech finished the 2019 season with worse conference records.
Injuries to key players hurt Virginia during conference play and made the Wahoos' record worse than it could have been with full health. The team also ended the season with a pair of victories, including a win over a Boston College squad that went 20-12.
"I think there's a lot of momentum with that in our staff and the team's eyes going into this year," Smith said.
Despite a record below .500, there are positives to build upon entering the fall of 2020.
On the flip side, UVa did lose 18 matches and 11 of those 18 losses were sweeps. The Cavaliers need to improve their game this fall to post a winning record, especially with the potential for a limited nonconference schedule because of the coronavirus.
Notable departures
The Cavaliers lose four seniors to graduation. Those seniors — Kelsey Miller, Jelena Novakovic, Chino Anukwuem and Jennifer Wineholt — were all major contributors in 2019.
Novakovic led the team in kills a season ago, and she also performed well as a server. She led the squad with 42 aces.
Miller suffered a knee injury in early October that ended her career. When healthy, she was an important piece of UVa's roster. She finished her career 10th on the Virginia all-time digs list.
Anukwuem played in 15 matches, adding value as a middle blocker. She had 10 blocks in the late-season win over Boston College.
Wineholt provided solid depth and consistent play as a setter. She tallied an impressive 31 assists in the first match of the 2019 season against Furman.
Losing that group certainly leaves the Cavaliers with holes on the roster.
Notable returners
Despite losing four valuable contributors, the Wahoos enter the fall season with four rising seniors. There's experience on the roster, including Sarah Billiard, who led the team in sets played in 2019.
During the past few months, the coaches focused on film review with the team. In a hectic season, there's usually limited time to explain why the team follows certain strategies. During quarantine, the coaches made sure to teach the players why they do things.
"I think that learning why we do what we do just gives it a full encompassing understanding," Billiard said. "I think that's gonna be really helpful for us and a huge advantage for us when we go into the season."
Billiard feels confident in the team's returning talent, and she believes the added understanding of the team's schemes and strategies will only prove beneficial.
The three other seniors – Alex Spencer, Christine Jarman and Megan Wilson – should play key roles in 2020. All three possess meaningful experience at the ACC level.
After relying on seniors in 2019, the Cavaliers can do the same in 2020.
Look for junior Milla Ciprian to earn meaningful playing time at middle blocker. She led the team in blocks in 2019.
Mattison Matthews — a middle blocker — headlines a talented sophomore class. She appeared in 28 matches last season, breaking the UVa freshman hitting record in the process.
Just about every returner on the roster has meaningful playing experience at UVa.
Key additions
Virginia adds five freshmen to its roster. The group doesn't need to star in 2020 given the experience on the roster, but the group adds energy to the 2020 squad.
"I am so excited for them," Billiard said. "I have loved getting to know each and every one of them and they all have such big personalities, and they all are so fun. I think they're gonna mesh well with the rest of us returners just fine."
Smith mentioned Mary Shaffer, an Ohio product, as one of the freshmen he's excited to see. While not every freshmen needs to play a major role, Shaffer possesses the experience at the club level to compete for time on the court.
2020-21 outlook
Virginia wants a winning record. COVID-19 might make that more challenging in terms of the schedule — which figures to be shorter than most seasons with a heavy emphasis on ACC matches — but the time spent at home could benefit the Cavaliers.
The coaching staff believes it used months away from Charlottesville to improve through film study and general conversations via Zoom. They hope that propels them to one of their best seasons in recent memory.
"I feel really good about the progress that we made during that time," Smith said. "I think we got a lot closer, we learned a lot about ourselves and about each other, and I think it really is going to put us in a good spot when we're able to get back on the court together."
Be the first to know
Get local news delivered to your inbox!