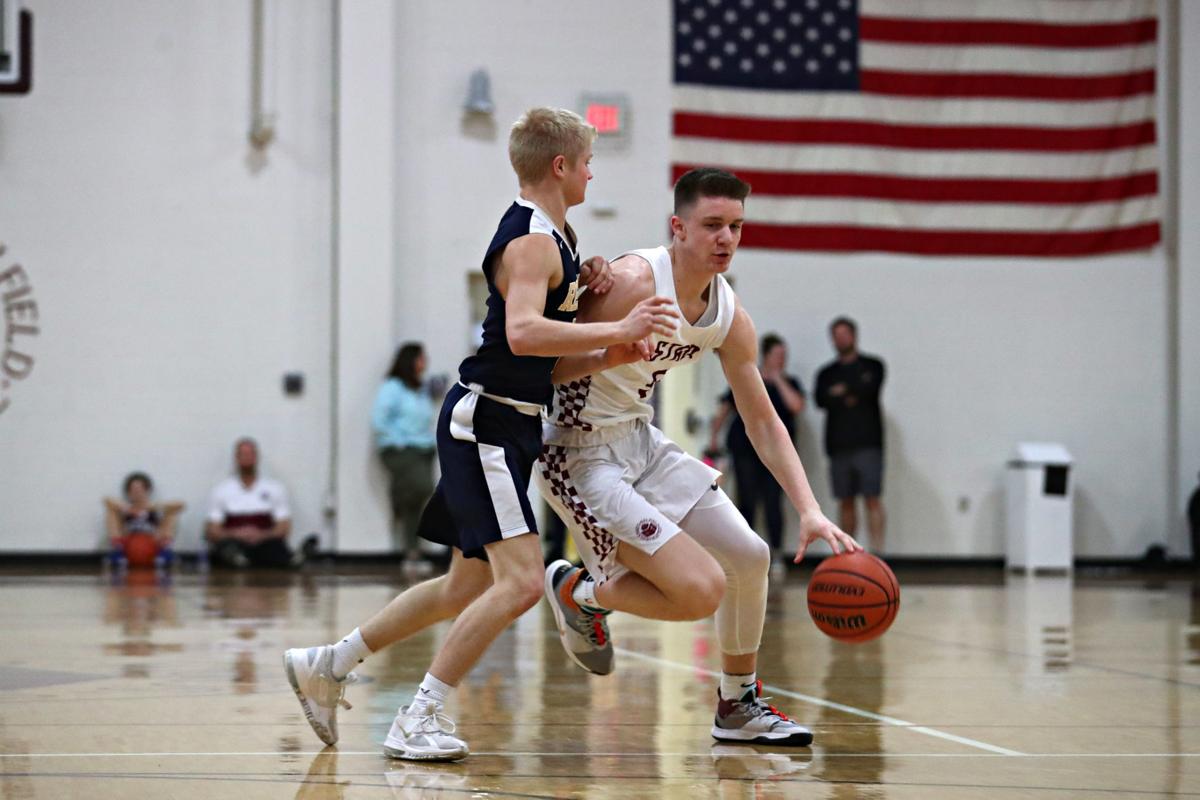 Justin Taylor grew up watching Malcolm Brogdon, Joe Harris and Justin Anderson bring fans to their feet at John Paul Jones Arena as members of the University of Virginia men's basketball team.
The St. Anne's-Belfield junior guard will have the opportunity to join his hometown program after recently receiving a scholarship offer from UVa coach Tony Bennett.
"It means a lot to get an offer from the university in my hometown," Taylor said, "but the fact that the program has had so much success under Coach Bennett and the fact they recently won a national championship makes it that much more special."
The 6-foot-6 swingman has become a coveted commodity and has more than a dozen offers from Power 5 conference schools. Taylor enters his junior year at STAB as the No. 49th ranked prospect nationally in the Class of 2022 by 247Sports after a couple of impressive high school seasons.
"I try not to pay too much mind to it and just focus on getting better," Taylor said. "It's, for sure, a huge honor though and to be recognized as one of those top players in the country in my class and honestly motivates me to try and prove that I can be ranked higher."
As a sophomore, Taylor averaged 15.4 points, 5.3 rebounds and 2.8 assists a game to lead STAB to a share of the Virginia Prep League title and a berth in the VISAA Division I state tournament.
That production has garnered him offers from numerous Division I programs, particularly in the past few months. Since June 15, he has received offers from more than 10 programs, including Indiana, Virginia Tech, Syracuse, Butler, N.C. State, Georgetown, Richmond, Bryant, Saint Joseph's and Maryland.
Taylor credits his offseason work, despite the challenges created COVID-19 pandemic, for the increased notoriety. He played in a number of showcase AAU tournaments which helped his stock grow. In October, he was invited to the Coach Wooten Camp in Texas, where he showcased his talent against the Top 75 juniors and seniors in the country.
"I think this summer I was able to expand my game a lot more," he said. "In the weight room I worked a lot on my athleticism and quickness to become a better defender and on the court, I worked on being able to score the ball on all three levels and using my strength to finish at the rim."
The UVa offer did not come not out of the blue. Taylor said Bennett and associate coach Jason Williford attended several of his games last year so he knew he was on their radar. With the new NCAA regulations allowing coaches to reach out to him during the summer, Taylor's recruitment started to ramp up.
"Honestly, timing wise, it was a little unexpected," he said. "The impression I got from talking to Coach Bennett and his staff this summer was that I would be one of the first to get an offer in my class, but they wanted to wait on decisions from a couple of guys in the 2021 class, but Coach Bennett believes that now was the right time."
The STAB product said he was excited to get the call.
"I was actually waiting in the parking lot for a to-go order when he called and offered," Taylor said. "It was really just pure excitement."
Growing up in Charlottesville, Taylor said he's very familiar with UVa's program and its style of play.
"I feel like Coach Bennett does a really good job recruiting guys who fit into his system," Taylor said. "Especially with the blocker-mover offense they run, using pin down and screens, it suits players like me who can shoot and score the ball. I've definitely seen guys I have been compared to like Joe Harris and Kyle Guy have success in Coach Bennett's system, so I do think my game and style of play translates well to the UVa program."
Two years ago, like many Charlottesville residents, Taylor was glued to the television during UVa's run to the national championship.
"Growing up, I really liked watching guys like Joe Harris, Malcolm Brogdon and Justin Anderson and then of course the national championship run with Ty [Jerome], Kyle and De'Andre [Hunter] was special to watch," he said. "Now that I've grown up and gotten to know some of the guys on the team, it's been fun to watch them and see how I could fit into the playing style."
Taylor said that the recruiting process has been exciting, but much different than he had anticipated because of COVID-19. The pandemic hasn't allowed him to take official visits to programs, but he's hopeful things will open up in the near future to allow him to pursue all of his options.
"As of right now, I haven't made any cuts to my list and I just want to equally evaluate each school who is showing me high interest," Taylor said. "I think I'd like to see where I'm at with things at the start of summer and possibly start to narrow down my list then. As far as making a final decision on where I want to go to college, I definitely want to take my time with it all and see where I am at with things this summer. I could see myself making a decision before my senior season."
For Taylor, his main focus is on preparing for the upcoming season and his goals are high, both individually and team-wise. His top priority is leading the Saints to a Prep League title and a state championship in his final two seasons. Individually, he's like to garner Conference Player of the Year and earn all-state honors.
"I'm super ready for the possible start of this high school season," he said. "We've started team workouts now and seeing how good we can be having played in these fall leagues adds that much more excitement for the season. Getting the UVa offer definitely adds that much more of a target on my back, which means I'll just need to prove myself more and more each time we play."