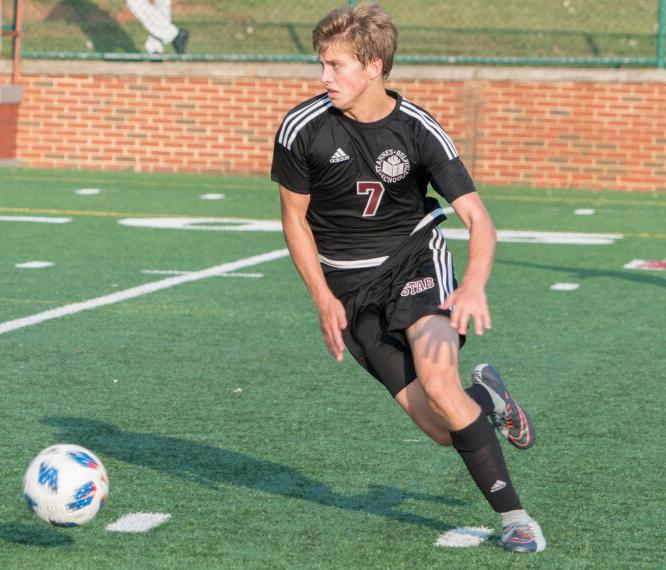 Two years ago, Grant Martin was on top of the world after earning all-Prep League and all-state honors for the St. Anne's-Belfield boys soccer team.
Since then, a rash of injuries, including a broken ankle, as well as COVID-19 have limited Martin's opportunities. The senior has not let the setbacks keep him down as he continued to press forward with his soccer career.
That career will continue at the next level at VMI. Martin recently committed to join the Keydets' men's soccer program.
"It means the world to me to have such an amazing opportunity and one that I have been working hard to reach for such a long time," Martin said.
In 2019, Martin was an impact player for the Saints as a sophomore, ranking among the team leaders in goals from the forward position.
"Going into my junior year, I wanted to have an even better year," he said. "My first high school game that year, I received a concussion, came back a couple of days later and played a tournament with my travel team and in the last game I sprained my ankle, which put me out for a couple of weeks."
Injuries continued to sidetrack Martin that year. In his first game back with STAB, Martin suffered a knee injury. Later in the year, he broke his ankle, which officially ended his junior campaign, an important year on the recruiting trail.
Despite the injuries, Martin returned to his travel team at the end of their season with hopes of making his mark in front of college coaches.
"In my final game, I realized my knee, which I already hurt during the season, never fully healed," Martin said. "I got an MRI and found out I needed to have surgery to repair the cartilage in my knee. It was supposed to be a six-month recovery period, but I ended up coming back in three months, where I was able to play my senior season for my travel team."
After missing out on his senior season at STAB because of COVID-19, Martin began to contemplate what the next chapter of his life on the pitch would look like. That's when VMI men's coach Max Watson and assistant coach Nick Regan asked him to join their program.
"Coach Watson and Coach Regan both really made the decision easy for me," Martin said. "They talked a lot about the culture of VMI, what it means to be a part of such a strong group of guys and the respect they have for each other."
Martin did receive offers from several Division III programs and had some interest from smaller Division I programs before finding a home with the Keydets.
"VMI is known for its brotherhood within the school and the team," he said. "Having the opportunity to be a part of such a brotherhood makes me very excited to join the VMI soccer program."
Watson and Regan, who are both under 30 years of age, headline one of the youngest Division I coaching staffs in the country. Martin felt an early connection with his new coaches and feels like he can make an immediate impact at striker for the Keydets.
"Coach Watson felt like I was a good fit for their program," Martin said. "They are working to build a strong program. I am happy to have the opportunity to contribute."
Academically, Martin plans to major in either electrical engineering or biology.
"The opportunities that come out of VMI after college really separates it from other colleges," Matin said. "VMI ranks very high in the number of opportunities after college."
It's been quite a couple of years for Martin, but he couldn't be happier with where his future is at VMI.
"It has been such a journey trying to become a college athlete," Martin said, "and I feel such a sense of relief now that it is behind me."
Although his senior season at STAB didn't turn out how he imagined, Martin is excited for what the future holds for him in Lexington.
"I made sure this season I would try my hardest to make my dream of playing college soccer came true and I am truly excited to have the opportunity to do so next year," Martin said. "Ever since I was a kid, it was my dream to play college soccer. Now that I have the opportunity to call myself a college athlete, I still can't believe it."