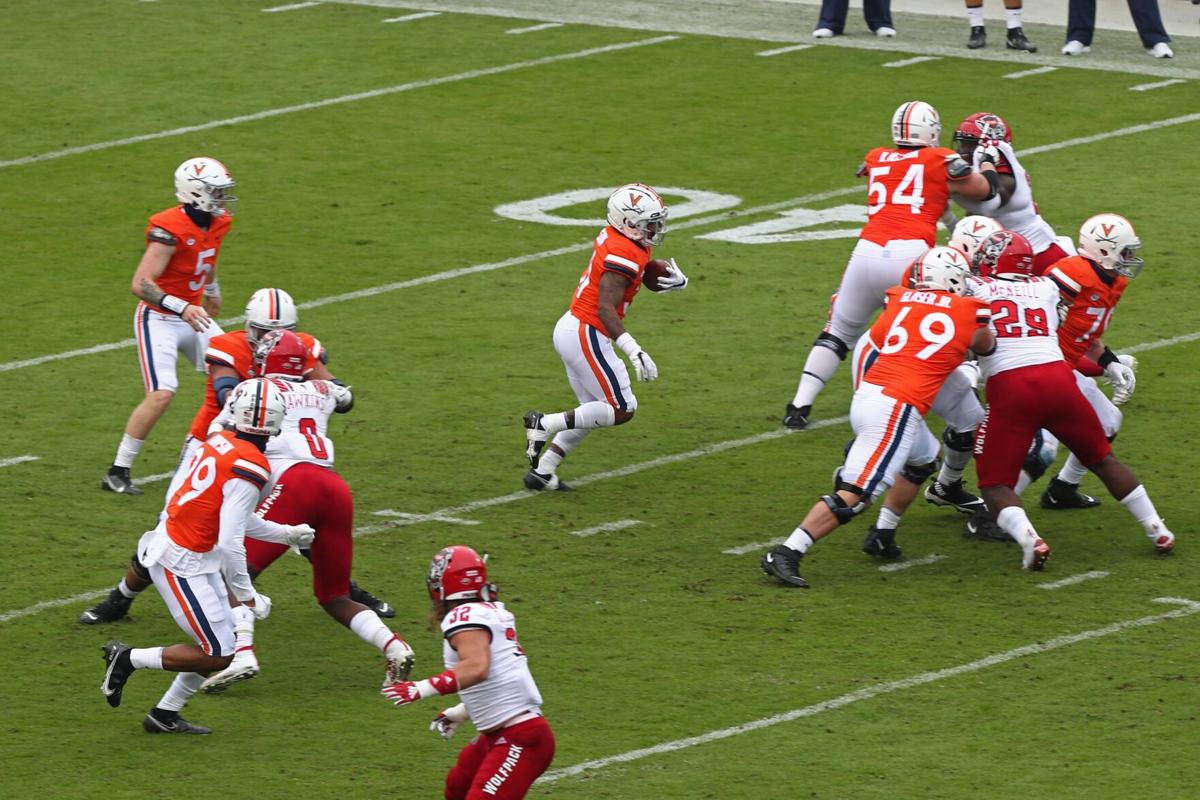 For every rep performed by former Virginia running back Shane Simpson on the bench press at the Cavaliers' Pro Day on Wednesday, he won't just be helping his NFL Draft stock, he'll be helping those battling rare diseases.
The Towson transfer turned Virginia tailback joined forces with Uplifting Athletes ahead of his Pro Day. He's participating in the 2021 Reps for Rare Diseases campaign. Supporters can pledge a donation based on how many bench press reps Simpson records at Pro Day, and all proceeds will go to Uplifting Athletes, a charitable organization that raises money for rare disease research and awareness.
Simpson learned of the organization this offseason and felt it would be a good one to support on Pro Day.
"I wanted to do something that was bigger than myself and bigger than football," Simpson said. "Trying to give back in some way."
Founded in 2007, Uplifting Athletes was created by former Penn State football player Scott Shirley. As his father battled kidney cancer, he and the Penn State football community decided to hold a lifting competition that raised money for kidney cancer research.
Realizing the platform athletes had to help those in need, Scott eventually launched Uplifting Athletes with the goal of using sports to help people and families affected by rare diseases. The Reps for Rare Diseases bench press campaign began in 2015, and more than 150 players have participated to help raise money for the nonprofit.
Roughly 40 players were part of the endeavor last season.
"It is amazing to see so many NFL hopefuls realize, especially during this tiring and grueling process, how impactful their platform can be," former NFL player and Uplifting Athletes' Chapter Success Manager Levi Norwood said in a statement. "We are honored they chose to stand alongside Uplifting Athletes and the Rare Disease Community."
Simpson shared that he's hopeful to hit 25 bench press reps of 225 pounds Wednesday. He's often hit 22 or 23 reps during his training, but he thinks the adrenaline of the event and being surrounded by his former teammates will help him add the extra reps needed to hit the mark.
Only two running backs reached 25 or more bench press reps at last year's NFL combine.
"I pride myself on being like a workout freak," Simpson said. "We're not squatting at Pro Day, but I can squat a house, and I have a real strong upper body."
The running back carried the ball 54 times for 284 yards and two touchdowns for UVa this past fall. He also caught 13 passes for 133 yards and a touchdown. He was the team's leading rusher and receiver in a win over North Carolina.
While at Towson, Simpson stood out as a running back and special teams player. He was one of the best kickoff returners at the FCS level during his seasons at Towson.
Despite collegiate success, Simpson enters Pro Day with plenty to prove. Fans and analysts often call him quick, rather than fast. He hopes to put that notion to rest with a good showing in the 40-yard dash.
He was never UVa's workhorse back, but Simpson played well when given chances. He's hopeful that a good Pro Day paired with his collegiate film will lead to him landing on an NFL roster next season.
Simpson projects as a potential late-round NFL Draft pick or undrafted free agent.
Pro Day is an important day for Simpson as he gears up for his professional career. He wanted to make sure he used the day as a chance to help not only himself, but also others.
"During this process, I knew I could find something that's bigger than me and bigger than football, ultimately," Simpson said. "I know God put me on this Earth for more than football, so any way I can help possible, I'll do it."