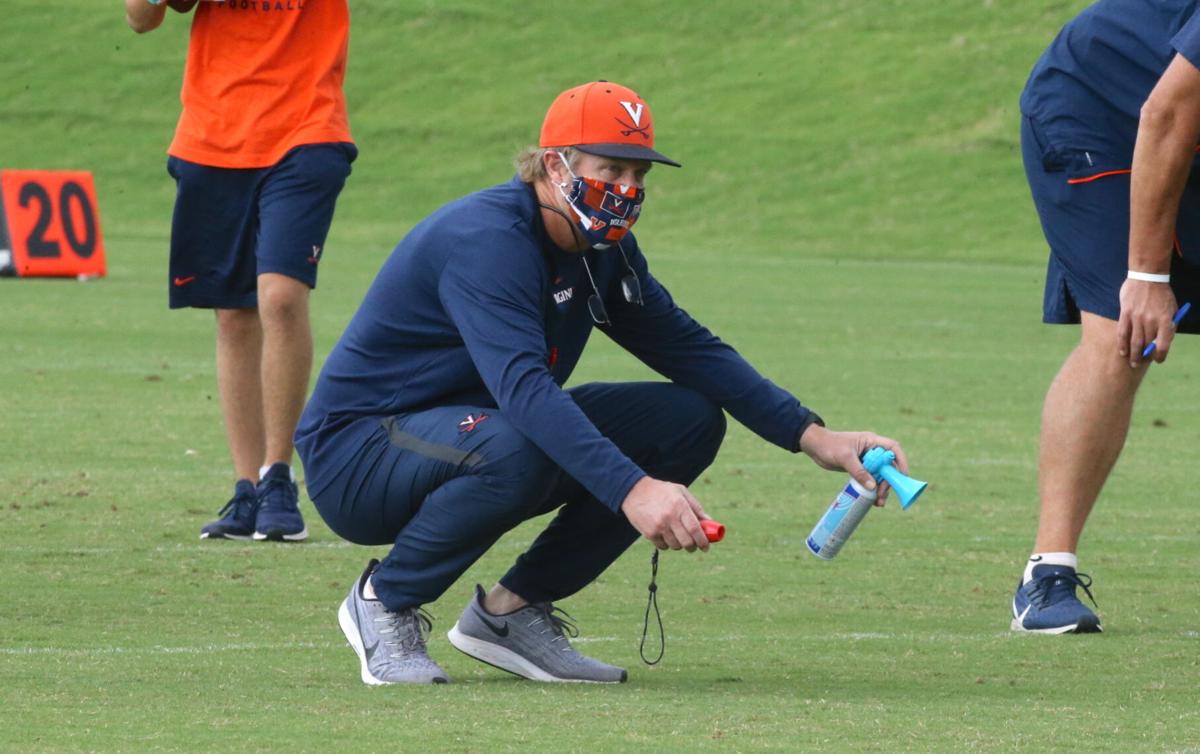 It has been more than a month since the University of Virginia athletics department last reported a positive COVID-19 test within the 10 programs back in Charlottesville.
The low test numbers aren't a product of luck.
UVa's coaches and athletes feel exceptionally confident in the health protocols in place to mitigate the spread of the virus within the athletic department.
"It's been remarkable the discipline our team has used, not only our team, but the entire athletic department," head football coach Bronco Mendenhall said. "Our numbers are staggeringly positive."
Since the football program returned on July 5, 282 student-athletes have received COVID-19 tests. Four of the 282 student-athletes have produced positive tests, with no positives reported since July 24.
Health protocols remain the top priority of teams as they prepare for a fall season that could be canceled at any moment due to issues with the coronavirus. For Mendenhall, that means shifting his focus from coaching to managing protocols during practice.
"My coaches are actually coaching football, but what I'm doing is I'm the No. 1 virus manager on our team right now," Mendenhall said, "and that's working so far."
The duties of the virus manager include keeping an eye on players to ensure they're distancing when asked to do so. He also keeps a close eye on the mask-wearing protocols, wanting players to keep their mouth and nose covered as much as possible, given the airborne spread of COVID-19.
"We're wearing the entire full face shields, and I've seen some clips from other practices where programs are choosing not to do that, which is mind-boggling to me," Mendenhall said. "So we're wearing the visors and the bottoms. The minute the helmet comes off, the mask comes up. It's like one motion."
Mendenhall wants players masked as much as possible.
The masking and splash shields help lower any potential spread during practice. Outside practice, meals are picked up by athletes at an outdoor location. Players then eat those in their respective rooms.
Earlier in the offseason, Mendenhall outlined the team's lifting protocol. Players worked out in small groups. In between groups, thorough disinfecting practices took place to clean shared equipment.
Consistent student-athlete buy-in helps limit the spread of the virus. Regular tests for COVID-19 give programs a chance to isolate athletes who test positive for the virus. While no positives have been reported in a month, the practice aids in the success of the bubble.
The success extends beyond just the football program.
The UVa women's soccer program has been preparing for a fall season since its first official practice on Aug. 4. The program practices in masks. Players are tested regularly and practice social distancing when applicable.
"We're really lucky, because at least we have the capacity to all be together," junior Rebecca Jarrett said. "We have facilities where we can social distance and lift. We all have masks, and we can all get tested regularly because we the capability to do so, which not everyone is as lucky to have."
Jarrett and senior goalkeeper Laurel Ivory know athletes at other schools that did not have the same privileges. Some of Ivory's closest friends from youth soccer attend Pac-12 schools.
The Pac-12 doesn't expect any athletic competition until 2021.
"It was hard to relate to that because we are so lucky that UVa is taking such strong measures and doing everything with our safety as a priority," Ivory said. "We compare ourselves to some other schools, where we don't know the full story, but I think that some ACC schools may not be thinking the same way that UVa is thinking, and it's 100% the safety and priority of the student-athletes here."
Both student-athletes feel confident in the health protocols in place. They feel so comfortable that they sometimes forget that others — athletes and the general public alike — across the country aren't taking health protocols as seriously.
"Sometimes you almost forget that there's so much more to what's going on than just us," Jarrett said. "It's almost like we're doing a good enough job where you don't really realize, yeah, we're wearing masks in training. We're going into the locker room in shifts, but it feels pretty normal, pretty safe, to the point where you turn on the news and you're like, oh, wow, our normal is not normal."
Jarrett says her current interaction with people outside the UVa athletic bubble is close to zero. She goes to practice and interacts mostly with other athletes and coaches while practicing masking and social distancing.
Ivory and Jarrett believe in the plan that director of athletics Carla Williams and company put in place for UVa athletes to remain safe amid the pandemic. At times, they both wonder why other programs attempting to play this fall aren't following the guidelines as strictly as the Wahoos.
"It's weird because I'm so comfortable and confident in the procedures and policies that we have in place, and when I hear about something else, it's just like, well why aren't they doing it like we're doing it?" Ivory said. "Because clearly we have it figured out. I think that's just a testament to Carla and the administration here at UVa."
The athletes also wonder why people in the broader community don't follow the same general health practices as UVa.
While regular asymptomatic testing isn't nearly as accessible for community members, practicing social distancing and wearing masks come easily to most members of the community. Ivory and company have seen the success wearing masks and social distancing can have on the spread of the virus.
They hope others learn from the example of UVa's sports bubble.
"When you say all the policies and you say all these rules that we have, it seems like a lot, but then when you're in it, it's like OK, this is doable and this is worth doing," Ivory said. "We're just like, why can't this country do this?"