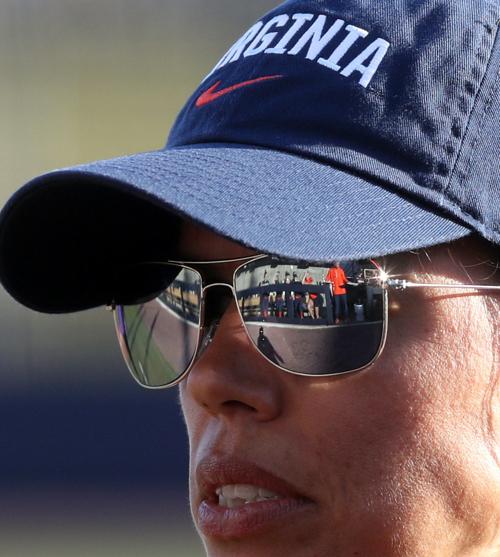 With 11 months since the Virginia softball team's last away game, head coach Joanna Hardin almost forgot what it was like to hit the road for a weekend series.
"I haven't traveled outside of Charlottesville in 11 months," Hardin laughed. "I had to go look for my suitcase."
Fortunately, Hardin located her travel essentials ahead of her team's season-opening road trip. Virginia opens its season Saturday in Athens, Georgia, with games against Georgia and South Alabama. The Cavaliers play each team on both Saturday and Sunday.
The series opens the team's 50-game spring schedule, which includes 40 games against ACC foes. It's a challenging schedule for a team that hasn't posted a winning record since going 26-25 in 2012.
Hardin feels hopeful about her team, which brings in a freshman class with three top-100 recruits and returns nearly all of its production from last season. The 2020 roster included just one senior, pitcher Riley Wilkinson, who wasn't used in a primary role for the Cavaliers.
With no fall schedule, Hardin focused on intrasquad scrimmages in recent months to promote competition and development among the team. She liked what she saw.
"Our 'A' team has changed a lot over the last six or seven months," Hardin said. "It's been really, really competitive."
UVa's roster includes seven pitchers, which gives the team depth and different options to manage the schedule. Aly Rayle enters the year as the team's presumptive ace.
Rayle, a junior, led Virginia with a 2.91 ERA in her 14 appearances last season. That's the lowest ERA posted by any UVa softball pitcher since Melanie Mitchell in 2013.
Sophomore Molly Grube, a Chesterfield native and the 2019 Richmond-Times Dispatch All-Metro Player of the Year, played well in her limited 2020 chances, posting a 3.63 ERA over 46 1/3 innings.
Outside of Rayle, opportunities are largely up for grabs. It's likely the Cavaliers will try out multiple pitchers alongside Rayle to start the season, forcing the team's catchers to learn the strengths and weaknesses of each pitcher.
"It's definitely different to be like 'OK, well I haven't caught her in like two weeks, so let me think about what she was working on two weeks ago,'" redshirt junior catcher Ashley Jennings said. "It's important that we communicate as catchers and really know what this pitcher is working on."
Jennings stressed that the different pitchers boast different strengths. For some, they rely on spins. Others lean on velocity. Knowing what each pitcher brings changes how Jennings plays behind the plate.
While the pitching potential seems promising, Hardin holds plenty of choices for her lineup.
Junior Donna Friedman led the team with a .324 batting average in 2020 and tied for the team lead with three home runs. Kate Covington, a senior, is as reliable as any player on UVa's roster. She's started 122 games over the past three seasons, showcasing promise as an outfielder and a batter. She's among the upperclassmen likely to take on a leadership role for the team.
Other names to watch include junior outfielder Bailey Winscott, who led the team with seven steals in 2020. Tori Gilbert, another junior outfielder, stole five bases and launched three home runs last spring. Arizona Ritchie, a junior infielder, figures to earn at least some playing time for her speed and defensive ability. Jennings seems destined to earn time at catcher.
Regardless of who takes the field this weekend and beyond, UVa's players are excited for the chance to play.
"We've been grinding behind the scenes for months now, so we're super excited to show that out on the field now," Jennings said.
While UVa fans won't fill into Palmer Park this spring — the program is only allowing family of student-athletes and coaches to attend home games due to COVID-19 restrictions — the team's facility still gives the team a lift as it aims to become an ACC contender.
Social distancing inside a facility with team meeting rooms, a locker room and an indoor batting cage makes preparing in groups significantly easier than it would've been in previous seasons.
"It will be the difference in our season and our preparation," Hardin said. "We're just so, so, so grateful. It's hard to even articulate how valuable this is for us and for our team."
Hardin appreciates the facility, even if she has to wait a little longer for packed crowds. After going most of last spring without softball, UVa players are happy to follow health precautions as it means they can compete in games again.
"The fact that we're here is really, really gratifying, considering how challenging the last 11 months have been for our squad," Hardin said. "We're so excited, really grateful and not taking it for granted that's for sure."