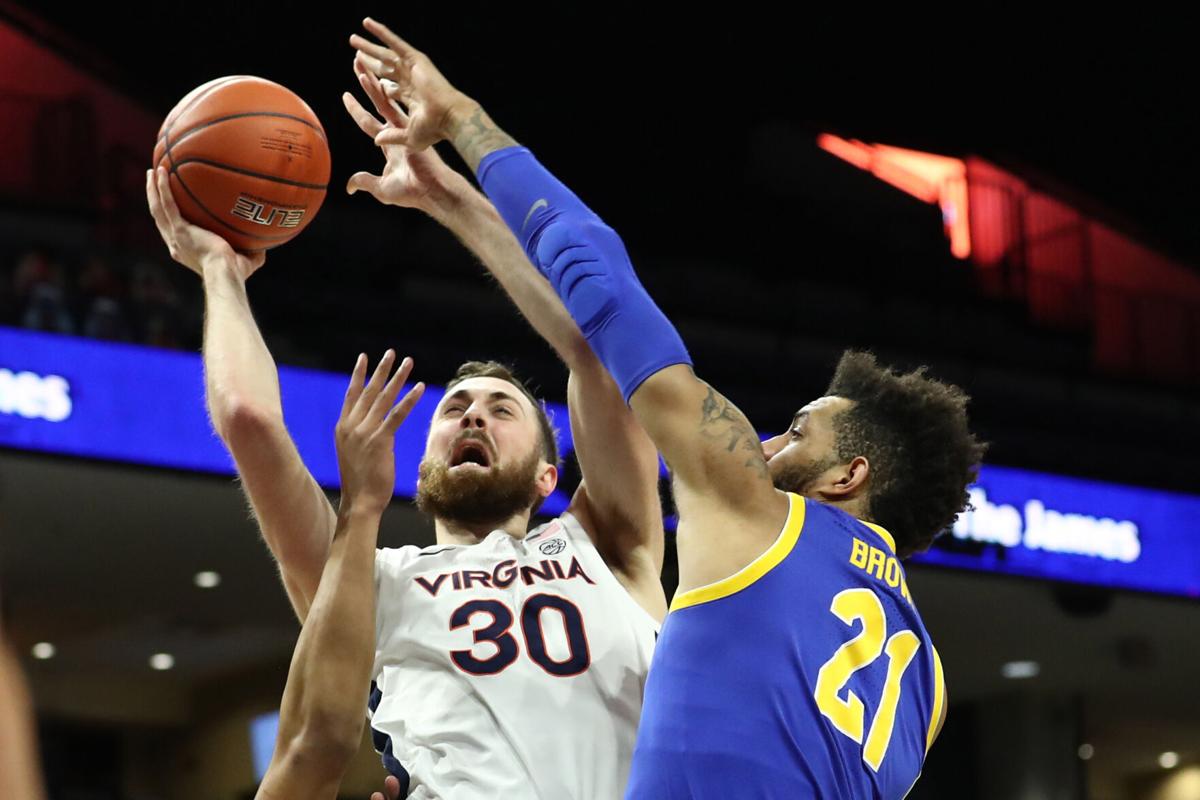 A roster filled with exceptional offensive talent makes Virginia an explosive team. The Cavaliers showcased that explosiveness Saturday, turning a close game early in the second half into a comfortable 73-66 win over Pittsburgh.
No. 14 Virginia (13-3, 9-1 ACC) beat Pitt (9-6, 5-5 ACC) thanks to a 3-point shooting barrage in the second half. The Cavaliers caught fire after a sluggish shooting start, and they maintained their lead in the ACC standings as a result.
Here are three takeaways from UVa's win over Pitt.
Hauser and Huff make their case
Saturday featured a battle between three of the top candidates for ACC Player of the Year. Pitt's Justin Champagnie entered the weekend as the ACC's leading scorer.
Champagnie showed why he's such a dynamic force for stretches Saturday, scoring with efficiency in the mid-range and low post. At other times, he tried tough finishes over UVa defenders and failed. It wasn't Champagnie's best performance, but he had strong moments and finished the game with 18 points and 10 rebounds on 8-of-18 shooting.
Even with a decent game from Champagnie, UVa's ACC Player of the Year candidates stole the show Saturday. Sam Hauser and Jay Huff are both in the Player of the Year conversations, and they delivered with efficient offensive showings against Pitt.
With the game tied at 36, UVa went on a 16-0 run fueled by 14 points from Hauser and Huff. Both players drained a pair of 3-pointers during the run, which broke the game open and put UVa in front for good.
Hauser finished the game with 23 points on an incredibly efficient 8-of-9 shooting. He also chipped in with six rebounds. Huff scored 13 points on 5-of-6 shooting to go with eight rebounds and two blocks.
Plenty of action remains as the three players aim to separate themselves in the ACC Player of the Year race.
Woldetensae sparks bench
UVa's bench failed to contribute a single point in the team's win against N.C. State. All 64 of the team's points came from the starting lineup, a rarity in the Tony Bennett era.
Saturday, the bench provided a meaningful spark against Pitt. All bench scoring came from the left-handed Tomas Woldetensae, who can score with ease from 3-point range when he's feeling confident.
Woldetensae scored 14 points Saturday on 4-of-6 shooting and 4-of-5 shooting from 3-point range. He made his first four shots of the game.
His shooting off the bench gave the Cavaliers another weapon outside of the starting five. With Kihei Clark and Reece Beekman not always trusting their 3-point shooting, it helps Virginia to have a player like Woldetensae capable of shooting and scoring at the guard position.
Cavaliers control ACC race
UVa's victory over Pitt keeps the Cavaliers in the driver's seat in the ACC regular season title race. Entering Saturday, every ACC team outside Florida State had at least three conference losses. The Seminoles, currently on a COVID-19 pause, are 6-2 in conference play.
After Saturday's win, UVa sits at 9-1 in ACC action.
ACC teams were originally slated to play 20 conference games this season. Assuming every scheduled conference game is eventually completed, Virginia is at the halfway point of its conference schedule. There's a realistic chance UVa doesn't complete the full 20-game schedule by the time the conference tournament rolls around, which means the Wahoos may even be past the halfway point of conference action.
Through 10 ACC games, UVa holds a commanding lead over its peers.
While Virginia's conference schedule hasn't yet included teams like Florida State, North Carolina and Louisville, the Cavaliers keep beating teams put in front of them. Plenty of action remains — and Virginia Tech proved the Wahoos aren't invincible — but UVa sits in an ideal position in the conference standings after beating the Panthers.
The team's next four games — at Georgia Tech, home against UNC, at Florida State and at Duke — will go a long way toward determining the ACC regular-season champion.