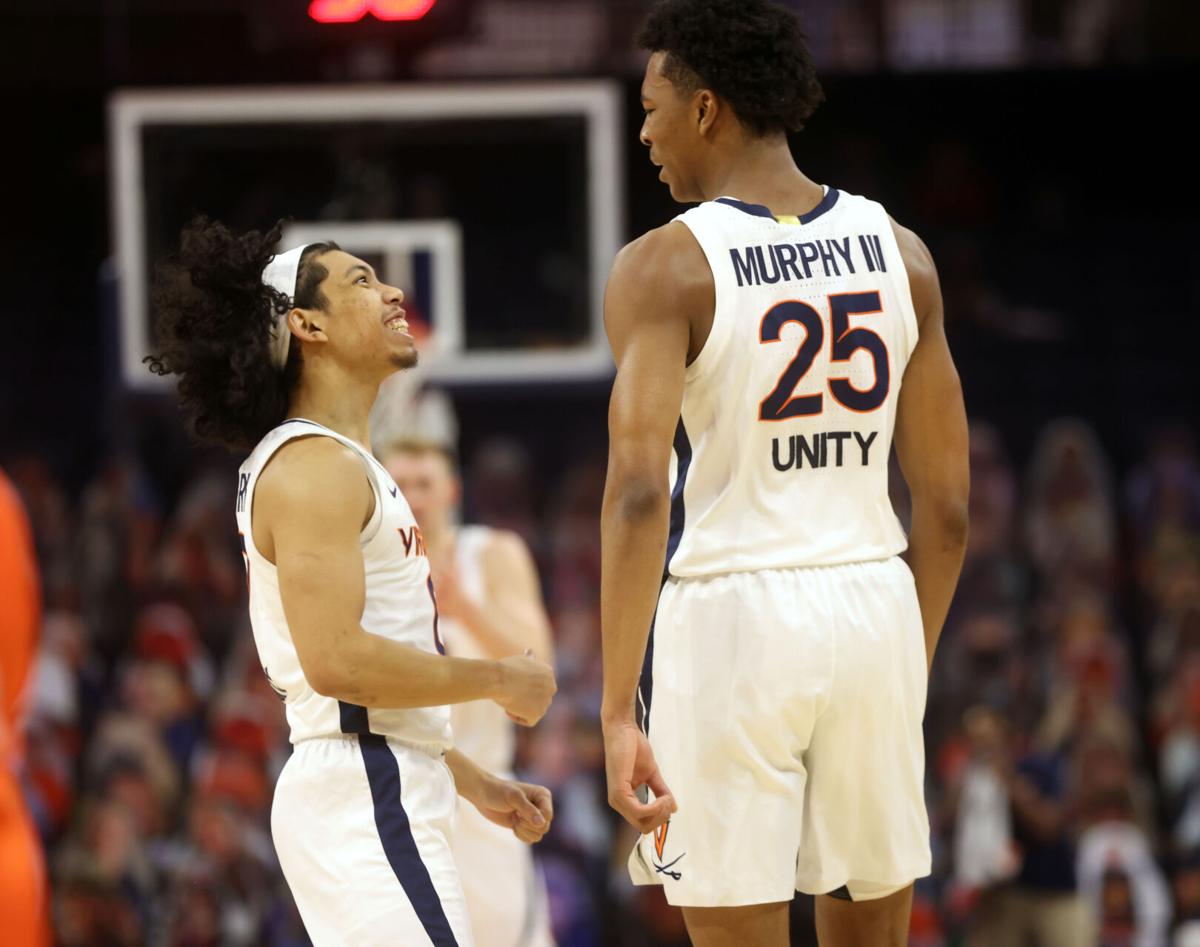 Sam Hauser caught fire from 3-point range and Kihei Clark tossed alley-oop pass after alley-oop pass to delight the limited fans in attendance at John Paul Jones Arena on Monday night.
Defensively, UVa lived up to its program standard with a solid showing.
Aside from its 85-50 blowout victory over Clemson, Monday's 81-58 win over Syracuse might've been the most complete team performance of the season for No. 8 Virginia (11-2, 7-0 ACC).
Tony Bennett's team looked the part of an ACC title contender, showcasing offensive balance and defensive excellence in a blowout victory of Jim Beoheim's squad.
Plenty stood out from the win, including these three areas.
Clark leads passing display
Clark spearheaded impressive team-wide passing. Despite not scoring much — Clark finished with just four points — UVa's point guard stressed the Syracuse 2-3 zone with tremendous passing. Clark received the ball in the middle of the zone and frequently found shooters on the outside for open looks.
The quickness of Clark proved challenging to stop for the Orange, and he kept mistakes to a minimum. He racked up nine assists compared to just two turnovers. That outing comes a game after he finished with eight assists to just three turnovers against Georgia Tech.
As a team, Virginia tallied 23 assists on its 29 made shots. The team's ball movement was ideal, as they picked apart the Syracuse zone.
Hauser heater
Hauser discussed being in a slump earlier this season, saying his 3-point shot wasn't quite up to his lofty standards. The Marquette transfer has seemed to regain his rhythm against Clemson, knocking down four of his five shots from beyond the arc.
Hauser matched those numbers Saturday against Georgia Tech, knocking down four of his five attempted 3-pointers, including crucial made shots down the stretch of the narrow win over the Yellow Jackets.
Monday, Hauser tied his career-high with seven made 3-point shots. He tied Jay Huff for the team lead with 21 points. Hauser made seven of his 13 shots from 3-point range, making him 15-for-23 (65.2%) from 3-point range in his last three games.
When Hauser shots that efficiently, UVa's offense hits a new level.
UVa leans into starting rotation
Virginia's starting lineup of Kihei Clark, Reece Beekman, Trey Murphy, Sam Hauser and Jay Huff came into existence in part due to Casey Morsell missing 10 days at the beginning of ACC play due to COVID-19 contact tracing protocols. The lineup has stuck since.
The group gives UVa two point guards in Beekman and Clark, while Hauser and Murphy provide length and shooting along the wing. Huff gives Virginia a versatile 7-footer on offense and a rim protector on defense.
Everyone in the starting five is playing their individual role well.
Monday, Clark and Beekman combined for 14 assists and only turned the ball over four times. Hauser and Murphy combined to make 11 shots from beyond the 3-point line. Huff scored a career-best 21 points, while also snagging 12 rebounds.
Bench players have stepped up nicely in recent games for the Wahoos, but it's elite play from the starting unit that's helping UVa surge to the top of the conference standings.