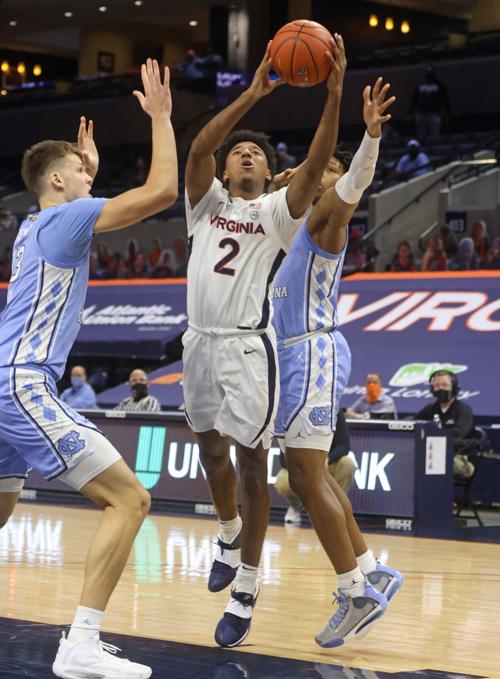 North Carolina scored the first points of the game Saturday night against Virginia on a Caleb Love dunk. Less than a minute later, Jay Huff knocked down a 3-pointer.
The Cavaliers led the rest of the game.
While it wasn't a perfect shooting display from UVa, Huff recorded a physical double-double and the Wahoos played elite defense in its 60-48 win over the Tar Heels. Roy Williams' team found some success scoring in the post, but UNC lacked consistency and the Tar Heels' 3-point shooting was woeful.
Virginia (15-3, 11-1 ACC) made timely shots to complement its sound defense, and the result was a comfortable win over North Carolina (12-7, 7-5 ACC) on Saturday in Charlottesville.
Here are three takeaways from Virginia's win.
Reece Beekman makes non-scoring impact
UVa's freshman guard wasn't close to being the team's leading scorer Saturday night, but he played exceptionally well for the Cavaliers. The athletic point guard was a triple-double machine in high school, and he showcased his versatility against the Tar Heels.
Beekman beat UNC defenders off the dribble, opening up passing opportunities for the guard. Beekman tallied eight rebounds and seven assists in the game. He also blocked a shot and recorded a steal. Despite only scoring a point, Beekman made a noticeable impact.
He was particularly adept at grabbing long rebounds. While Huff and others battled the tall and physical Tar Heels in the post, Beekman sought out the basketball after UNC misses. He frequently tracked down rebounds for the Cavaliers, which is a key against a North Carolina team that excels on the offensive glass.
Beekman's scoring ability needs improvement, but the guard's quickness and toughness make him a valuable asset for the Cavaliers as a freshman. He holds the potential to develop into an All-ACC player during his UVa career.
Home sweet home
Despite only allowing 250 fans at home games this season, UVa still has found plenty of success at John Paul Jones Arena. Saturday's victory over the Tar Heels moved the Cavaliers to 9-0 at home this season.
Dating back to last season, UVa has won 14 consecutive games at home, including 12 ACC contests. The Cavaliers are 65-9 at home since the start of the 2016-17 season.
This season, Virginia is 6-3 when playing away from home. Tony Bennett's team will be tested outside of Charlottesville as the regular season comes to an end.
On Monday, Virginia faces No. 17 Florida State in Tallahassee. Next Saturday, Virginia plays Duke on the road. A game at Louisville ends the team's regular season.
With contests against N.C. State and Miami remaining at home, the Cavaliers will be favored to finish their home season undefeated. To maximize their NCAA Tournament seeding potential, the Cavaliers need to keep winning at home while picking up wins against respectable competition outside Charlottesville.
Defense plays well in consecutive games
Tony Bennett didn't mince words after the team's win over Pittsburgh a week ago. He wasn't overjoyed with the defensive effort and made that clear in his postgame media session.
His Cavaliers responded to the call for improved defense in its games against Georgia Tech and UNC. They held the Yellow Jackets to a season-low 49 points Wednesday, and North Carolina finished with a season-low 48 points Saturday.
UNC finished the night scoring 0.814 points per possession. The Cavaliers shut the Tar Heels down for most of the night.
North Carolina missed all nine of their first-half 3-pointers before finally seeing a couple shots drop in the second half. For the game, UNC shot 2-for-16 (12.5%) from 3-point range. Georgia Tech was 4-for-21 from beyond the arc Wednesday.
It was a clinical defensive performance from Virginia, which is starting to win games on the defensive end of the floor.