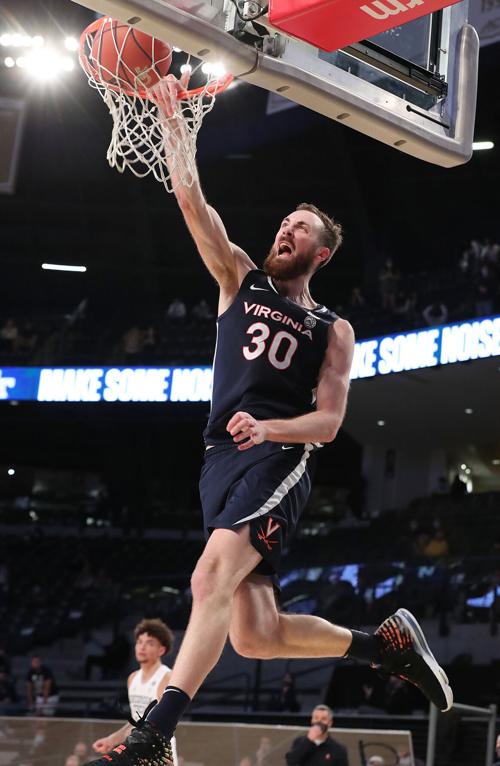 Jay Huff grabbed the ball after a scramble under Virginia's basket.
Virginia's center turned, screamed and fired home a one-handed dunk.
The play, which put UVa up 55-47 with just over two minutes left, felt like a dagger.
After a first-half plagued by turnovers, Virginia turned its offense up in the final five minutes against the Yellow Jackets. As a result, the Wahoos improved to 14-3 overall and 10-1 in the ACC with a 57-49.
Here are three takeaways from the victory.
Bouncing back
In its three games since falling to Virginia Tech, UVa is a perfect 3-0. During that stretch, the Cavaliers have knocked off N.C. State, Pittsburgh and now Georgia Tech.
After its first loss this season, UVa went on a three-game winning streak. After falling to Gonzaga, Virginia strung together seven consecutive wins.
With Wednesday's win, the Cavaliers are on a three-game winning streak.
Virginia finished strong against the Yellow Jackets, closing out the game with a flourish. On paper, beating Georgia Tech might not be overly impressive, but the Yellow Jackets were on an 11-game ACC home winning streak. They were 5-0 against ACC teams at home this season with wins over teams like Clemson, North Carolina and Florida State.
Wednesday's showing wasn't perfect, but it was a good win for the Cavaliers against a solid Georgia Tech team.
Turnover troubles
Entering Wednesday night's game, UVa topped the nation in fewest turnovers per game, giving the ball away an average of just nine times per game.
Wednesday, the Cavaliers turned the ball over 10 times in the first half.
Typically, UVa's slow tempo and talented guards lead to low turnover totals. At times Wednesday, Georgia Tech's style of aggressive on-ball defense outperformed UVa's methodical and efficient offense.
The Wahoos struggled to maintain control of the ball, while also failing to always put shots on the rim. The team committed a pair of shot-clock violations. At one point, Kihei Clark failed to pass the ball inbounds within five seconds.
It was a sloppy opening 20 minutes for Virginia.
The Cavaliers cleaned it up a bit in the second half, but still gave the ball away seven times. UVa finished the night with 17 turnovers, a shocking number for a program known for taking care of the ball.
Interesting shot distribution
It's no secret that Sam Hauser and Jay Huff are UVa's most consistently dynamic offensive weapons. Georgia Tech did its best to keep those two players from shooting, and the defensive game plan yielded results.
The duo only took three shots in the first half, going 1-for-3 and scoring two points. Hauser scored the duo's lone points, as Huff went just 0-for-1 from the floor in the first half.
Georgia Tech baited Kihei Clark into taking relatively open jump shots, and Clark was inconsistent with his jumper. The point guard finished the game with 14 points on 5-of-13 shooting.
Clark distributed the ball effectively, tallying six assists to go with just one turnover.
Huff and Hauser finished the game with a combined 14 points on 7-of-12 shooting. Neither player reached 10 points, but they were efficient enough to chip in offensively.
Trey Murphy played a massive role in the victory, scoring a team-high 18 points on 7-of-11 shooting, but it was Clark who led the team with 13 shot attempts.
The plan to keep the ball out of Hauser and Huff's hands nearly worked, but Clark caught fire late in the game. He scored eight points in the final eight minutes, helping close out Georgia Tech.
Clark was far from perfect shooting, but he showed why he's one of the most clutch performers in the league.