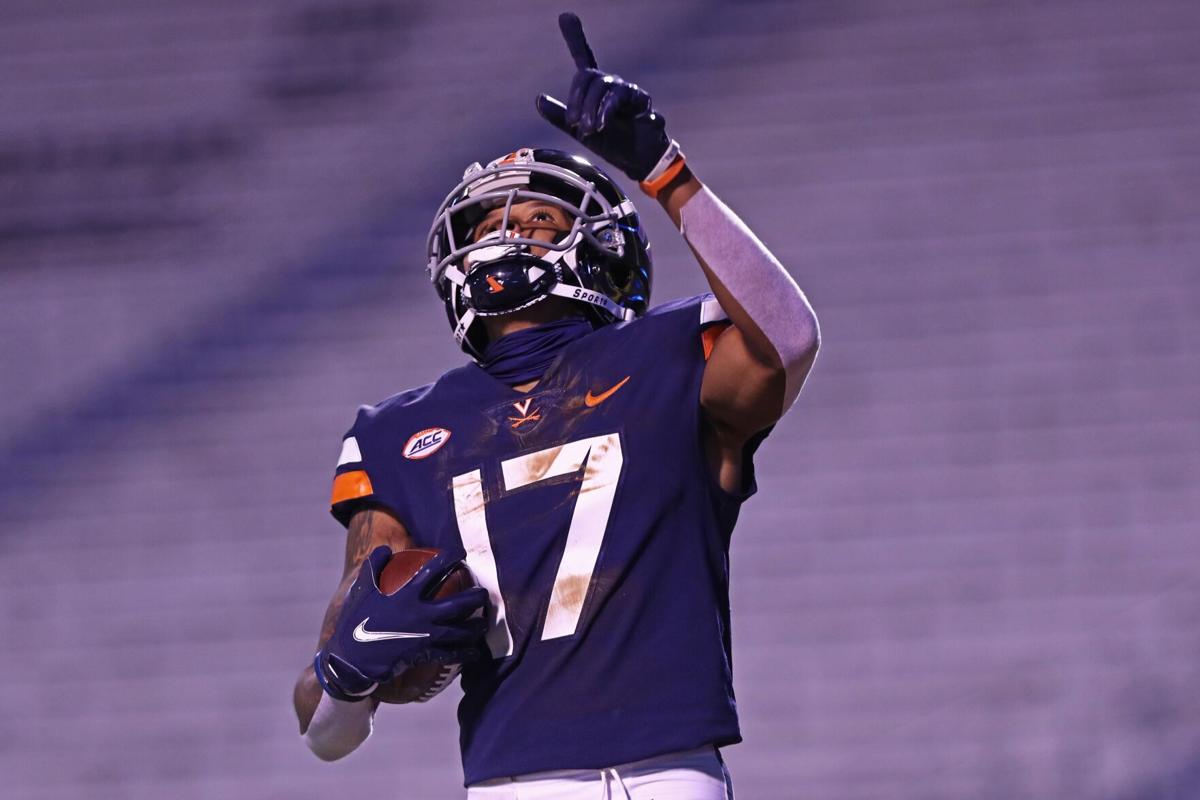 Ra'Shaun Henry averages less than a catch a game for Virginia, but the wide receiver's receptions often spark a playing of "The Good Old Song."
After Henry's performance in Week 1 against William & Mary, he's up to nine catches as a Cavalier. Five of his nine grabs have gone for touchdowns.
"It sounds like we need to throw it to him more," head coach Bronco Mendenhall laughed. "That wasn't a statistic I was aware of."
Henry is the only FBS wide receiver since the start of last season with three one-catch, one-touchdown performances, according to data from Sports Reference. He has four games with two or fewer catches and a touchdown, the most of any FBS player since the start of the 2020 season. Interestingly, only two of Henry's five touchdowns have come in the red zone.
Mendenhall, while unaware of just how often Henry's catches turn into touchdowns, did offer a theory as to why four of Henry's seven 2020 receptions finished in the end zone.
"Sometimes, if there are other established receivers, and if there's other patterns that become predictable, then sometimes defenses play harder to the percentages, right?" Mendenhall said. "Or they favor where maybe typically we go, and so sometimes a great complement emerges if other things are overplayed."
Henry wasn't a featured wide receiver last season.
Lavel Davis Jr., Billy Kemp IV and Terrell Jana were top options who received more looks than Henry and drew attention from opposing defenses. That trio combined for 123 receptions in 2020.
When coming off the bench, Henry occasionally broke free from defenses as complementary receiver. As defenses focused elsewhere, the Cavaliers found Henry left alone.
Last year, teammates teased Henry about how many of his catches went for touchdowns. Now, even after a two-catch, one-touchdown performance against William & Mary, players don't bring up his lofty touchdown-to-reception ratio.
They expect a higher volume of receptions from Henry the rest of the fall. Henry expects that, too.
"I feel like my role is supposed to be bigger than last year, and I feel like I can bring a lot more than what I did last year," Henry said.
He spent the offseason adding muscle, while lowering his body fat percentage. Henry, who is listed at 6-foot-3 and 190 pounds, weighs the same as last fall, but he believes it is leaner mass muscle. The improved physical condition led to better on-field performances during camp.
Henry often drew comments from teammates and coaches during the offseason as a likely breakout candidate. They knew he could contribute based on his 2020 stats, but their expectations grew throughout the spring and summer workouts.
"I would consider him the most improved player," Mendenhall said.
Physically, Henry changed his body over the offseason. Mentally, he's gained self-belief with a season of FBS play under his belt.
At the FCS level, Henry snagged 90 passes for over 1,000 yards in 2019. With UVa, Henry admits it took some time to adjust to the speed of the game. He feels more comfortable facing ACC defensive backs this season, making him a dynamic weapon on the outside.
He also spent another offseason working under wide receivers coach Marques Hagans. Henry mentioned Hagans and the team's focus on attacking the ball in the air during practice as something that's helped his development at the position.
Henry looks the part of a solid ACC wide receiver.
"Ra'Shaun's really polished," cornerback Nick Grant said. "He runs really good routes. He has really good hands, and he's kind of like deceptively fast."
Henry entered the offseason eager to improve, but he credits an injury to a teammate for providing extra motivation.
When Davis Jr. went down during spring practices with a torn ACL, Henry knew the team needed him to step up. Dontayvion Wicks added a deep-play threat, but the Wahoos needed another player to stretch the field and make plays in the red zone with the 6-7 Davis Jr. sidelined.
"It definitely made an impact, seeing him go down," Henry said. "It just made us all better, to be honest. I feel like everyone had to lock in and focus on what's important."
The injury created an opportunity for Henry. He started to take advantage of it against William & Mary, securing two catches for 32 yards and a touchdown.
He's hopeful for more of the same the rest of the season, even if increased volume takes away the novelty of his touchdown percentage.