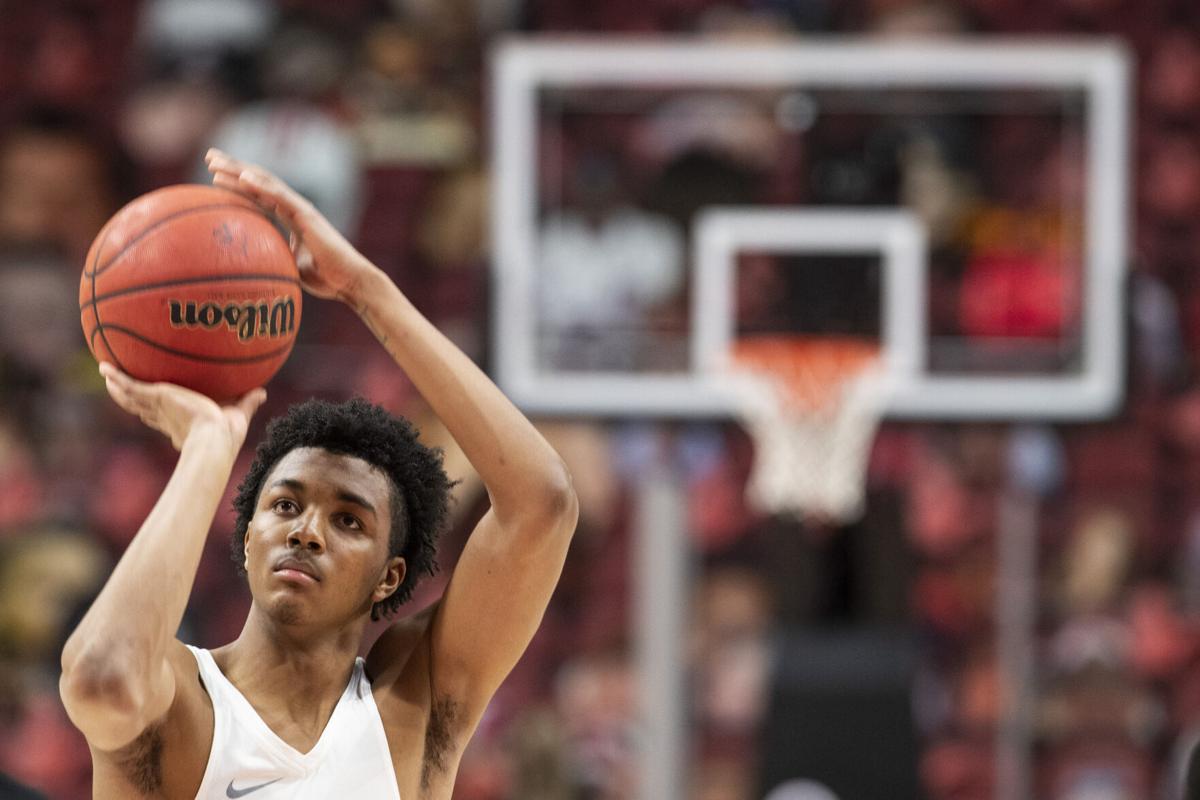 The Virginia men's basketball team plays an NCAA Tournament game Saturday night, but the Cavaliers won't practice as a team until one day before their matchup with Ohio.
"This year has been different in all ways," Virginia head coach Tony Bennett said. "In some ways we're the poster child of that."
A positive COVID-19 test last Thursday night during the ACC Tournament led to a weeklong quarantine for the Cavaliers. The plan for Virginia is to practice Friday morning in Charlottesville before traveling to Indianapolis on Friday afternoon, making it the last of the 68 teams to arrive at the NCAA Tournament.
Friday's practice will be the team's first on-court work together since beating Syracuse in the ACC Tournament quarterfinals last Thursday. Early this week, players worked to stay game ready despite a week away from team practices.
"We've been lucky enough to have a couple of individual shooting and conditioning sessions, but that's pretty much it," redshirt senior forward Sam Hauser said. "Other than that, you can go outside and dribble the ball a little bit. Get some fresh air because quarantine is not that fun, but we're allowed to at least go and walk around, get some fresh air."
Given the physical and mental challenges of missing team-wide activity while other teams continue, college teams across the country have seen mixed success this season when coming off a COVID-19 related pause. Clemson struggled mightily after a break in January. The Tigers went about 10 days without a game before facing UVa on Jan. 16.
Virginia defeated Clemson 85-50. The Tigers were then blown out in each of their next two games as well.
In February, Clemson went nearly two weeks between games yet again due to COVID-19 issues in its program. That time, however, Clemson returned from the break with a 60-39 win over Wake Forest. It followed that victory up with a win over Miami.
"Fitness level, that was a major point of concern and something that we did better the second time around," Clemson head coach Brad Brownell said Wednesday. "First time around, probably didn't address that quite as well as I would have liked. Didn't realize it would be so drastic. Thought we did enough, but probably didn't."
Even with the ability to work out in moderation, nothing quite makes up for game action and intense practices. There's no ideal way to simulate game-level competition.
"There's no question that'll be a challenge for them moving forward," Brownell said of UVa's situation. "It's hard. That part of it is hard, and different guys on your team are affected differently. Not everybody is the same. I think that's thing you quickly see too is some guys are much more affected by it than others."
On the bright side for UVa, it went through a pause in December. The Cavaliers returned from a nearly three-week break with a 76-40 victory over William & Mary. It's not uncharted territory, and some squads have done quite well after extended breaks from game action.
Ohio, UVa's Saturday opponent, went through a lengthy break in February. The Bobcats went 21 days between games.
Head coach Jeff Boals said his team had multiple players test positive for the virus, and the return to practice was disjointed. Initially, only six players returned to practice. The practice before the team's first game back on the court included just nine players. A graduate assistant had to step in so they could practice with 10 people.
Boals and his staff gave players basketballs and foam rollers as they entered quarantine. He wanted them to work on ball handling and stretch when possible, especially considering they weren't allowed isolated time to work out.
Admittedly, the head coach went into the situation unsure of the best method for success.
"I think as a coach, you have no idea," Boals said. "You've never been through something like this."
Ohio's plan seemed to work. The Bobcats returned from a 21-day break with a 90-73 victory over Akron. Two days later, they beat Eastern Michigan, 86-67.
Boals credited his training staff for much of the success following the pause. The Bobcats placed a heavy emphasis on workload and hydration, even monitoring the heart rate of players to make sure they weren't overexerting themselves in practices following their pause.
Given its own success after a COVID-19 pause, the Bobcats expect UVa's best this weekend.
"I think from that standpoint, our antennas are raised, like, 'Hey look. This is what we did,'" Boals said.
Preparing for a new opponent in a win-or-go-home game without practice presents a significant challenge to Virginia. It's a unique situation. The Cavaliers know conditioning may be a concern Saturday night, but they're motivated that they're still on track to take the floor in the Big Dance.
"This certainly beats the alternative," Bennett said. "Yeah, you'd want to be in Indy. You'd want to be doing stuff, but we're not. We'll make the most of it."