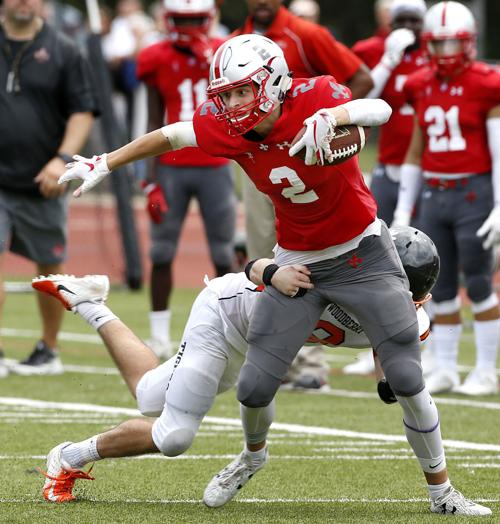 St. Christopher's at Fork Union
Last week: St. Christopher's (4-1) defeated Bishop O'Connell, 35-0. Fork Union Military Academy (2-2) lost to Norfolk Academy, 37-24.
When St. Christopher's has the ball: The Saints churned out nearly 400 yards of total offense in last week's victory. QB Griff O'Ferrall rushed for 61 yards and a touchdown and completed 12 of 14 passes for 105 yards and another score. Gill Williamson also threw for a pair of touchdowns last week, while Will Tazewell and Walker Wallace combined for 10 receptions for 99 yards and a touchdown as St. Christopher's top two receiving targets. Defensively, they limited Bishop O'Connell to just 78 yards of total offense, including minus-15 yards on the ground.
When FUMA has the ball: V'Jon Hampton was busy last week for the Blue Devils as he cranked out a season-high 163 yards on 22 carries, including a 39-yard touchdown run. QB Alex Williams threw for 104 yards and a touchdown and ran for another one in the loss. Montigo Moss had three receptions for 67 yards and a touchdown.
The skinny: Coach Mark Shuman's team returns to Prep League play after a tough road tilt last week. FUMA has shown it can score points in bunches, but must find a way to limit its opposition. The Blue Devils will be tested again this week against a very potent St. Christopher's team. The Saints have won the past three matchups between the two programs, including a 61-27 victory last season. FUMA's last win in the series was a 26-14 victory in 2015.
Be the first to know
Get local news delivered to your inbox!