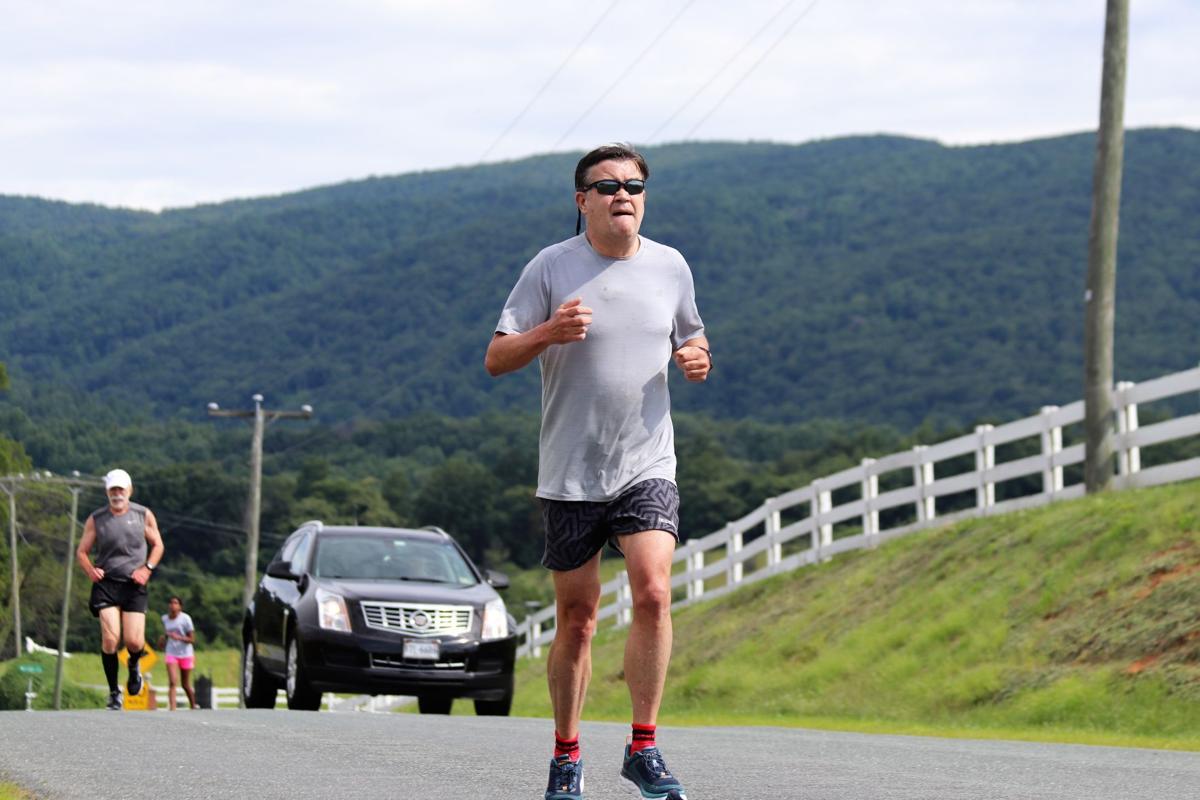 Our running community suffered a huge loss last month, when our dear friend Adam Kannapell died suddenly while participating in a local trail race.
Adam and his loving father, Joe, had been a fixture at area footraces for close to a decade and to any of us who frequented these events, they saw this father-son duo as the heart and essence of all that's good about sport.
It all started when Joe, a lifelong runner, introduced his son, who at the time was already a few steps into his fifth decade, to the simple act of running as a way to help with the depression Adam had been struggling with for most of his adult life. From the moment he laced up his shoes and ran in his first race, Adam was hooked. And he not only fell in love with running and competing, he genuinely looked forward to going to the races and sharing the experience with his dad. I cheered on Adam and Joe at countless races over the years and each and every time I saw them together I witnessed their exhilaration and joy of not only competing but, more importantly, the happiness of sharing that high together.
Many parent-child duos participate in our local races, but none as regularly and consistently as Team Kannapell. And, as a race director, seeing them loving every aspect of the racing experience and sharing in the joy for the sport and the competition, always made my day.
One of Adam's gifts I'm going to miss the most was his post-competition visits to the shop, when he would, with a sparkle in his eye, recount his most recent race experience. Adam always relayed these personal reports to me with such excitement and enthusiasm but what struck me the most was the sense of pride he was gaining from each racing experience. As a father, what I enjoyed witnessing, each and every time, was the same level of pride from his dad.
To see Joe smiling as we both listened to Adam passionately relaying his step-by-step experience made my heart soar. Adam's happiness was bringing a deep sense of joy and contentment to his father. Adam was at peace and so was Joe.
On many occasions, Joe shared with me that training, traveling and racing in all these events worked spiritual wonders on his son. The running and racing and the camaraderie that accompanied all of it, had a positive and profound healing effect on Adam's depression. And all who knew about Adam's journey were deeply moved with this positive change in his life.
Someone who had never met Adam might well observe that the act of running took his life. But to those of us who had the privilege of knowing this extraordinary man, we feel just the opposite. Adam's deep and relentless passion for running actually saved his life.
As a community coach, I continue to remind all of my athletes to slow it down during these dog days of summer. The hotter and more humid the weather, the slower you need to go. In the words of Dr. Art Weltman, UVa's legendary exercise physiologist, "perceived effort" should be your guide in keeping you safe and happy while running or walking. So, how you feel is more important than your actual pace. One of my favorite rules is to run at a "conversational" pace to the point where you can't hear yourself breathing. So, in other words, no matter how hot, humid and hilly it is, you should still feel comfortable while exercising outdoors.
One more tip for the road: Stay off your heels! The shorter your stride length, the greater the chance of you hitting your arch first and not your heel. This translates to more shock being absorbed by your arch and less shock working it's way up to your knees. This mid-foot strike holds true for walkers as much as it does for runners, if not more, as the less you hit your heels the better your knees will be protected over the long haul, as in your lifetime.
Albemarle High School cross country and track coach Adrian Lorenzoni led a virtual community summer program for those looking to improve their personal time in the mile. More than 50 area runners, ranging in age from 24 to 75, participated in the free program, dubbed "The Central Virginia Milers Club" and, over the past two months, dozens of these folks, many who had never raced the mile before, have trained and raced to times they never could have imagined. Chris Botto, John Cherry, Jane Jackson, Sean Stanford, Jamie Addessa, Eleni Heeschen, Erik Boynton, Roger Reynolds, Kate Thomas, Ben Hays, Jane Jackson and Katie Morgans were among those who rocketed to dramatic improvement in their mile times but the champs of taming the four laps were Melissa Burr (9:13 down to 8:30) and Larry Saunders (8:22 down to 7:18), who launched into new pace zip codes over the summer.
The Charlottesville Women's Four Miler, our area's largest running and walking event, lives on! Charlottesville Track Club co-race directors Audrey Lorenzoni and Nicole Brimer have created a safe and exciting new way to participate in this special event during the pandemic. Over four days during Labor Day weekend, runners and walkers will be able to physically and safely participate in this beloved community event over the beautiful grass paths of Foxfield. This represents the first time humans have been granted permission to run over this magnificent property since the NCAA Cross Country Championships in 1987. What a wonderful opportunity to be part of something historic and to raise much needed funds for worthy area causes.
And, just a few weeks later, our area Special Olympians will be hosting a unique version of their wonderful annual 10K and 2 mile walk. Come join us!
Vin Lananna, UVa's director of cross country and track and field, has had a truly impressive recruiting season and it's easy to see why. As the national "dean" of our sport, with a solid gold reputation for bringing excellence to all he touches, Lananna's genuine passion and devotion are having a positive affect not only on future 'Hoos but also on the athletes who are currently proudly wearing a Cavalier uniform. Many of us harrier and track fans can't wait to see where Lananna takes the program next, as he has us believing the sky's the limit.
Mark Lorenzoni has been coaching area runners and directing community races, on a volunteer basis, for 40 years. He can be reached at 434-293-3367 or follow him on Twitter @coachzoni.