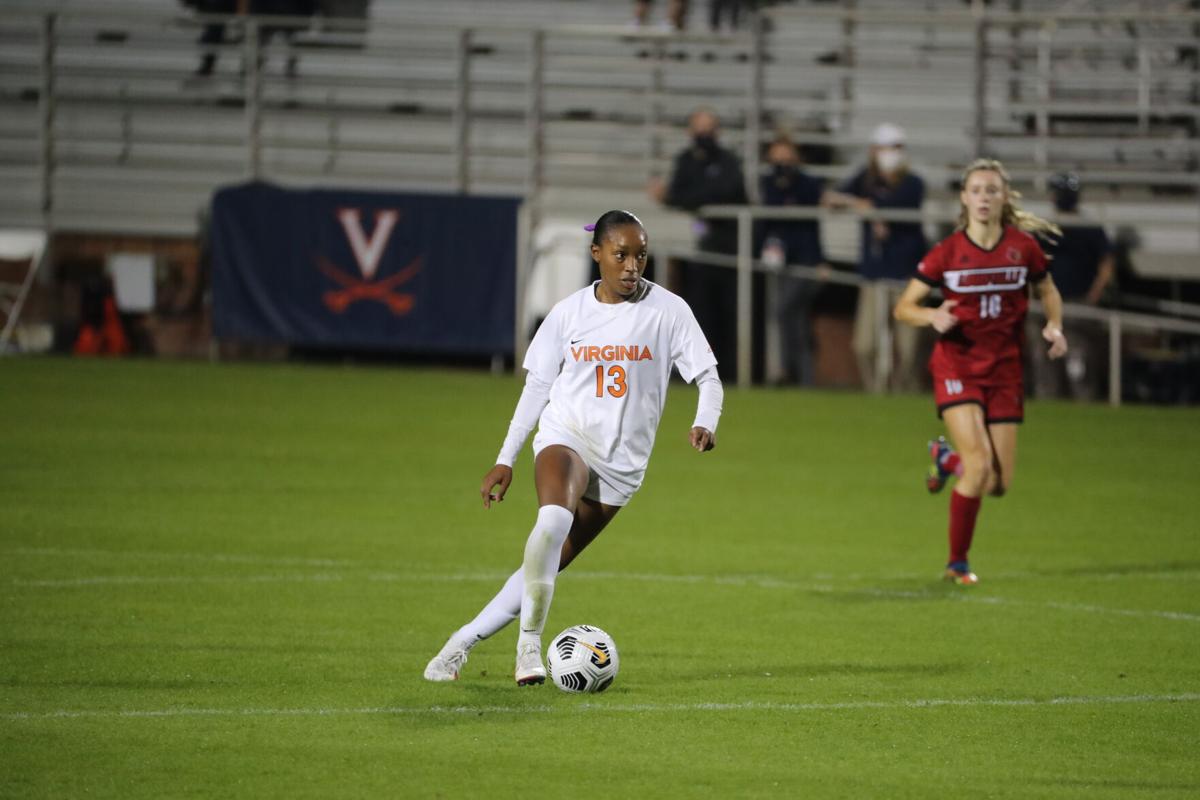 Injuries and COVID-19 kept the Virginia women's soccer team without its full arsenal of players for most of this fall. Even with the depleted roster, Steve Swanson's team scratched and clawed its way to 7-2-1 overall record and a 5-2-1 mark in official ACC matches.
The Cavaliers enter Tuesday's ACC Tournament as the No. 3 seed, and they're capable of winning the tournament — largely due to improved health.
"I think we're in a [better] position simply because we have most of our personnel back," Swanson said. "We don't have a couple players, but for the most part we're in a much better position than we were maybe midway through the season or at any point during the season. That gives us confidence, but you have to go out and perform."
One of the players who missed time with injury is Alexa Spaanstra. The talented junior from Michigan was a second team All-ACC performer a season ago, and she's excelled when healthy this season.
Spaanstra missed nearly a month from the end of September into mid-October. In her four matches since returning from injury, she's scored four goals. Her first game back came against Louisville on Oct. 15.
"I think just being back with the team was super-exciting and really motivating, and I just wanted to be the best possible teammate I could and help in any way to get the result that we wanted," Spaanstra said.
She delivered on that hope, recording each of the team's goals in the 2-0 win over Louisville. Spaanstra hopes to build off her performance against Louisville when the teams meet Tuesday at 8 p.m. in Cary, N.C., in the ACC quarterfinals.
Should the Cavaliers advance past the Cardinals, they may face matchups with undefeated foes. A win over Louisville would pit the Wahoos against the winner of Virginia Tech and undefeated North Carolina. The second-seeded Tar Heels are a perfect 9-0 this fall, and they beat the Cavaliers in overtime in last season's ACC championship match.
A potential rematch with Florida State — the Seminoles beat the Cavaliers 3-2 earlier this fall in Charlottesville — could await in the championship match. Florida State is a perfect 8-0 this fall and is the ACC's No. 1 seed.
Advancing through the tournament presents a major challenge each step of the way. On the bright side, the Cavaliers take the pitch to start postseason play on Nov. 10. That's nine days after the team's most recent regular-season game, a 5-3 win over Syracuse.
The time off gives the Cavaliers a chance to develop much-needed chemistry as players work back into the lineup after missing action.
"It's been a real positive for us because we've had players that have been out for two weeks or three weeks," Swanson said, "so it gives us a chance to train and get them back in and get us on the same page and develop a little continuity here heading into the ACCs."
Swanson also used the time away from competition to focus on a couple key areas for improvement. He's disappointed in the team's defense on set plays and believes there's room for growth in that department. He also wants his team — which did score five times in its latest showing — to become more consistent in finishing scoring chances.
The Cavaliers haven't always been healthy this fall, and they've played below their standard at times.
At the same time, UVa sits at 7-2-1 overall and enters the ACC Tournament with a healthier roster and a motivated team. The Cavaliers know they face a stiff test in getting to the ACC championship match, but they're thankful to be closing in on the end of a full fall season.
A few months ago, with the pandemic jeopardizing the return of fall sports, a shot at winning a conference title this fall seemed unlikely.
"If you would have asked us at the beginning of the fall if we'd be in this position, I think the majority of us would've doubted you and said, 'There's no way,'" Spaanstra said. "I think we're really excited and grateful that we have this opportunity to compete for an ACC championship."
Be the first to know
Get local news delivered to your inbox!