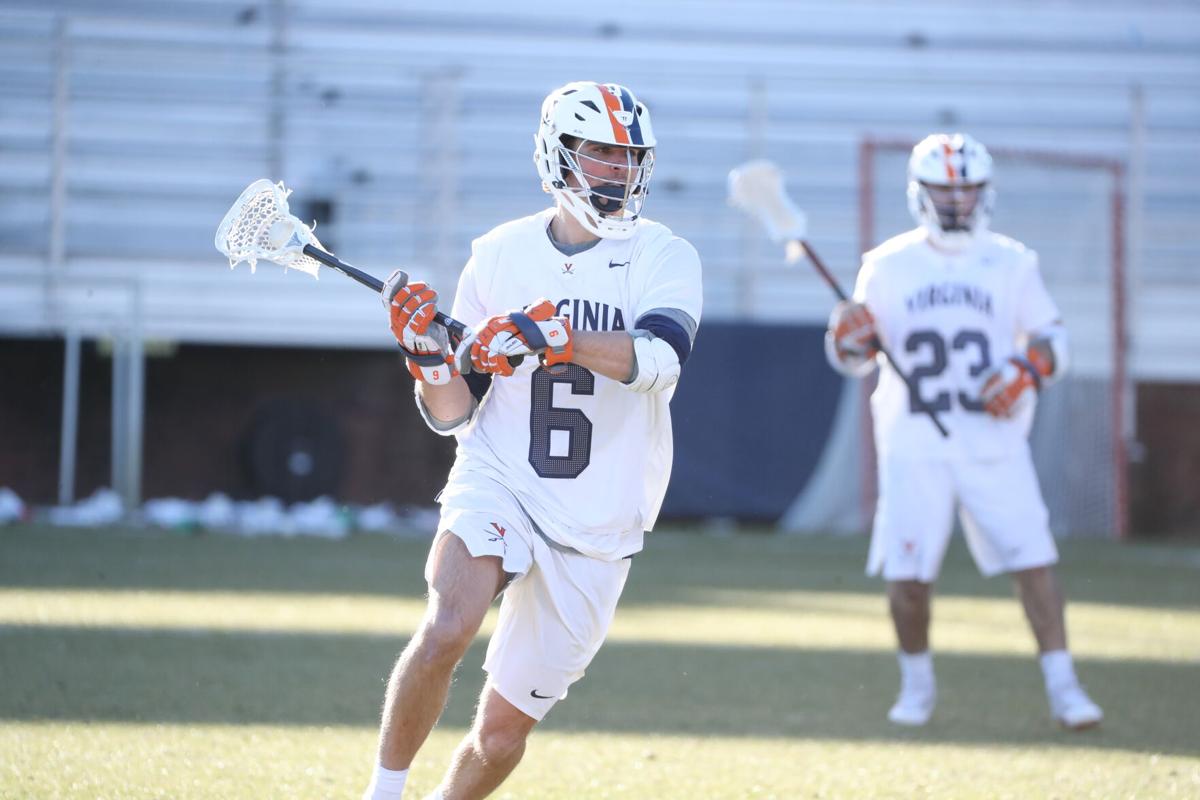 Though he's worked hard to get his players to approach every game on the schedule with equal zeal, Virginia men's lacrosse coach Lars Tiffany said it's easy to tell when the Cavaliers have a conference opponent up next.
"You can see it on the Tuesday and Wednesday practices before an ACC team," said Tiffany. "There's a different edge in practice."
Thus far this season, that "different edge" hasn't translated onto the field. No. 9 UVa is 0-2 in the league heading into Saturday's game at No. 6 Notre Dame.
Of course, the two losses have come to two of the nation's top-ranked teams in No. 1 North Carolina and No. 4 Syracuse. Still, having a zero in the ACC win column is clearly on the mind of Tiffany's men heading to South Bend, Indiana.
"Those games are a little different. They mean just a little bit more," said attackman Payton Cormier. "Obviously nobody wants to start 0-2 in conference. It's tough. But I think we're doing a really good job of looking at it game by game and understanding that we have a really good opportunity here against Notre Dame to finally get on the board and do something right."
If there's one thing the small-but-talent-loaded ACC lacrosse realm provides, it is opportunities for quality wins. All five of the league schools that field lacrosse teams are currently ranked in the Top 10.
UVa (6-2) wasn't competitive in its first conference outing, getting blown out 20-10 at Syracuse a month ago. Earlier this month, the Cavaliers fell behind 11-4 at the half at home against North Carolina before rallying to make the final score a respectable 16-13.
Cormier said the offense needs to do a better job of finishing on the scoring chances it gets, no small challenge against a 4-0 Notre Dame team that leads the nation in scoring defense, giving up just 5.3 goals per game, but has yet to play an ACC contest.
Against Carolina, Virginia took 62 shots, 33 of which were on goal, but only scored 13 times.
"We've just got to get better than that with the talent we have," said Cormier. "We should be able to put the ball in the net a few more times, especially with the amount of shots we generate. We just have to do a better job finding the back of the net."
The re-emergence of senior midfielder Dox Aitken should help on that front. The four-time All-American spent the fall at Villanova as a member of the Wildcats' football team. He returned to UVa and the lacrosse program this spring, but got off to a slow start.
If totaling just three goals and an assist in Virginia's first seven games, Aitken scored three goals on three shots in last Saturday's win over nonconference foe Robert Morris.
It was an outburst Tiffany said he could see coming during last Tuesday's practice.
"It was, 'Woah, Dox is back,'" said Tiffany. "If I was an insider trader, if he was a stock, I'd have been like, 'Put some money. This stock is going up.' Rarely was it so obvious and rarely am I that right. But I was telling everybody, 'Dox is back.' And then he scores three goals. It was so evident in practice. We all wish it had been a couple weeks earlier, but we're glad it's here."
Defensively, sophomore Cade Saustad said the unit needs to tighten up its slides and timing, but likes the way the group is trending. He said the adjustments and improvements have moved from large, glaring errors earlier in the year, to smaller refinements, a normal progression for a lacrosse season.
"You see throughout the season, it starts with these big things we're missing," he said. "Now it's just coming down to little things here or there. We're a yard short or a second late. We're starting to figure those out."
And perhaps just in the nick of time. Virginia hasn't started 0-3 in the league since 2017, when it went winless in the league. This year's ACC schedule has UVa still to play Notre Dame, Duke and then getting rematches with North Carolina and Syracuse.
"Going 0-2 so far, it's definitely a reality check," said Saustad. "We came in expecting to be the best ACC team. But you can't just expect that. You have to still work towards it. After losing these two games it kind of gives you a little more motivation to prove who you are as an ACC team."