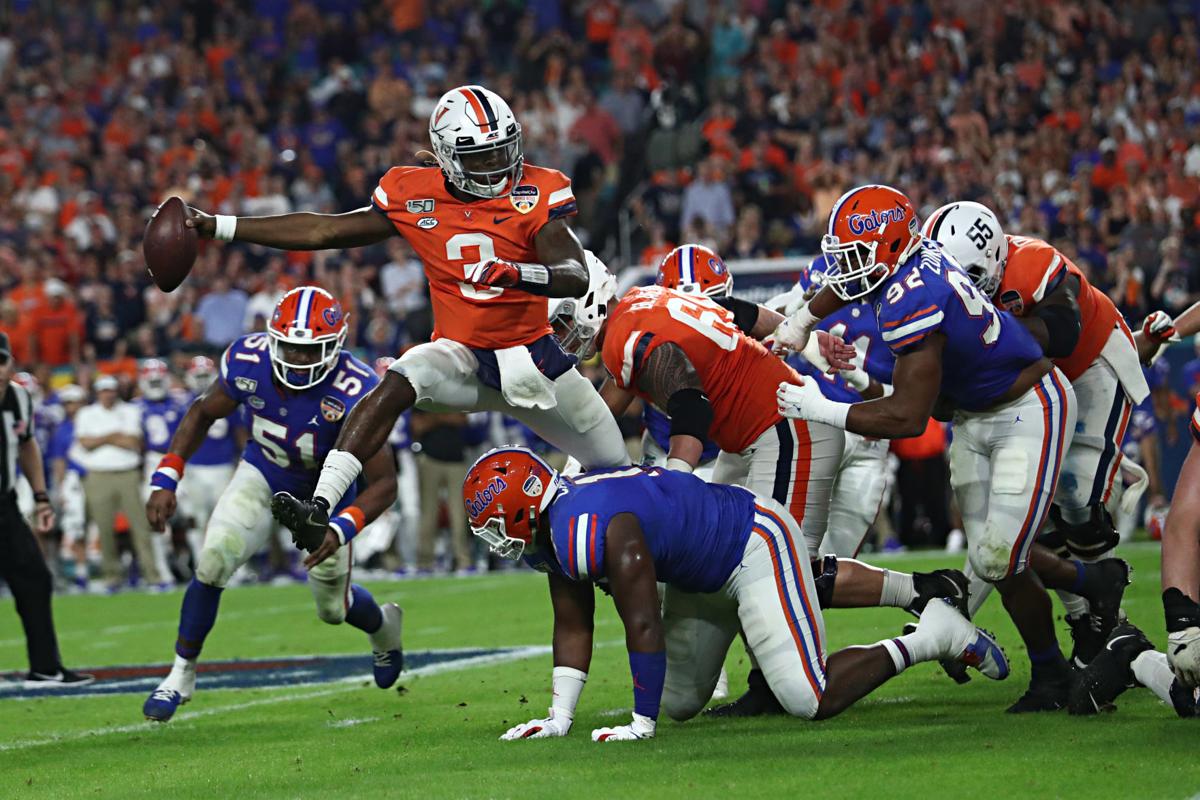 UVa won plenty of the games the past two seasons because of Bryce Perkins. The Cavaliers likely don't beat Virginia Tech in 2019 without the athletic quarterback. He's hopeful to make the transition to the NFL and succeed as a dual-threat quarterback in a league that is beginning to appreciate dual-threat quarterbacks more consistently.
Athleticism makes Perkins an interesting prospect. He was one of the fastest players on Virginia's team, and he rushed for 1,692 yards and 20 touchdowns in two seasons at UVa. The quarterback enters the draft with special running ability for his position.
As a passer, Perkins improved at Virginia, but he still left something to be desired. Joe Burrow, Tua Tagovailoa, Justin Herbert, Jordan Love and Jalen Hurts all showed at least some dual-threat ability in college.
While Perkins is likely faster than just about every one of those quarterbacks listed, they can move around the pocket and run for first downs. They're also accomplished passers with strong arms and elite accuracy.
Questions with Perkins as a passer make him likely to slide into the late rounds of the draft or out of the draft altogether.
"Perkins put together an impressive two-year stretch at Virginia, and he has several things going for him with his dual-threat skills and production," Dane Brugler, an NFL Draft analyst for The Athletic, said. "But his inconsistent decision-making is the hold up in terms of his NFL transition. I think his best fit would be in a Taysom Hill role where he can use all of his skills to make a roster."
Losing out on UVa's pro day also hurt Perkins, who wasn't invited to the NFL Combine.
"There's nothing like a hands-on work out where you can determine whether or not this is a guy that fits your system, fits your scheme," Ric Serritella, the creator of NFL Draft Bible and an advance scout for the NFLPA Collegiate Bowl, said.
Taysom Hill ultimately went undrafted out of BYU, and Perkins is also likely to go undrafted. His athleticism does make him a sleeper pick to be selected in the sixth or seventh round, though.
Be the first to know
Get local news delivered to your inbox!