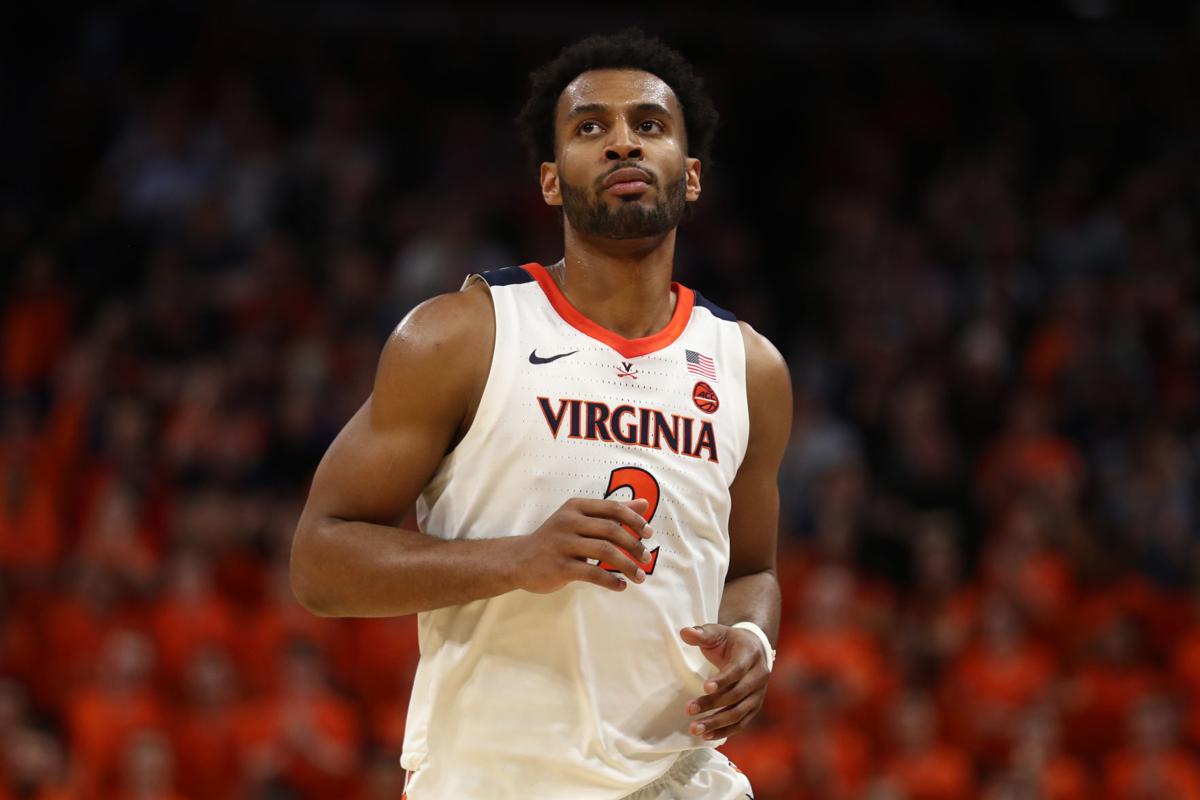 Braxton Key slammed home a two-handed dunk in overtime of the Virginia men's basketball team's national championship win over Texas Tech in 2019. The transition dunk sealed the program's first national title victory and became an iconic moment in UVa basketball history.
Key considered that moment arguably the highlight of his life. At least until his daughter Lennox was born in October.
"The greatest joy of my life so far," Key said of becoming a father. "It's been everything. I thought winning the national championship was great, but this tops it by a lot. She's everything to me, and she brightens up my day every time I see her."
Having a daughter brings Key joy, and it also provides a sense of motivation and responsibility. Key, who played his final two collegiate seasons at Virginia after transferring from Alabama, begins his professional basketball career Thursday as a member of the Delaware Blue Coats, the G League affiliate of the NBA's Philadelphia 76ers.
A total of 18 G League teams will play a modified 15-game season in a "bubble" in Orlando, hoping to keep players and staff safe from COVID-19 exposure while also providing some semblance of a season. Playing in the bubble means time away from Lennox and his girlfriend, Taylor, but Key knows the sacrifice gives him a path to play in the NBA after going undrafted in the 2020 NBA Draft.
"It's hard just Facetiming and just missing out on some milestones," Key said. "She just starting learning how to grab her feet and grab things, so I'm sad I'm missing all that, but at least I can FaceTime. Hopefully I can get out of here as soon as possible and see her soon."
Key's desire to succeed as a professional basketball player ramped up following the birth of his daughter. The small forward spent months in Richmond this offseason working with his trainer Matt Irving following the premature end to UVa's 2019-20 season. After two weeks off following the conclusion of Virginia's season, Key hit the gym five days a week with Irving.
Irving was impressed with Key's commitment to their workouts before Lennox's birth, but said Key has been a different man since early October.
"After she was born, it was just a whole new focus for him as far as basketball," Irving said. "He knows he's got to do it for her now and he's gotta do it for his girlfriend, so just a totally different focus and he was really, really locked in."
Irving said Key set a goal of shooting 60% with Irving on all shooting drills when they started working together this offseason. In the weeks following the birth of his daughter, Key was hitting 75% of his shots.
Before a G League opportunity came in January, Irving and Key dissected the athletic wing's jumper, trying to find tweaks to help the elite defender and rebounder become a more consistent offensive threat. Key only shot 18.5% from 3-point range his senior year at UVa, a dip from the 30.5% mark he reached as a junior.
Across his four year career Key shot just 27.4% from 3-point range, but he blossomed as a rebounder and defender in his two seasons at UVa, especially during his senior season in 2019-20. He and Mamadi Diakite helped anchor a team that relied heavily on defense to win games. Key secured 7.4 rebounds per game last season for UVa, while also adding 1.2 steals per contest. Both marks were career-bests.
With defense a strength, Key wanted to improve his jump shot this offseason, while also becoming a more effective finisher near the rim. Irving and Key went to work on those areas.
"I didn't really know when an opportunity would be available, but I just wanted to stay as ready as possible," Key said.
Working with Irving, who has trained NBA players such as Bradley Beal and Jayson Tatum, meant reducing lower body movement on his jump shot. The esteemed trainer wanted Key to simplify his shooting stroke.
Both believe the shooting work has paid off. While Key's game Thursday, the season opener for the Blue Coats, is his first competitive game since the end of UVa's season in 2020, he feels more comfortable with his shooting stroke. Irving said Key became more consistent during the pre-draft process, even making jumpers from near half court.
Irving stresses to Key the importance of staying patient once the G League season starts. He doesn't want Key to press, but rather play his game throughout the month-long season. Key plans on absorbing knowledge from other players on his team, including Justin Robinson. The former Virginia Tech standout played in the G League last season, while also earning playing time in nine NBA games for the Washington Wizards.
"I think we have a really talented team," Key said. "A lot of guys have NBA experience. I'm just kind of learning from them, picking their brains, not only for this season but also looking down the road. My ultimate goal is the NBA."
With Key's sights set on an NBA career, he'll need to attract attention from NBA squads with quality play at the G League level.
He'll have plenty of support from afar during his month in Orlando, with his trainer and family watching Key's professional basketball debut. Irving has high hopes for his client, who he believes can make his way into the NBA guy as someone who adds shooting and defense, before eventually developing into a potential starter.