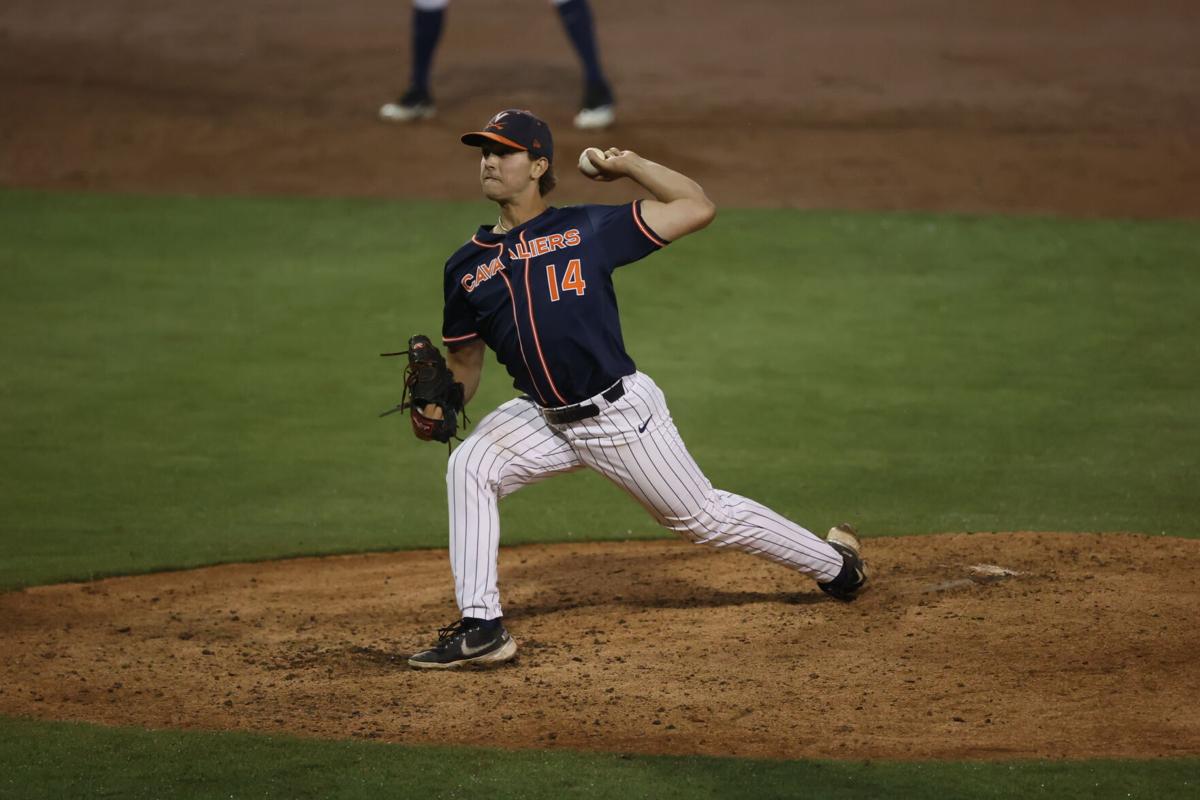 COLUMBIA, S.C. — With all three of its usual weekend starters likely unavailable Sunday, the Virginia baseball team needed unheralded pitchers to lead the team past the host school and the No. 1 seed to remain in the Columbia Regional.
Sophomore Matt Wyatt and junior Brandon Neeck delivered the best outings of their collegiate careers on Sunday on the biggest stage of their baseball lives to keep Virginia's season alive.
"I told them after the game, 'This is one of the great days in our baseball program's history,'" Virginia coach Brian O'Connor said.
Wyatt starred in Sunday's first elimination game, throwing a career-high five innings and striking out eight. He didn't allow South Carolina to score a run, and the Cavaliers held on for a 3-2 win after leading 3-0 through five frames.
"In everybody's career, guys that end up being great, there's a game, a day that they step forward and emerge … and that was Matt Wyatt's opportunity today, and he seized the moment and stepped up for his team," O'Connor said.
The Cavaliers followed up the win in South Carolina's home ballpark, which put the program in its first regional final since 2015, with an 8-3 victory over Old Dominion.
Neeck shined in the second game after relieving an up-and-down Griff McGarry, who struck out the first six batters of his start before dealing with a cut on his thumb and struggling to find the strike zone.
The left-hander came in for 5 2/3 innings of relief, allowing three hits and two walks. Neeck didn't allow an earned run and struck out 16. The innings pitched and strikeout totals both set career-high marks for the lefty, who missed the 2019 season with a shoulder injury.
"It's been a long, long journey," Neeck said.
Neeck's 16 strikeouts also set a program record for most strikeouts in a postseason game. Between McGarry and Neeck, UVa struck out 24 batters.
As a result of two superb pitching efforts, No. 3 seed UVa and top-seeded ODU will meet Monday at 7 p.m. with the winner advancing to a Super Regional.
Virginia's win over South Carolina was a battle. In the first five innings, UVa controlled the game.
O'Connor's team opened up a 3-0 lead through three innings with one run in each frame. With the runs, the Cavaliers had scored runs in 10 of their last 11 innings dating back to the Jacksonville game.
As the offense performed, Wyatt was pitching the game of his young collegiate career.
"I kind of found the zone pretty quickly and trusted my guys behind me," Wyatt said. "I knew if I put it in the zone they were gonna make the plays."
Once Wyatt left the game, South Carolina came to life against Zach Messinger.
The junior struggled, but closer Stephen Schoch entered the game for the final seven outs and ended South Carolina's season. He didn't allow a hit, walked one and struck out five.
After Schoch ended the game with a strikeout, he turned to left field and fired his glove into the outfield in celebration.
Much like the first game of the day, Virginia jumped out to an early lead against Old Dominion. UVa scored twice in the top of the first, using a Kyle Teel RBI single and Nic Kent sac fly to take a 2-0 lead.
Devin Ortiz added a two-run home run in the top of the third, after a loud jeer from an Old Dominion fan. A fan shouted, quite audibly, that pitcher Tommy Gertner was better than Ortiz. UVa's designated hitter took Gertner's next pitch over the left-field fence to give the Cavaliers a 4-0 lead.
A Max Cotier single in the fifth put UVa up 5-0 before Old Dominion started taking advantage of a wild McGarry.
Back-to-back home runs opened the fourth as rain started to fall. McGarry struck out the next batter before issuing three consecutive walks. Neeck entered for McGarry and put on a show over the next 4 2/3 frames.
Neeck was exceptional after the Wahoos added an insurance run in the fifth, dazzling the small group of UVa fans who braved the rain with 13 strikeouts in 4 2/3 innings of work. Only four teams had struck out Old Dominion 13 times in a game this spring. Neeck accomplished that feat by himself.
"This is a lot of guys' first regional and the fact that a lot of guys are taking advantage of it and making the most of it is very awesome," Ortiz said.
Neeck ran into trouble briefly in the seventh inning after a runner reached on a strikeout that ended with a wild pitch. A double put runners on second and third.
Like he did all night, Neeck pounded the zone and recorded two strikeouts. He returned to the dugout after a fiery fist pump.
A Logan Michaels two-RBI single in the ninth gave the Cavaliers a pair of insurance runs.
He struck out three batters in the ninth, finishing his night with 16 strikeouts. He tossed 102 pitches. His previous career-high was 50.
"I just had a good feeling that he could keep this thing going," O'Connor said. "When you're in the zone and you're out there and you're in a groove, pitching like he is, you don't want to take the ball out of the guy's hand."
When Andy Garriola swung through a pitch for the final out, Neeck slowly walked toward his dugout as his teammates sprinted toward him. He opened his arms and received a massive hug from senior reliever Blake Bales.
"I was just happy to win the game," Neeck said. "I didn't know how to react or what to do, honestly. My teammates came out there and all gave me hugs. Felt good."