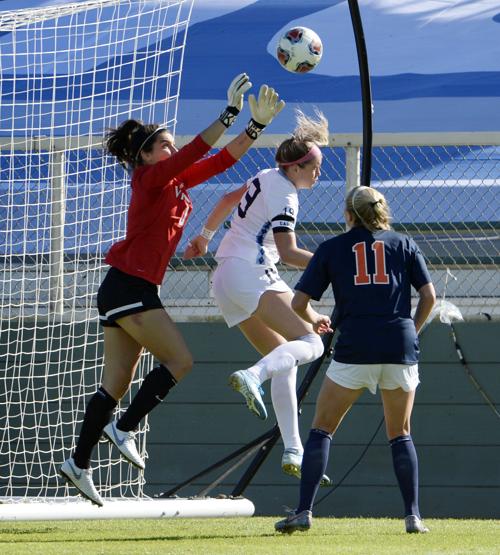 An uncertain fall season has generated stress among student-athletes.
For every fall sport other than FBS football, the possibility of competing for a national championship in the fall is gone. The NCAA hopes to conduct fall championships in the spring, if it can do so safely.
That added stress left some student-athletes wondering if their final seasons would end without a chance at a national championship.
"The big thing that was weighing me down was, I'm a fourth-year, am I going to get another year of eligibility?" UVa women's soccer senior goalkeeper Laurel Ivory said.
Fortunately for Ivory, the NCAA granted an additional year of eligibility to all fall sports student-athletes, regardless of how much they play this season. Ivory, for example, can play ACC games this fall, an NCAA postseason this spring and another full season next fall.
If the season gets canceled in the fall, but the Wahoos play in the spring, she's still eligible for a final season in the fall of 2021.
The news, which the NCAA announced Friday, looks similar to what spring sport athletes recently received. It's up to each institution how scholarships will be handled for those athletes, but returning seniors won't count toward scholarship limits.
"That feels so much better, especially with me personally," Ivory said. "I missed a major part of the postseason last year, and I didn't want my time here to end like that."
Ivory suffered a jaw injury at the end of the 2019 ACC Tournament, costing her a chance to compete in the NCAA Tournament. After being one of the best teams in the country all season, UVa fell in the second round of the NCAA Tournament without Ivory on the field.
"I don't want to end on that situation," said Ivory, who had an NCAA women's soccer tournament flag in the background of her Zoom call with The Daily Progress. "I want another shot at this national championship because I think we were so promising last season, and we were so close to so many of the big goals we set for ourselves and to not finish that out with the team was absolutely heartbreaking. So, to know that I can get another shot at that, it makes me really happy and just calms a lot of the anxiety and the nerves down."
The NCAA's decision helps ease the mental burden on athletes dealing with the uncertain fall season caused by COVID-19. The Virginia women's soccer team, for example, still doesn't know its fall schedule.
Knowing the option of returning in the fall of 2021 remains provides some level of relief.
On the other hand, several of UVa's spring sport athletes opted against returning after they lost most of their 2020 season. Some, like softball pitcher Riley Wilkinson, had plans to attend medical school. Baseball's Chesdin Harrington also opted to pursue other opportunities.
Given the need for student-athletes to take academic courses, graduate degree offerings can factor into decisions. Some players, like UVa women's lacrosse star Sammy Mueller, transferred to use her eligibility relief. She went to Northwestern to play her final collegiate season because the Wildcats offer an education route she wants to pursue, while UVa did not.
Given the intense financial burden caused by COVID-19, athletic departments will also have to grapple with whether or not they're willing and able to cover additional scholarship costs or if students will be asked to cover those on their own.
The Richmond Times-Dispatch reported in April that UVa wouldn't increase the scholarship budgets for spring sports programs bringing seniors back for an additional season. It would be up to coaches to determine funding from within their program's budget.
The spring showed that eligibility relief provides some level of escape, but it's far from a perfect solution for everyone.
Being able to use eligibility relief doesn't mean every athlete can or will return for the fall of 2021.
"Now, just who pays for it and how you manage it will be the issue," UVa head football coach Bronco Mendenhall said. "I don't think there will be complete continuity across college sports in how that is handled in terms of football and maybe that is the intent."
Be the first to know
Get local news delivered to your inbox!