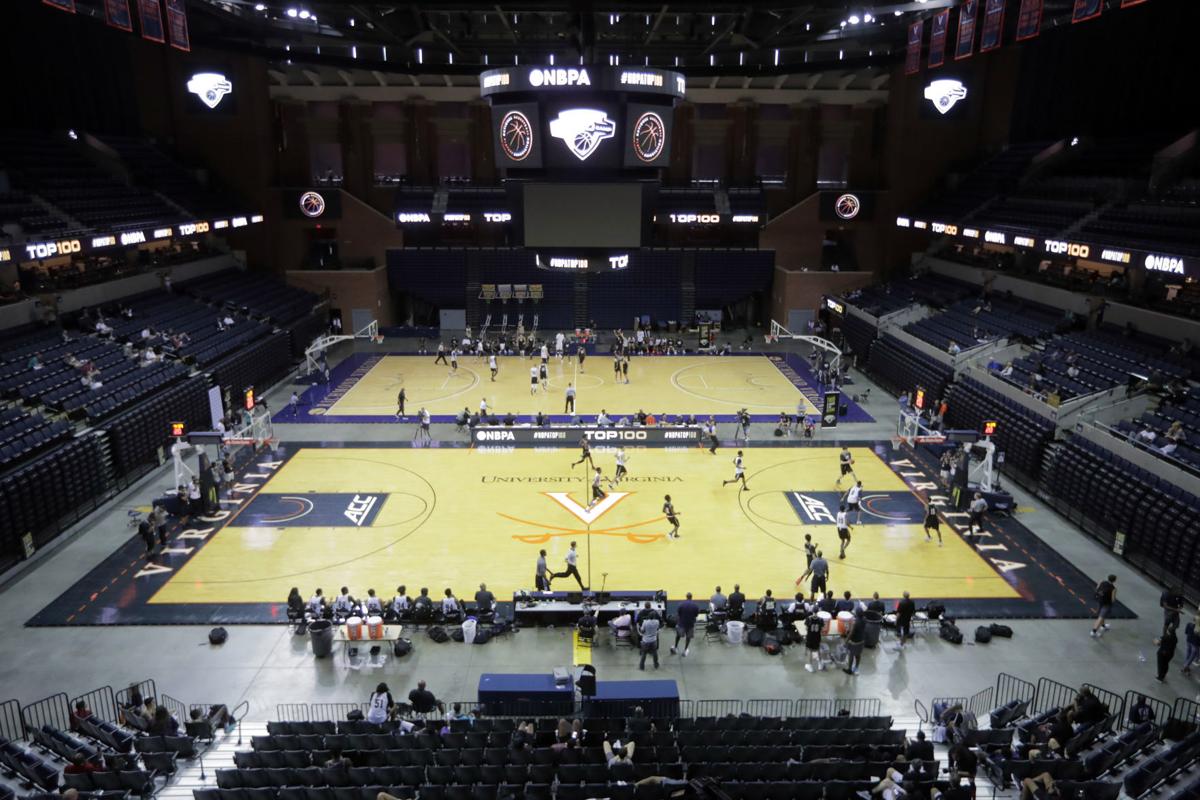 The 2020 NBPA Top 100 Camp, a summer camp for the best high school men's basketball players in the country, has been canceled, the NBPA announced Friday. The event would've taken place at John Paul Jones Arena on the grounds of the University of Virginia.
"It is with great regret that the NBPA is unable to provide this unique experience for this year's group of elite high school basketball players," Purvis Short, chief of player programs at the NBPA, said in a release. "We hope all of our campers and their families are staying safe and healthy during this time and we look forward to interacting with them virtually as we adapt some of our Top 100 programming to be done online."
Plenty of UVa products have taken the court at JPJ Arena over the years as high school players competing in the camp. Kyle Guy and Ty Jerome both competed in the event back in 2015 before joining UVa in 2016. The duo helped lead Virginia to the 2018-19 national championship.
Mamadi Diakite went to the camp in both 2015 and 2016 before joining UVa for five years and making a sizable impact. De'Andre Hunter joined Diakite at the 2016 camp.
The camp often features future Wahoos.
Jabri Abdur-Rahim, a member of UVa's 2020 recruiting class, played in the event in 2019 at JPJ Arena before ultimately committing to Virginia. The athletic wing will join the Cavaliers as an incoming freshman for the 2020-21 season. Reece Beekman, another member of Virginia's 2020 class, also played in the event last summer.
NCAA reforms allowed college coaches to attend last summer, giving some of the best coaches an opportunity to check out the top talent in the nation. NBA teams also had personnel in attendance to get an early look at future pros.
As much as the opportunity benefits the coaches and scouts, it also benefits the players tremendously. They compete against some of the top competition in the country in front of coaches and scouts while also being coached by elite coaches and mentors.
Since its inception in 1994, the camp has helped more than 400 players transition into careers as NBA players. The camp emphasizes on-court play as well as character and education.
With the event canceled, the NBPA will hold virtual experiences to benefit campers missing out. Those will include online seminars related to stress management, college recruiting, social media usage and more.
There are also virtual seminars for parents of the players. Some of those include Q&A sessions with parents of NBA players.
Despite the event's cancellation, campers will benefit in some ways from being invited to the event.
Be the first to know
Get local news delivered to your inbox!